Etiquette For Bridesmaids: 24 Things You Should Know
Etiquette habits are a set of customs that direct how people should behave in society. 
Becoming a bridesmaid has its own set of guidelines and principles, referred to as etiquette for bridesmaids.
It is an integral part of a wedding reception that can impact the event's success in many ways if not followed.
Here are some key points you should keep in mind when planning to be a bridesmaid.
1. Should I Say Yes?
When the bride asks you to be a bridesmaid, there are many decisions to make.
It's not always easy, and there is often no clear answer for what to do.
In your quest to follow proper etiquette for bridesmaids, you'll need to balance your friendships with the bride with how much time it will take away from your own life.
You should say yes if:
You are longtime close friends and perceive it as a huge honor.
You know that you have enough time, and funds, to be a bridesmaid.
You enjoy the bride's company and have a legitimate interest.
You think the bridal party will have a great time working as a team.
You should say no if:
You have small children or other dependents that require your entire attention.
Your financial obligations to participate are too great.
Your job as a bridesmaid is not what you agreed to.
It will cause a conflict with work obligations or school commitments (weekends? or evenings?).
You are on call for any emergencies or duties that may come up in the months to come.
2. Focus Your Support And Attention On The Bride
As a bridesmaid, you need to leave your ego at home and follow proper etiquette for bridesmaids. That may be a hard pill to swallow, but everything in the wedding process is about the bride.
Make your support a source of comfort and strength for the bride to be throughout the process.
When needed, show strong support for the bride, so she doesn't have to deal with things alone.
Keeping up with good etiquette for bridesmaids, remember that you should never add stress because this will only make her situation more difficult.
3. Participate In Pre-wedding Events
a. Engagement Party
You would be attending the couple's engagement party, mingling and celebrating with family and friends, and being introduced to know new people, including members of the bridal party if you have never met. The engagement party is traditionally hosted by the bride's and/or groom's parents.
b. Bridal Shower And Bachelorette Party
The "big two" pre-wedding events are one: the bridal shower and two: the bachelorette party.
While the maid of honor typically organizes the bulk of these parties, bridesmaids should still be active participants in the planning and attending of both events.
Also, keep your calendar open for a possible lighthearted ladies' luncheon or tea party that the bride may host for her attendants and very close friends as a friendly gesture to thank everyone for their help and support.
c. Rehearsal Dinner
In addition, everyone in the wedding party needs to participate in the rehearsal to practice the ceremony (typically the night before the big day), followed by the rehearsal dinner, normally organized and hosted by the groom's parents.
4. Be Prepared To Pay For Your Bridesmaid Dress
Bridesmaids are usually expected to purchase their own dress and pay for alterations, shoes, and accessories/jewelry in following traditional etiquette for bridesmaids.
Do not be afraid to ask the bride what she expects from her bridesmaids in terms of clothing.
If you have any financial concerns, it is important to speak with the bride and let her know before you commit to becoming a bridesmaid.
Most brides will understand.
If you are invited to be in the wedding party, it is important to estimate how much each bridesmaid should expect to spend on their attire.
5. Expect To Pay For Hair & Makeup
It is common for brides to want their bridal party to look a certain way and arrange for their bridesmaids to be professionally made up and styled. In this case, she should plan to pay for everything.
If she leaves the choice up to the maid of honor and bridesmaids, they can do it themselves or pay a pro for their hair and makeup.
6. Share The Cost Of The Bridal Shower And Bachelorette Party With Your Fellow Bridesmaids
While‌ the maid of honor usually organizes and manages the bridal shower or bachelorette party, etiquette for bridesmaids rules says the entire bridal party should share the costs, including the bride's portion.
7. Pay For Your Travel Expenses
Unless you hit the jackpot and the wedding is taking place in your hometown, travel and accommodations are usually the responsibility of the bridesmaid.
It even goes as far as splitting the bride's travel expenses with the bridal party for taking the bride out for a long weekend at her bachelorette party.
Make sure you have enough money set aside for these costs before saying yes to being a bridesmaid.
8. Give The Bride & Groom A Wedding Gift
Besides sharing the cost for the shower and bachelorette party, buying your attire, and covering travel costs, yes, it is also customary to give the bride a gift at the shower plus both bride & groom a wedding gift, if you want to follow etiquette for bridesmaids properly.
You may consider a large gift to share with the other bridesmaids or purchase your own for the couple. 
9. Help Plan The Bridal Shower And Bachelorette Party
No maid of honor is superhuman and should be expected to organize and plan the shower and bachelorette party by herself.
The bridesmaids and maid of honor should brainstorm together on a theme, location, food and beverages, games, the event flow, and physical setup details.
Assign and agree on each bridesmaid's responsibility for each party, work as a team, and avoid hurt feelings by dividing and conquering tasks by communicating who is doing what.
10. Be On Time At All Events
We all have different personalities and habits, but being punctual is a must when pursuing good etiquette for bridesmaids.
Things can happen, of course, but if it's part of your DNA to be one of these people who consistently come late for any get-togethers, it's a red flag for the bride and entire wedding party, and you should not sign up for being a bridesmaid.
If you're not great at time management, this one may be best left to someone else who can commit to staying on top of their schedule.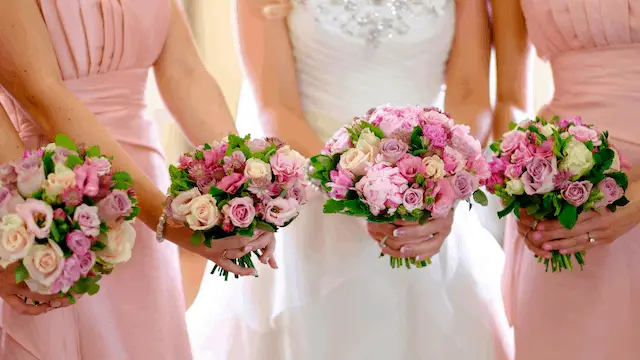 11. Listen And Pay Attention To The Bride
The bride should have the final say when deciding on the bridesmaid's dress, hair, and makeup.
If you don't agree with some of the bride's choices, be diplomatic, try to see things from her perspective first, and show good etiquette for bridesmaids.
She'll want her attendants to be happy with their looks on the wedding day.
But as a close friend, if you feel like a bridesmaid should not wear short, tight dresses or have their hair in an updo, for example, then speak up about it when deciding on your look – and don't be afraid to make decisions that will suit both of your needs.
12. Drink Moderately At Pre-wedding Events And At The Wedding
Following proper etiquette for bridesmaids, a good bridesmaid understands that she is part of the bride and groom's entourage and represents their interest and the wedding's success.
This means that responsible drinking is important at all events before and during the reception.
Keep a clear head and act responsibly.
Excessive drinking can make it difficult to remember things or keep up with conversations and tasks.
Moreover, it can be embarrassing to the bride and groom if one of their bridesmaids is tipsy during an event they have been so involved in planning.
13. Don't Share Your Bridal Party Drama With The Bride
No planning goes without drama inside the wedding party, and there will be moments that are difficult to deal with.
So, who do you turn to for support? If you want to follow good etiquette for bridesmaids, you should never share bridal party drama with the bride!
Just do the best you can to keep yourself in balance. Things ultimately always work out.
14. Stay Out Of The Bride's Business
Don't make uninvited comments, and don't talk behind her back about her wedding plans, design choices, or personal life.
Good friends can be honest with each other, but bridesmaids should refrain from being the bride's wedding planner.
If you notice errors in the planning process, it is best to discuss with a bridal party member or even someone on the groom's side if that seems like a better option.
This will allow those in charge of the wedding to fix some of the issues before becoming a problem.
15. Bond And Built A Team With The Other Bridesmaids
Bonding and building a team with the other bridesmaids will make wedding planning much more pleasant and yields better results.
Do your bridesmaid duties with a smile, have some fun no matter what.
Chances are you are already close friends and know how to get along.
Work together as a team rather than bickering or fighting over tiny details that don't matter in the end.
16. Keep The Party And Energy Going At The Wedding
One of the best ways to be a great bridesmaid is to get the party started and keep the energy going at the wedding, even if you're not in charge of the entertainment.
For example, take the dance floor when the band or DJ plays a song you like or find someone to dance with if there's no one on the floor.
It's easy to hang out with your best friends and the people in the wedding party, but don't forget about other guests at the wedding.
I find it helps by grabbing people as they walk into the room and introducing them to each other.
17. Don't Overstep And Make Excuses 
As a bridesmaid, you are there for the bride.
It's hugely important during a wedding, especially when it's not your party to throw!
So if you're feeling down about something or feel unmotivated for a task that needs doing, remember what matters: follow etiquette for bridesmaids and support the bride so she has a fantastic day!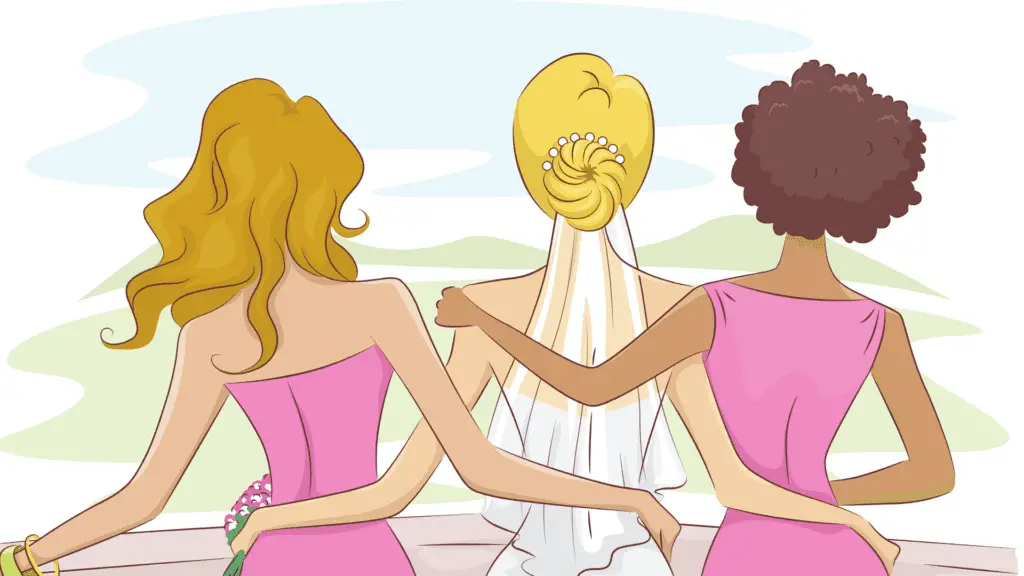 18. Be Available Until After The Wedding
Bridesmaid duties last until after the last dance or sending the couple off in their getaway car, so don't leave the wedding early.
As guests leave, you may help by giving out favors, gathering up items left in the dressing room, assembling gifts, and making sure they are sent to the couple's home or overnight room.
19. Can You Bring A Date? What's The Etiquette For Bridesmaids?
It's not always a good idea to have your new date with you on the big day.
You're a member of the wedding party and bringing someone else as well – being too busy with bridesmaid duties and trying to spend time being romantic can lead to some frustrating consequences for all parties involved.
20. Make Peace With The Dress
Maid of honor and bridesmaids' dresses are not for fashionistas.
Even if you don't like the way the dress looks on you, do your best to make it work for the bride's sake.
A negative comment about the dresses to the bride could escalate her anxiety levels.
You're there as support and will endure moments when you want to cry or scream. But don't if you commit yourself to follow good etiquette for bridesmaids.
It's not easy being a bridesmaid.
21. Stay Organized And Self-Sufficient
When the wedding day is well organized, all the bridal party members follow a timeline.
Keeping up with getting dressed, having hair and makeup done, being ready for photos, lining up for the ceremony, dealing with last-minute curb balls, all this needs to be accounted for in advance.
So, bridesmaids need also to make sure they are self-sufficient.
Being able to take care of themselves without relying on others is key for the day to flow smoothly for everyone involved.
Be mindful of the bride's needs and wants first, and make sure you don't fall behind.
22. Keep Your Antenna Up
A bridesmaid's job is to be the eyes and ears for the bride.
Don't hide on the wedding day, but stay alert and help with needs that you can identify.
That could mean that you remind the bride to keep hydrated and eat something light during the day.
Remind her if you see that the vendors have not arrived at the wedding venue, and help to communicate any needs to the other bridesmaids.
Brides are easily stressed, and things can get emotional during the hours leading before the ceremony.
A good friend who has her back and anticipates things before they happen is essential for a bride's happiness on her wedding day.
23. Take Care Of Yourself First
Keep in mind that taking care of yourself is the first step to being of great help.
Say no to any requests that will be too much for you.
Ask for help from your fellow bridesmaids if needed.
Eat and hydrate enough to not get sick during preparations (it's a long day!).
Prepare an emergency kit.
Remember to bring a second pair of comfortable shoes before hitting the dance floor.
24. Remember What You Committed To
Becoming an awesome bridesmaid and being a part of the happy couple's day is a great honor.
Commit yourself to good etiquette for bridesmaids and remember to:
Keep your calendar open.
Pay for your own expenses and share bills with the bridal party.
Attend all events and be reliable and always on time.
Create and maintain lifelong friendships with your co-bridesmaids.
Take pride in your role as part of such an important event.
Final Thoughts
The etiquette for bridesmaids and their to-dos is pretty simple, but it's helpful to review and remind yourself of the basics, so you don't tap into any faux pas.
Finally, remember to have fun while staying on top of all the responsibilities as one of the bride's closest friends.