What Styles Of Engagement Rings Are Popular
As you begin researching different styles of engagement rings, you may feel overwhelmed by the sheer number of styles and designs out there.
Here's a quick roundup of the most popular engagement ring styles that never go out of fashion.
That way, you can select a ring that accurately reflects your style.
If you're looking to capture the timeless brilliance of your love, a classic solitaire engagement ring is the perfect way to express your commitment and devotion.
From classic solitaires to vintage-inspired halo engagement rings, these stunning pieces will make every bride-to-be feel like royalty on her big day.
Classic Solitaire
With its iconic symbol of endless possibilities, this beautiful piece will keep your love shining bright forever.
Not only are these rings beautiful and timeless, but they are also incredibly versatile.
A classic solitaire can easily transition from day to night, making it great for any occasion or event. You can also pair it with other jewelry pieces if desired, such as a matching wedding band or even an eternity band.
Plus, because they are often made with smaller diamonds, they may be more affordable than other rings. 
Recap:
It features a single diamond in an understated setting and puts the emphasis solely on the beauty of the stone.
Prong or bezel settings make it a traditional style that will never go out of fashion.
Perfect for brides looking to add sophistication to their special day.
It is often made with smaller diamonds, making them more affordable than other ring styles.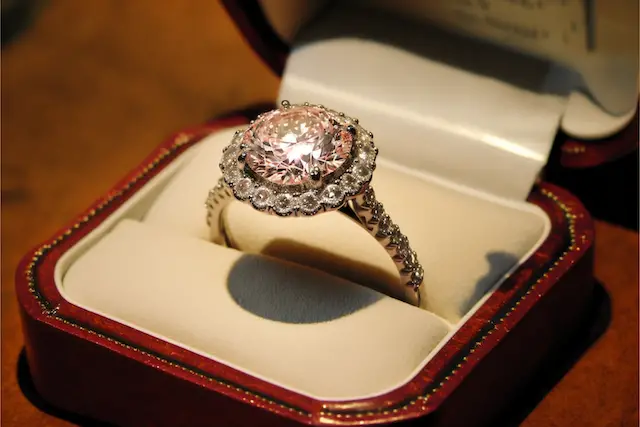 Halo
A halo-style ring typically features one or more diamonds set in the center with a ring of smaller diamonds around it—hence the name "halo."
This exquisite setting has been around since at least the 1930s, and its popularity shows no signs of waning anytime soon. As a result, it makes an excellent choice for anyone looking to add extra sparkle to their engagement ring.
Recap:
A halo engagement ring features a central diamond surrounded by smaller diamonds in a circular or scalloped pattern.
Creates the illusion of a larger diamond with small diamonds surrounding the center stone.
Available in various shapes, such as round, oval, pear, or cushion.
Enhances the overall look of the center diamond adding extra sparkle to the ring.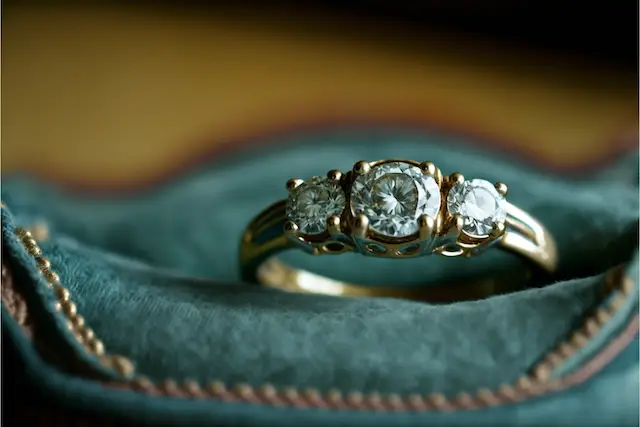 Three-Stone
What makes the three-stone ring so unique? The three main stones—usually two diamonds on either side framing a larger center diamond—represent the couple's past, present, and future together.
The two side stones represent their life together before they said "I do," while the bigger center stone represents the beautiful life they will share in the years to come. It's an iconic design that will never go out of style!
Recap:
A three-stone engagement ring features three diamonds of different sizes, representing past, present, and future.
This style is famous for its symbolic meaning and the added interest it brings to the ring.
Three-stone rings can be made in various shapes, such as round, oval, pear, or cushion.
The diamonds can be set in a straight line or in a curved setting.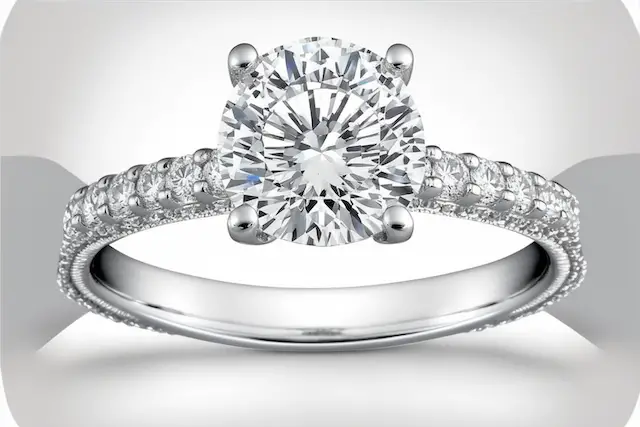 Pavé
The word "pavé" translates from French to mean "paved," which perfectly describes this type of ring setting. Pavé settings feature tiny stones—usually diamonds—that are set very close together in a line or pattern around the band.
Though they look delicate, they are actually quite durable due to how each stone is held securely by tiny metal beads or prongs. 
Recap:
A pavé engagement ring features small diamonds set closely together, covering the band to create a glittering surface.
This style is popular for its delicate look and the extra sparkle it brings to the ring.
Pavé diamonds can be set in various patterns, such as in a halo or on the band itself.
The diamonds can be set in a straight line or in a curved setting.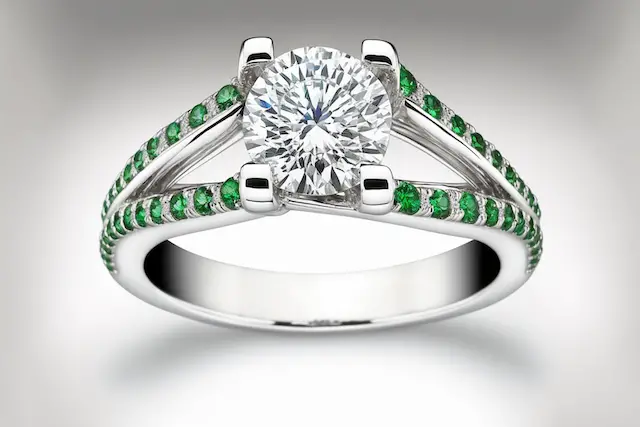 Split Shank
A split-shank engagement ring is one where the band divides or "splits" into two or more bands that meet at the center stone. 
This type of setting is typically used to secure larger stones, providing extra support and stability. 
This design also allows for more intricate detailing to be added around the center stone, such as additional smaller diamonds, which enhances the overall sparkle of the piece. The addition of side stones also helps draw attention to the center stone and makes it appear larger. 
Recap:
A split shank engagement ring features a band that splits into two at the sides, often creating a V shape.
This style is popular for its unique look and the added interest it brings to the ring.
The split shank can be decorated with diamonds or left plain for a simpler look.
The split shank can be set with one larger diamond or a cluster of smaller diamonds.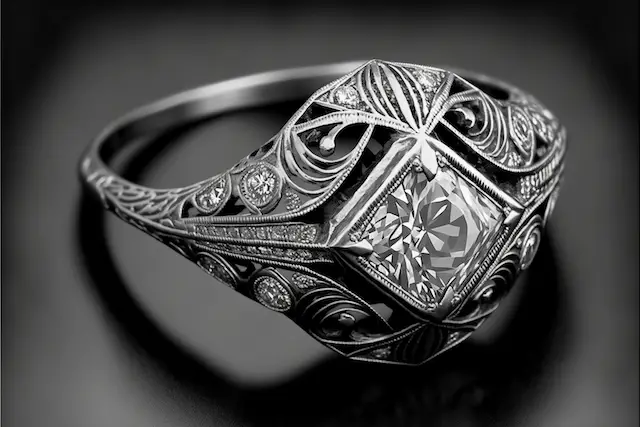 Art Deco/Vintage
Art deco and vintage rings have many unique characteristics, and they are beautiful, romantic options that will last generations. 
Characteristics of Art Deco Rings 
Art deco rings often feature geometric shapes, intricate filigree work, and bold lines. Ancient Egyptian designs and iconic symbols like sunbursts and stars inspired jewelers during this era.
These rings also featured center stones set in a rectangular or square shape, which was popular during this period. Many art deco rings also incorporate colorful gemstones like rubies and sapphires into their design for added sparkle and drama.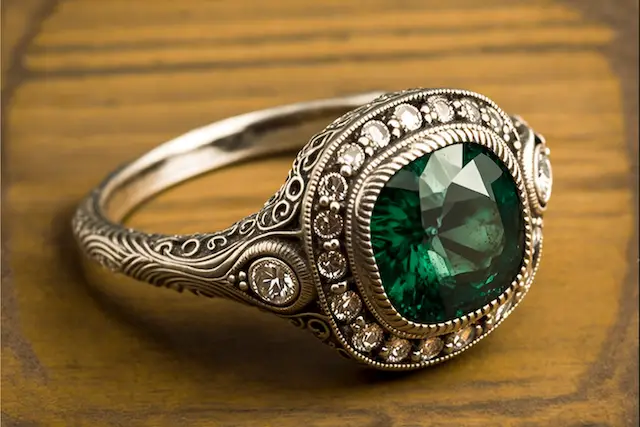 Characteristics of Vintage Rings 
Vintage engagement rings typically feature soft curves and organic shapes like hearts, flowers, or scrolls. They also often have diamond halos around their center stones to give them extra brilliance and sparkle.
Other standard features include milgrain details, enamel accents, and intricate engravings on the ring's shank. Since vintage engagement rings span a wide range of eras (Edwardian through Retro), it's important to note that each era has its own distinct style that can be easily recognizable when seen up close. 
Recap:
An art deco or vintage engagement ring is inspired by the art deco or vintage eras, featuring geometric patterns, milgrain, and filigree.
This style is popular for its nostalgic look and the added interest it brings to the ring.
Art deco and vintage rings can be made in various shapes, such as round, oval, pear, or cushion.
The diamonds can be set in a straight line or in a curved setting.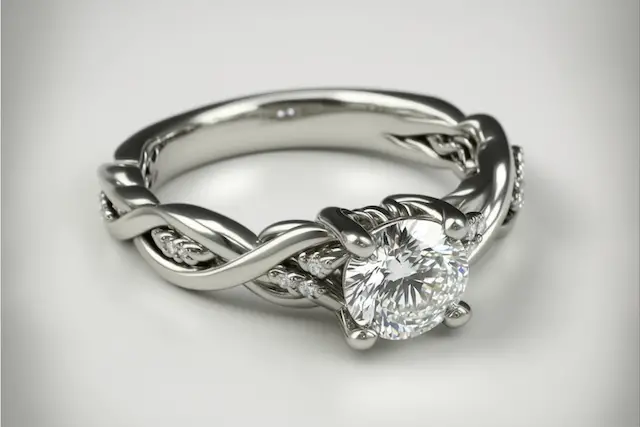 Twisted/Braid/Double Band
Twisted Braid Engagement Rings 
Twisted braid engagement rings feature two strands of metal intertwined, forming a beautiful braid-like pattern. The two strands might be made of different metals—such as rose gold and platinum—or they may be made of the same material.
Some twisted braid rings also feature smaller diamond accents along either side of the braided pattern. This style is perfect for couples who love unique jewelry designs and want an engagement ring that stands out from the crowd.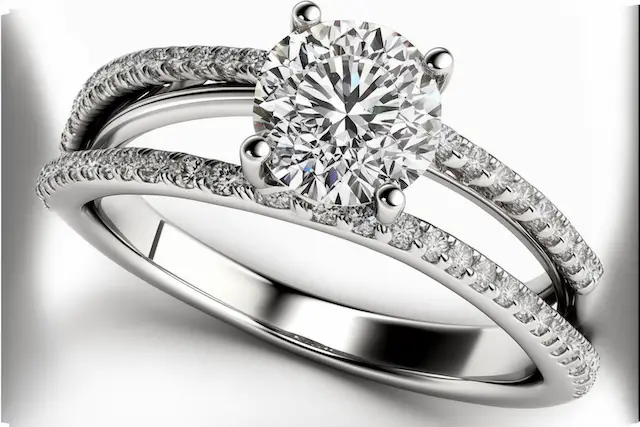 Double Band Engagement Rings 
As its name suggests, double-band engagement rings feature two bands instead of one. These bands can be made from different metals or materials, such as yellow gold, white gold, white gold, and rose gold.
The bands can also feature small diamonds set into them for some extra sparkle! This style is great for those who prefer more minimalist designs with subtle accents. It's also an excellent option for couples looking for something unique but not too flashy. 
Recap:
A twisted, braid, or double-band engagement ring features two or more bands intertwined, creating a unique look.
This style is popular for its unique look and the added interest it brings to the ring.
The bands can be made of the same or different metals for a mixed metal look.
The bands can be set with diamonds or left plain for a more straightforward look.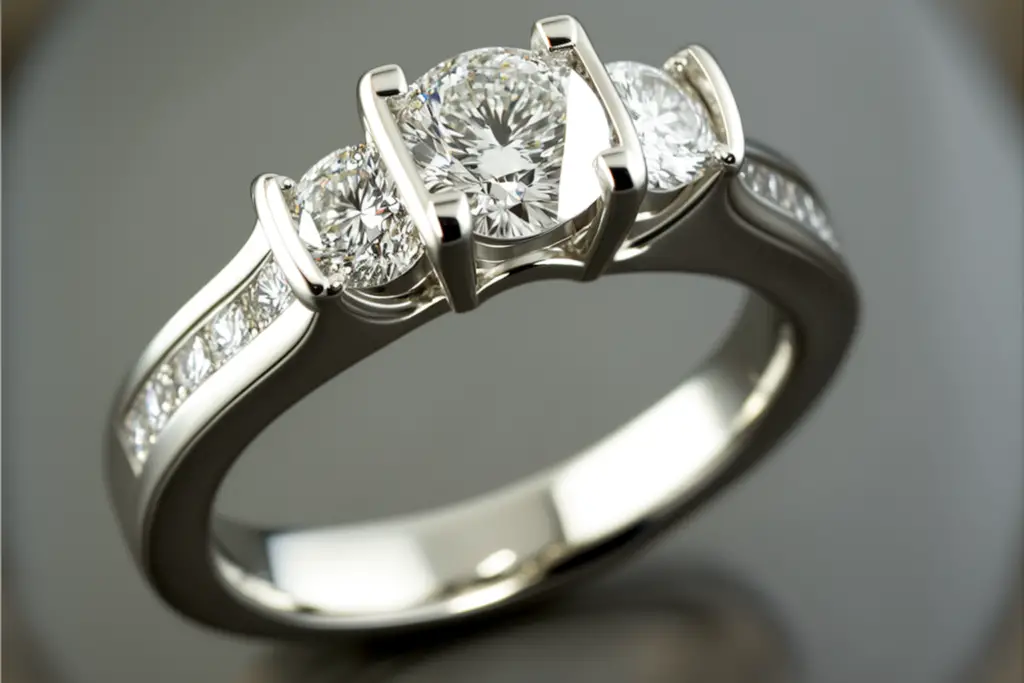 Bar Set
In a bar set, only two sides of the diamond are enclosed and held in place by a bar of metal. This setting helps prevent the diamond from shifting or becoming loose while the other two sides are left open to maximize light return.
One of the benefits of a bar set engagement ring is that it shows off more of each stone compared to other settings, such as bezel or prong settings because two sides remain exposed instead of being entirely enclosed by metal walls.
Plus, since no prongs stick out, there's less worry about them catching on to anything and potentially getting damaged over time. 
Recap:
Stones are set individually into small bars of metal.
Bars are positioned along the band.
Stones are exposed on both the top and two sides.
It offers a modern, edgy look.
Stones may be more prone to falling out due to the individual setting.
Channel Set
With the diamonds nestled side by side in a "channel" of two metal walls, channel set jewelry creates an illusion that your gems are effortlessly floating. In addition, the diamonds are more secure in this setting style and less prone to falling out.
The metal walls of the channel create tracks where the gems sit securely and make sure none catch on anything as you go about your daily life wearing your engagement ring.
Like with a bar setting, this also means no prongs sticking out, so there's no risk of them getting snagged or damaged over time! 
Recap:
Stones are set into a channel of metal, with the metal holding them in place.
Stones are only exposed on the top of the ring.
It offers a sleek, sophisticated look.
Stones are protected from falling out due to sitting deeper in the channel.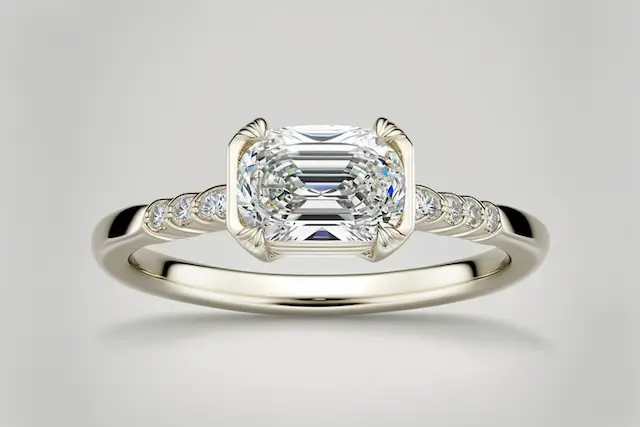 East-West Setting
East-West ring settings are a beautiful, contemporary take on a classic diamond solitaire. 
The diamond is set horizontally instead of vertically in this engagement ring style. This creates a stunning visual effect that grabs attention since it makes any stone appear larger than its actual size. In terms of design, it can be both subtle and striking simultaneously – it all depends on how you customize it.
The east-west setting is quickly becoming one of the most popular ring settings today due to its modern look and versatility.  
Recap:
An east-west setting engagement ring features a diamond set horizontally, with the two ends of the diamond pointing east and west.
This style is famous for its unique and contemporary look.
The diamond can be set in a variety of shapes, such as oval, cushion, marquise, emerald cut, or pear.
This setting allows the diamond to be displayed in a different orientation, making it a modern and trendy option for first-time buyers.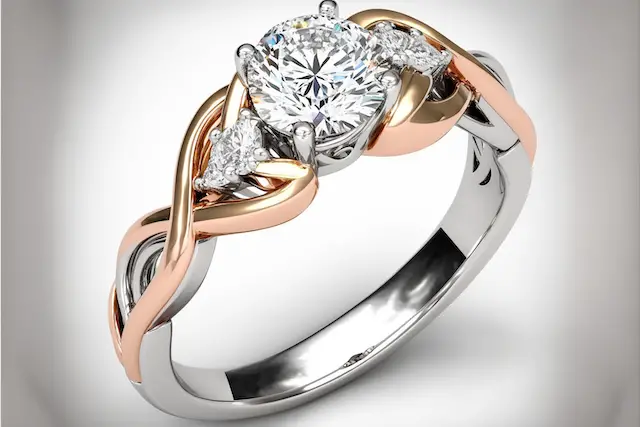 Mixed Metal Setting
A mixed metal setting is an engagement ring made with two or more different precious metals, such as platinum, white gold, rose, and yellow gold. Combining these metals helps create a unique look that stands out from traditional solitaire designs.
Additionally, some people may choose this style because they have difficulty deciding between two different types of metals; this way, they can have both! 
Recap:
A mixed metal setting engagement ring features two or more different metal types in the band and setting.
This style is popular for its modern and trendy look.
The metals can be blended in various ways, such as a white gold band with a rose gold setting or a yellow gold band with a platinum setting.
This style allows first-time buyers to incorporate their style and preferences into their engagement ring choice.
What Other Options Should You Weigh When Exploring Different Styles of Engagement Rings?
Customization options
When you're looking for the perfect engagement ring, customization is key. Whether a solitaire, three-stone, or halo setting, you can design the ring to best fit your preferences with specific metal, diamond shapes, and settings. Make sure to take your time to pick out the perfect combination that will make your special piece truly unique!
Metal type: White gold, yellow gold, rose gold, or platinum.
Diamond shape: Round, princess, cushion, or oval cut.
Setting: Solitaire, three-stone, halo, pavé, or bezel.
Diamond quality: Cut, clarity, carat weight, and color.
Engraving: Personalize your piece with a special message or date.
Gemstones: Incorporate colorful sapphires, rubies, emeralds, or a black diamond into the design for a unique touch.
Mix and match styles
A great way to create a truly unique engagement ring is to mix and match different styles. For example, a three-stone setting paired with a halo design or a pavé band add-on to a solitaire ring can make your piece one-of-a-kind. So be creative, and let your imagination run wild!
Three-stone setting with a halo design.
Solitaire ring with a pavé band add-on.
A classic solitaire ring with an eye-catching twist, such as diamond-shaped or colored side stones.
A vintage-inspired ring with modern touches, like a halo setting on a filigree band.
A mix of different diamond shapes – cushion cut center stone and round diamond accents.
Combinations of different metal types – the white gold band with a yellow gold setting.
An unconventional and truly unique setting that combines elements from different styles, like a halo setting paired with a split shank.
Personal significance
While popular engagement ring styles are great for inspiration, don't forget that there is a personal significance to the ring. Incorporating heirloom diamonds or other meaningful elements into your design can help make your engagement ring an even more sentimental piece. With creative and thoughtful ideas, you can make your special moment one you'll never forget!
Incorporating heirloom diamonds or other precious stones from family members.
Adding initials, dates, or special symbols to the ring.
Choosing a diamond shape that holds special significance, such as a heart or cushion cut.
Engraving a meaningful message or quote inside the band.
Selecting a metal that has special significance, such as rose gold or yellow gold.
Including gemstones that represent a specific birth month or have personal meaning for the couple.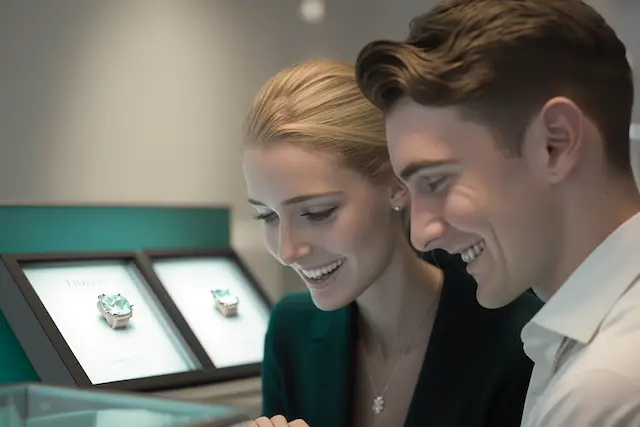 Consider comfort
Comfort is critical when choosing an engagement ring! Find a ring that fits your finger comfortably – not too loose or tight – to ensure it's an enjoyable piece to wear. Avoid any pesky discomfort or irritation that could cause a distraction while showing off your special piece.
Find the right size: Get your ring finger measured to ensure you have a comfortable fit.
Choose the right shape: Some shapes, like rounded or comfort-fit bands, are more comfortable to wear than pointed styles.
Avoid prongs: If you're prone to catching your ring on things, opt for a bezel or flush setting, which sits closer to the finger.
Consider the width: A wider band can be more comfortable to wear than a skinny one, but choose the width that suits your personal style.
Check the weight: A heavy ring can be uncomfortable to wear for long periods of time, so consider the weight of the ring and the materials used when making your selection.
Environmental and ethical considerations
Thinking of the environment and ethical considerations when shopping for an engagement ring? The good news is that you can have it all – look for options made with recycled metals and conflict-free diamonds to ensure that your beloved piece is beautiful and sustainable. It's a small step in the right direction for a more eco-friendly future.
Using recycled metals, such as gold and platinum, reduces the demand for mining and helps conserve natural resources.
Ensuring the diamonds are conflict-free and ethically sourced, avoiding any association with human rights abuses or violence.
Looking for certifications, such as the Responsible Jewellery Council, that guarantee environmentally and socially responsible practices in producing engagement rings.
Choosing an engagement ring with a traced supply chain, so you can be sure that the materials used are ethically sourced.
Considering an engagement ring with minimal packaging and waste to reduce its environmental impact.