American Wedding Traditions: How the US Celebrates Love Like No Other
American wedding traditions have evolved and diversified over time. You might be intrigued by the symbolism and sentiment behind these well-known customs and how you can apply them to your wedding.
Staples like the bridal bouquet, wedding cake, and, of course, exchanging rings have become fixtures in wedding celebrations. Also, many couples write their wedding vows or incorporate a unity ceremony, like the ever-popular unity candle ceremony.
In the United States, having a first dance is a popular way to honor the newly married couple, and the wedding exit (or "send-off") is a joyful and often humorous way to mark the end of the wedding.
Here is the rundown of the leading American wedding traditions to consider for your own special day: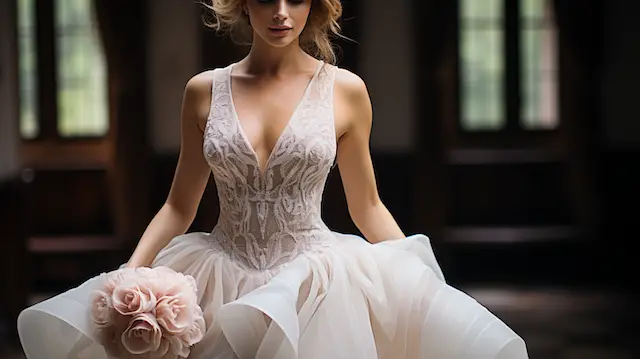 The White Wedding Dress
The white dress symbolizes righteousness, integrity, and new beginnings in American weddings. Originating from the 1800s when Queen Victoria wore a white gown for her wedding, it has become a standard for modern brides. When choosing your wedding dress, consider the significance of this tradition and the statement a white dress makes.
Other options if a bridal-white wedding dress isn't for you are shades of white like ivory, cream, or champagne.
The Veil
The practice of wearing a veil harks back to the time of arranged marriages when the veil was used to hide the bride's face until the deal was sealed. Nowadays, the tradition is seen more as a charming custom, symbolizing modesty and purity, enhancing the bride's anticipation and excitement as she walks down the aisle.

The Bridal Bouquet
The bridal bouquet holds a special place in American wedding traditions. Historically, it was composed of herbs and spices believed to ward off evil spirits. Over time, flowers replaced these elements, each with its own symbolic meaning. Today, the bridal bouquet is often seen as a symbol of love and happiness. It is carefully chosen to complement the wedding theme and the bride's attire, creating a beautiful harmony.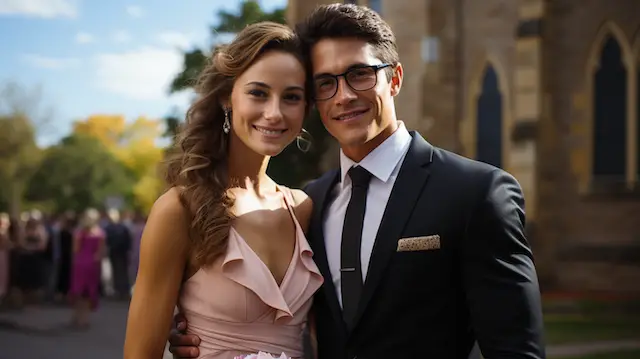 Having Bridesmaids and Groomsmen
Bridesmaids and Groomsmen play essential roles in American weddings, supporting the bride and groom throughout the planning process and the events on the big day. Typically, bridesmaids wear complementary dresses, while groomsmen don matching suits or tuxedos, reflecting unity and harmony within the wedding party. As you select your bridesmaids and groomsmen, consider friends and family who will provide solid support and contribute positively to your special day.
Ring Bearer and Flower Girl
The ring bearer and flower girl are often young children who play an essential role in the ceremony. The ring bearer carries the wedding rings on a small pillow or another decorative item while the flower girl spreads petals down the aisle before the bride's entrance. Including a ring bearer and flower girl in your wedding ceremony can add a touch of charm and innocence, symbolizing the beginning of your new life together.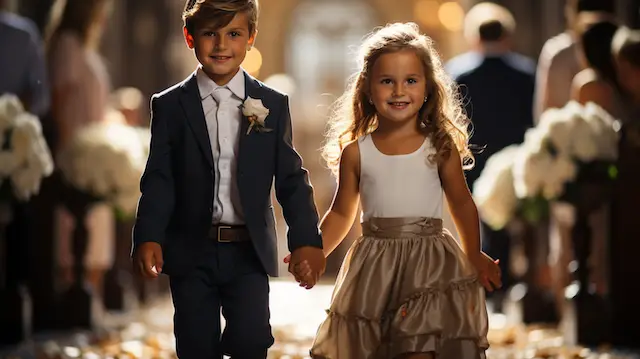 The Wedding Party
In American weddings, the wedding party consists of the bride and groom's closest family and friends, who support them throughout the wedding process and on the big day itself.
The wedding party's responsibilities often involve assisting with pre-wedding tasks like planning the bridal shower and bachelor/bachelorette parties and attending rehearsals and fittings. On your wedding day, they'll be by your side during the ceremony, offering emotional support and assistance with practical matters.
American wedding traditions usually impose specific attire for the wedding party. Bridesmaids usually wear matching or coordinated dresses, while groomsmen wear matching suits or tuxedos. The maid or matron of honor and the best man might have slightly different attire to set them apart and signify their unique roles.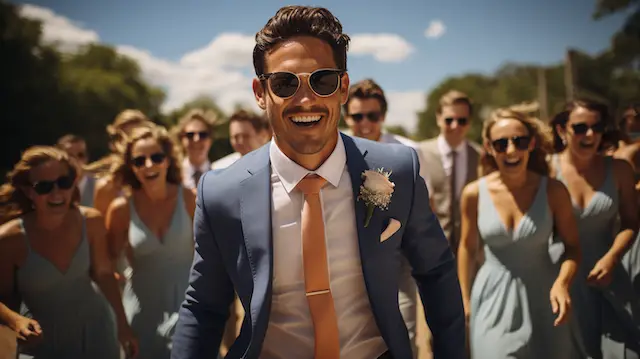 Wedding Processional
The wedding processional is the formal entrance of the wedding party, including the officiant, bride, groom, bridesmaids, groomsmen, and other important people in your life, such as parents or grandparents. In American weddings, the processional usually starts with the officiant, followed by the groomsmen and bridesmaids. The groom enters next, with the bride entering last, escorted by her father or another close family member source. This order can vary depending on cultural or personal preferences.
The Exchange of Rings
During a wedding ceremony, the exchange of rings is a significant tradition. Typically, both partners place a wedding ring on each other's finger, symbolizing the commitment and unity of their marriage. The wedding ring originates in Ancient Egypt, where the circle represents never-ending love. Similarly, the engagement ring dates back to Ancient Egypt and Sicily, with the diamond symbolizing the fiery love between the couple.
Unity Ceremonies
Unity ceremonies are a beautiful way to symbolize the joining of two lives during a wedding ceremony. One popular example is the lighting of unity candles, where you and your partner each hold a lit candle and use it to ignite a larger, central candle. This represents the blending of your individual lives into a unified partnership. Other unity ceremonies include handfasting, sand pouring, or planting a tree together.
Tying the Knot
"Tying the knot" is a phrase often used to describe getting married. This term has roots in several cultures, including Celtic handfasting, a tradition where the couple's hands are tied together with a ribbon or cord during the wedding ceremony. In America, this tradition can still be incorporated into weddings as a symbolic gesture of commitment and unity.
The First Dance
You'll likely witness the first dance between the newlyweds at the reception. This symbolic moment represents their unified journey through life together. The couple usually selects a meaningful song, and guests gather around to watch them gracefully glide across the dance floor. Following the first dance, the wedding party and family members are often invited to join in for an uplifting and memorable experience.
The Wedding Cake
A staple at American wedding receptions, the wedding cake is often a centerpiece in the celebrations. Traditionally, the cake is multi-tiered and elaborately decorated with intricate icing designs, fresh flowers, and cake toppers representing the married couple. Some couples opt for alternative dessert options, such as cupcakes or dessert tables, but the sentiment of unity and celebration remains the same. As a guest, you can expect a formal cake-cutting ceremony where the couple shares their first slice.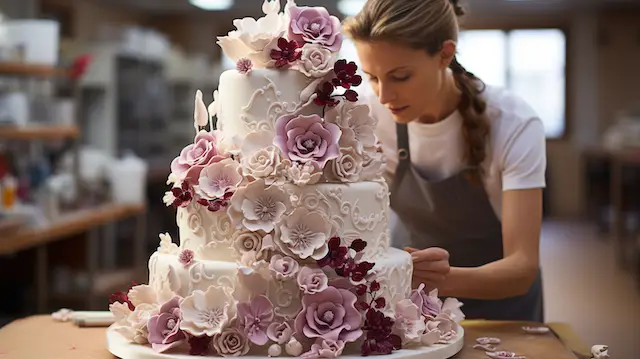 Having a Fun Exit ("Send-Off")
Your wedding exit can be fun and memorable! From having your guests blow bubbles or throw confetti to riding off in a vintage car, there are plenty of creative ways to make your exit stand out.
Throwing of Rice
One of the oldest American wedding reception traditions is the throwing restrictsrice as the couple exits the ceremony or reception venue. It represents fertility, prosperity, and best wishes for their future. Check if the venue has restrictions on rice-throwing due to safety, clean-up fees, or environmental concerns; alternatives like biodegradable confetti, petals, or bubbles are often used to keep the tradition alive.
Tossing Bridal Bouquet
Another delightful tradition you'll encounter at an American wedding reception is the bouquet toss. As the bride, you'll gather all the single women present and toss your bouquet over your shoulder. If you're the lucky lady who catches the bouquet, lore states you'll be the next to walk down the aisle. Similarly, the groom can add a dash of fun by tossing the bride's garter to the single men. This tradition contributes to the playful and spirited ambiance of the reception.
Favors for Guests
As a sweet way to thank your guests for joining you on your special day, you might consider offering them small favors. These could be anything from personalized keepsakes to delectable goodies, providing a tangible memory for guests to cherish. Favors are a cherished part of American wedding traditions and are a lovely way to infuse your personality, interests, or even your wedding theme into a little token of gratitude for your guests.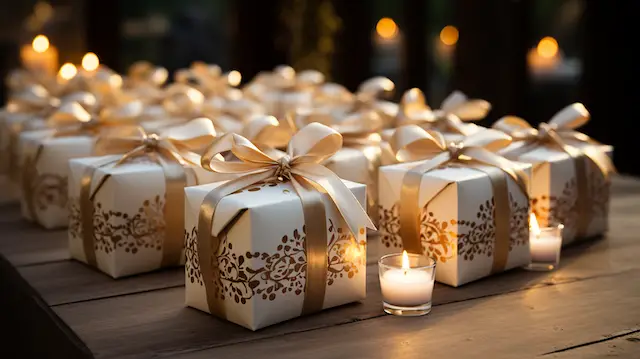 Something Old, Something New, Something Borrowed, and Something Blue
This popular rhyme represents different aspects of luck and protection for the bride. "Something old" symbolizes continuity and connection to the past. "Something new" signifies hope and a fresh start for the couple. "Something borrowed" represents borrowed happiness, often from happily married friends or family. Finally, "something blue" is believed to represent fidelity, purity, and love. Incorporating these elements into your wedding can bring positive energy and good fortune to your special day.
Pre-Wedding and Post-Wedding Traditions
The Bridal Shower
The bridal shower is a time-honored tradition where your closest friends and family come together to celebrate you, the future bride. You can look forward to a joyous atmosphere filled with laughter, fun games, and activities. This is truly your moment to bask in the love and support of your dear ones, who usually bring gifts just for you. It's a precious opportunity to unwind and enjoy some quality time with loved ones before your big day draws near. Trust your maid of honor or bridesmaids, who typically organize this event, to let their affection for you shine through every detail of this celebration.
The Bachelor and Bachelorette Parties
You've got a whole set of pre-wedding festivities to look forward to, including your bachelor and bachelorette parties. These occasions are a chance for both of you to let loose and celebrate your "last fling before the ring" with your nearest and dearest. Whether you're envisioning an energetic night out on the town or maybe a calm, rejuvenating spa weekend, the possibilities are endless. Remember, it's all about what you two would enjoy the most! Usually, your best man and maid of honor will take the reins on planning these events, but don't be shy about sharing your preferences. After all, it's your celebration!
Creating a Wedding Registry
Before your wedding, it's a common practice for you both to think about creating a wedding registry. This registry essentially becomes your wish list, detailing the items you'd love to receive as wedding gifts. By setting up a registry, you're making it easier for your guests to choose presents that you'll not only appreciate but also find useful in your new life together. You can create a registry at a variety of places, including department stores, specialty retailers, and even online platforms. It's all about what suits you best!
The Honeymoon
After the wedding, the newlyweds embark on their honeymoon. This romantic trip allows the couple to celebrate their union and enjoy quality time together away from the stress of wedding planning. The honeymoon destination can vary greatly depending on the couple's preferences and budget, ranging from an exotic beach getaway to an adventurous road trip. This special time allows the bride and groom to create unforgettable memories as they begin their new life as a married couple.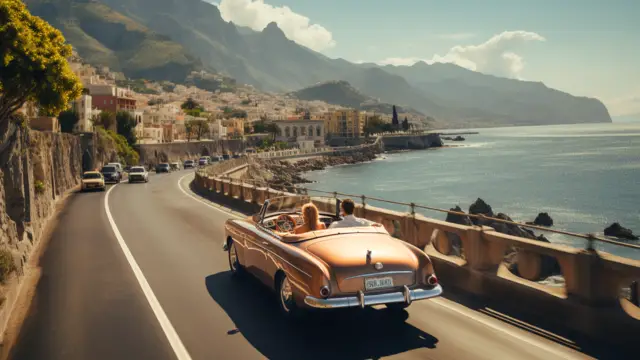 Thank-You Notes
Showing appreciation for your wedding guests doesn't have to be complicated. Try writing out elegant thank-you notes that include a small gift or a heartfelt message. This simple gesture goes a long way in expressing gratitude and showing how much you care. If you want to go the extra step to show your appreciation, you can host a post-wedding brunch. Whatever you decide to do, your gesture will surely be remembered.
Post-Wedding Brunch
Hosting a post-wedding brunch is a lovely way for both to extend your gratitude to your wedding guests, particularly those who traveled a great distance to share in your joy. This event is usually planned for the morning following your big day, perhaps at the same venue where your reception was held or even in a charming outdoor space. The atmosphere at this brunch is generally laid-back, giving you the chance to unwind and savor some delicious food and drink.
Contemporary Additions to American Wedding Traditions
"First Look" Photo Session
A "first look" photo session is when the bride and groom have their pictures taken before the wedding ceremony, allowing them to privately enjoy each other's beauty and excitement instead of at the altar in front of all their guests.
Offer a Signature Cocktail
A signature cocktail is a fun and delicious way to add a special touch to your wedding reception. You can create a signature drink yourself or ask your caterer for help.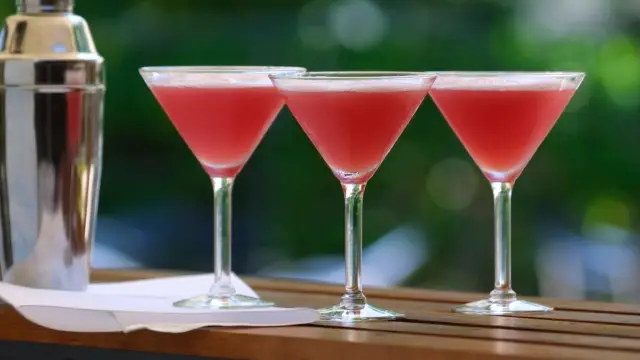 Here are some ideas:
Love Potion: This delightful cocktail is a mixture of vodka, cranberry juice, and a splash of champagne. It's a sweet, bubbly beverage perfect for a romantic celebration.
Mint to Be Mojito: A refreshing twist on the classic mojito, this cocktail includes rum, mint, lime, and a touch of sugar. It's a cool, crisp choice for a summer wedding.
Blushing Bride: This cocktail combines peach schnapps, grenadine, and champagne for a light, fruity drink. Its lovely blush color is sure to enhance your wedding theme.
Marital Bliss Margarita: This flavorful cocktail blends tequila, triple sec, lime juice, and a hint of agave nectar. It's perfect for adding a fun, festive vibe to your celebration.
Eternal Love Elderflower Spritz: This elegant cocktail features elderflower liqueur, prosecco, and a splash of sparkling water. Its sophisticated taste and delicate floral notes make it an excellent choice for a chic, modern wedding.
Funding Your Honeymoon
More and more couples are opting to open a honeymoon fund or registry as an alternative to traditional wedding gifts. This allows guests to contribute money towards the couple's dream honeymoon instead of selecting a gift from an existing registry.
Sustainable Wedding Decorations
The trend of eco-friendly weddings is becoming increasingly popular, and couples are finding creative ways to reduce their environmental impact. This includes using sustainable decorations like potted plants or flowers instead of plastic items. Sustainable decor not only looks beautiful but also helps protect the environment.
Reception Activities
Couples are getting more creative with their reception entertainment. This can include activities like a photo booth, lawn games, or even a silent disco. Activities like these can help keep guests engaged and allow them to interact with each other.
A Quick History of American Wedding Traditions
American weddings are a beautiful blend of traditions, cultures, and customs. But have you ever wondered how these traditions came to be? Let's take a stroll down the aisle of history and explore the fascinating evolution of American weddings.
Colonial Times: Simplicity and Practicality
In the early days of America, weddings were simple and practical affairs. Marriages were often arranged for economic or social reasons.
Key Features:
Dowries: Families negotiated dowries, which were essential for the marriage agreement.
Home Ceremonies: Weddings were usually held at home, focusing on family and community.
Simple Attire: Brides often wore their best dress, not necessarily white.
19th Century: The Rise of Romance
The 19th century saw a shift towards romantic love as the basis for marriage. The influence of Queen Victoria's white wedding gown began to make its mark.
Key Features:
White Dresses: The white wedding dress became a symbol of purity and innocence.
Church Weddings: More couples began to marry in churches, adding a religious aspect.
Wedding Cakes: Tiered wedding cakes became popular, symbolizing fertility and prosperity.
Early 20th Century: Modernization and Tradition
The early 1900s brought societal changes, and weddings began to reflect modern values while maintaining traditional customs.
Key Features:
Registry Offices: Civil ceremonies became more common.
Engagement Rings: The diamond engagement ring became a symbol of eternal love.
Honeymoons: The tradition of taking a post-wedding vacation began to take hold.
Late 20th Century to Present: Personalization and Diversity
Today's American weddings are a beautiful blend of traditions, personal touches, and cultural diversity.
Key Features:
Themed Weddings: From beach weddings to vintage affairs, personalization is key.
Cultural Fusion: Many couples incorporate traditions from various cultural backgrounds.
Same-Sex Marriages: Legalizing same-sex marriage in 2015 added a new chapter to the American wedding story.