Popular Wedding Themes: A Guide for Trendy Couples
Like many brides and grooms starting to plan out their big day, you may be feeling overcome by all the options when it comes to design and decor and may weigh in on a wedding theme. Considering popular wedding themes as a source of inspiration can help narrow down your choices and give you a starting point.
There are many options when it comes to popular wedding themes, but some of the most classic and timeless themes include traditional, rustic, vintage, modern, nautical, boho chic, and enchanted garden.
Take inspiration from the seasons, your favorite movie, and specific color palettes.
Let's take a closer look at each of these themes, along with their associated elements, decor and color schemes.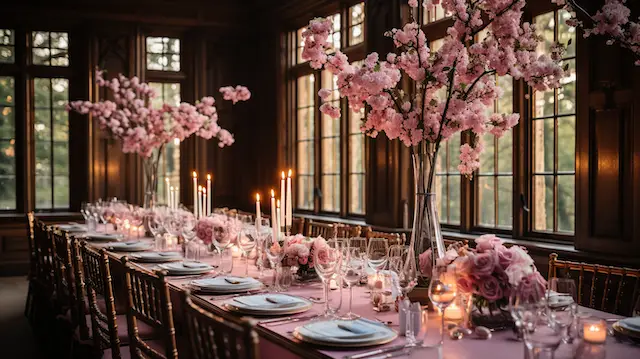 Classic Popular Wedding Themes Ideas
Formal / Traditional
One of the most popular wedding themes is the Formal or Traditional style, known for its timeless and elegant look that will never go out of style. This enduring and grand wedding theme features clean lines and a cohesive aesthetic. Your ceremony and reception venues should exhibit sophistication, such as a grand ballroom or a historic estate.
Couples opting for this style often choose to have a black-tie affair.
For your wedding invitations, consider incorporating classic calligraphy and luxurious details. Regarding florals and decor, stick to uniform arrangements and sophisticated centerpieces. Consider using gold accents to elevate the elegance.
Formal / Traditional wedding theme key elements:
1. Formality and Elegance: a sit-down three-course dinner at a reception, formal dress code, and sophisticated decor that is often timeless. Wedding attire usually consists of suits, tuxedos, and ballgown-style dresses for the bridal party. The decor, from the ceremony to the reception, tends to be sophisticated and elegant​
2. Classic Ceremonies and Traditions: professional wedding photos, cutting of the cake, speeches, the first dance, father-daughter, and mother-son dances, and the garter and bouquet toss. If you are married in a church or religious setting, there may be further religious or cultural traditions incorporated into the ceremony​​.
3. Venue: often a traditional and sophisticated space, such as country clubs, hotels, estates, ballrooms, banquet halls, or churches.
4. Bridal Party: The bridal party at a traditional wedding usually consists of many members, including flower girls, page boys, junior bridesmaids/groomsmen, ushers, and ring-bearers. The bridal party is often dressed formally, in line with the overall theme of the wedding​​.
5. Color Palette and Decor: refined and cohesive colors, typically avoiding anything too vibrant or neon. Neutrals are often a great starting point, which can be paired with other colors for a more eye-catching combination.
Garden Wedding
If you're looking for an outdoor wedding option, a Garden or Outdoor Wedding theme is romantic and picturesque. This style is perfect for a spring or summer wedding, allowing you to enjoy beautiful blooms in a botanical garden or another lush outdoor setting.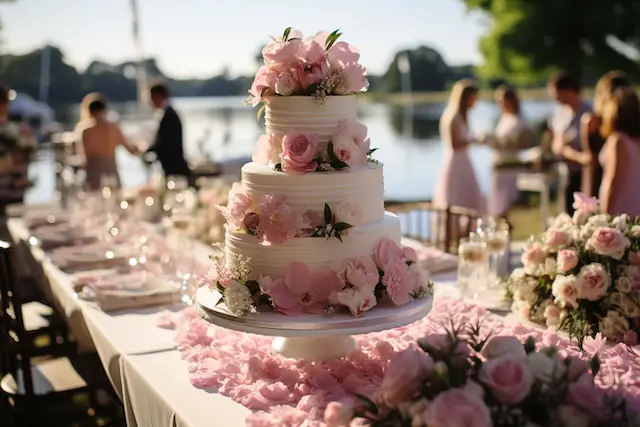 Soft pastels and whimsical motifs work beautifully as wedding colors and invitation designs for a garden-themed affair. Incorporate plenty of flowers in your decor, and consider adding string lights for a magical touch.
Garden or Outdoor wedding theme key elements:
1. Romantic and Whimsical Ambience: Garden weddings are known for their romantic and whimsical aesthetic, often resembling a fairytale setting. This theme includes abundant fresh flowers, lush greenery, and elegant decorations that contribute to its dreamy atmosphere​.
2. Outdoor Setting: Typically, garden-themed weddings take place in outdoor venues like botanical gardens, estates, vineyards, or your own backyard (i.e., a backyard night wedding). However, the theme can also be recreated indoors to evoke the feeling of a beautiful garden experience. The key to this is making the environment feel natural and not over-designed​​.
3. Classic and Traditional Decor: Antique and traditional decor, such as gold candlesticks, chandeliers, and calligraphy signs, often feature in garden-themed weddings. These elements help to evoke a feeling of elegance and grandeur, reminiscent of a classic fairytale or period drama​​.
4. Pastel Color Palette: A garden wedding usually incorporates pastel colors like blush pink, dusty blue, lilac, sage green, and pale yellow. These colors, often found in nature, contribute to the event's overall aesthetic, creating a soft and inviting atmosphere​​.
5. Floral Accents and Motifs: From the bridal party's attire to stationery and decor, floral accents and motifs are integral to a garden wedding theme. They can be incorporated in various ways, such as in the bride's hair, the wedding dress, the welcome sign, and even in indoor installations for indoor weddings​.
Vintage Wedding
Ideal for couples with love for history and nostalgia, this theme could take inspiration from any period, like the Great Gatsby or an Art Deco aesthetic.
Choose a unique venue, such as a vineyard or a historical building, that fits the era you aim for. Lace, antique furniture, and retro accents will help you achieve the vintage look for your decor and attire. Design your invitations with vintage fonts and motifs, and consider incorporating retro elements into your menu, favors, and overall theme.
Vintage wedding theme key elements:
1. Period Inspiration: A vintage wedding theme is about drawing inspiration from a specific decade or period. You should research the chosen era's history and let it guide every detail of your wedding, from the decor to the fashion and the color palette​​.
2. Vintage Lighting: Lighting is crucial in setting the mood for a vintage-themed wedding. To create an elegant and historic atmosphere, you should consider using alternative lighting options like candlesticks, exposed lightbulbs, or mismatched chandeliers​​.
3. Vintage Vehicles: Using a vintage car or truck for your grand exit at the end of the reception can be a standout feature of your vintage wedding. This can help create a memorable moment that aligns with your wedding theme​.
4. Vintage Dessert: Using desserts popular in your chosen era, like a Bundt cake which gained popularity in the 1950s, can add an authentic vintage touch to your wedding reception​.
5. Vintage Seating Area: Having designated lounge seating areas throughout your reception can help create a vintage vibe. You can rent Art Deco furniture pieces or styles from your chosen era to make these seating areas.
Rustic Wedding
A Rustic Wedding offers a cozy, country-inspired vibe for your big day. Perfect for an outdoor or barn venue, this theme is all about natural elements and DIY touches. Incorporate wooden decor, forest-inspired details, and a warm color palette to create a welcoming atmosphere. Opt for wildflowers and greenery for your florals to enhance the rustic aesthetic. Personalize your invitations with hand-drawn elements or a unique rustic motif.
Rustic wedding theme key elements:
1. Comfort and Simplicity: this theme is innately comforting, almost like the warm feeling of returning home and being cozy. It aims to capture home sentiments and begin a new life with your spouse​​.
2. Connection with Nature: use nature-inspired elements and outdoor spaces to create a relaxed atmosphere. The theme is deeply connected with nature and often uses a design that ties in with the natural surroundings. It is often associated with rural locations, such as barns and other countryside venues, but the relaxed aesthetic can be achieved almost anywhere with the right approach​.
3. Rustic Decor and Styling: use sturdy wood accents, neutral tones, and elements such as wood slices, burlap, mix-and-match vases, barrels, and galvanized metal. There is a focus on using elements that blend with the environment and enhance the natural beauty of the surroundings​​.
4. Venue Selection: The venue plays a crucial role in a rustic wedding theme. Barns, farms, and similar rural settings often lend themselves to a rustic style because of their outdoor locations and pastoral settings. They have a certain rustic charm due to their exposed wooden beams and countryside aesthetics​​.
5. Understated Elegance: Despite its simplicity, a rustic wedding theme doesn't lack elegance. A classic rustic wedding style can be achieved by adding elegant details like chandeliers, greenery garlands, candles, and string lights. The color palette for rustic weddings often includes softer, pastel hues, such as blush, dusty blue, mint green, or gold, adding a touch of elegance to the overall style​​.
Nautical Wedding
Ideal for couples who love the ocean and want to bring a coastal vibe to their big day. Typically an outdoor affair, consider hosting your wedding at a beach, yacht club, or oceanfront destination wedding.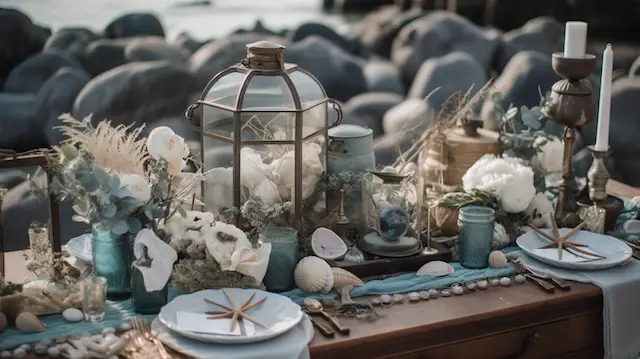 Navy, white, and gold are popular color choices for this theme, and your invitations could incorporate classic nautical elements like anchors or sailboats. Decorate with nautical-themed centerpieces, sea-inspired florals, and preppy details to create a cohesive and timeless maritime atmosphere.
Nautical wedding theme key elements:
1. Maritime Atmosphere: this theme is usually best suited for coastal venues, like a yacht club, a beach, or a waterfront location.
2. Inspiration from Coastal Aesthetics: The nautical theme often draws inspiration from coastal aesthetics. It's not just about anchors and seashells but also about achieving a chic, coastal look. The "coastal grandmother aesthetic" or a "grown-up, refined version of typical nautical style" has brought a new meaning to the nautical-inspired design.
3. Incorporation of Maritime Elements: include colors like navy blue and emerald green, motifs like boats, anchors, and buoys, and materials like driftwood and seashells.
4. Nautical Venues: The choice of venue is essential in setting the nautical theme. Popular options often include destinations associated with nautical themes, such as Martha's Vineyard, Block Island, or sailing clubs. However, the theme can be pulled off anywhere with the right decor and details.
5. Classic Yet Fresh Design Approach: A nautical wedding theme can be classic yet fresh, with plenty of ways to make it personal and unique. The design can be less preppy and more organic, focusing on creating a lived-in, comfortable, yet stylish atmosphere.
Modern Wedding Themes
Minimalist Wedding
A minimalist wedding is perfect for you if you appreciate simplicity and want to showcase the beauty of your relationship. By focusing on the essentials and limiting the décor, your wedding will have a clean and elegant vibe. Stick to a natural color palette with shades of white, gray, and neutral tones. Complement the minimalist approach by adding greenery or plants.
Modern Bohemian Wedding
A modern bohemian wedding combines the free-spirited nature of boho trends with contemporary touches. This theme allows you to personalize your celebration according to your and your partner's tastes. Consider bold color palettes, geometric shapes, and unconventional styling. Incorporate an eclectic mix of plants and greenery to create a vibrant, carefree atmosphere.
Beach Wedding
A beach wedding is a perfect choice for couples who love the sand and the sea. Keep the vibe relaxed and natural, using a color palette inspired by the ocean. Shades of white, blue, and sand colors would complement the setting.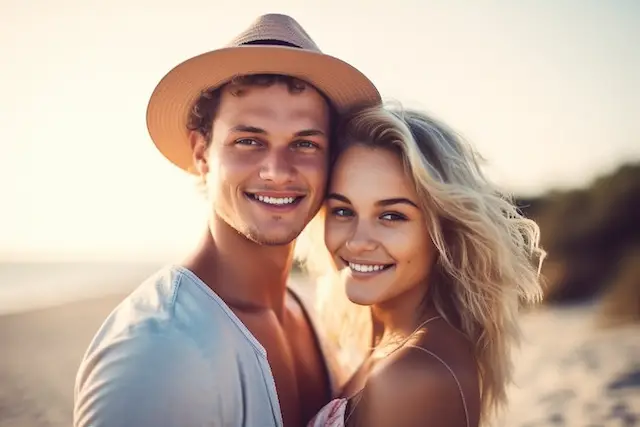 Enhance the beauty of the beach by incorporating natural elements like driftwood and seashells. Remember to consider the weather and choose appropriate attire, such as airy fabrics for the bride and groom and casual footwear like flip-flops or even bare feet.
Destination Wedding
A destination wedding allows you to celebrate your love in an exciting location that holds a special meaning for you and your partner. You create a personalized and unforgettable story for your wedding by choosing a unique place.
Carefully select a location representing your relationship, and incorporate local customs and traditions to make your wedding stand out. Consider coordinating the color palette and décor with the surroundings to create a seamless and visually appealing experience.
Destination wedding key elements:
1. Location: often in a place that holds special meaning to you (the couple) or in a dream destination. The location could range from tropical locales like the Caribbean, Mexico, or the Bahamas, to stunning mountains or lush rainforests. The venue is often an all-inclusive resort with custom wedding packages that cater to various budgets​.
2. Affordability: Despite the exotic locations, destination weddings can be more affordable than traditional celebrations at home. They cost less than half the average U.S. wedding, often coming under $10,000, which covers the basic wedding package, the couple's flight and hotel stay, and extended accommodations for the honeymoon​​.
3. Intimacy and Experience: Destination weddings often involve a more limited guest list, leading to a more intimate and romantic experience for the couple. They also offer memorable experiences for the guests, who get to participate in a unique celebration in an exceptional locale​.
4. Less Stress: Most of the details can be handled by a Destination Wedding Specialist and an onsite coordinator who helps with choosing the venue, arranging flights and accommodations, and planning the wedding day. Many destination wedding packages are all-inclusive, which reduces the burden of planning for the couple​​.
5. Once-in-a-Lifetime Opportunity: Destination weddings offer a unique chance for couples to celebrate their special day in a way that is out of the ordinary. It's an opportunity to make the most of a moment that comes once in a lifetime and to create unforgettable memories in a dream destination.
Southern Wedding
You cannot talk about popular wedding themes without the charm and hospitality of a Southern Wedding. Think outdoors, Wooden barns and trees with lights! Bales of hay, along with classic rustic elements like antique furniture, Mason Jars, and cowboy boots.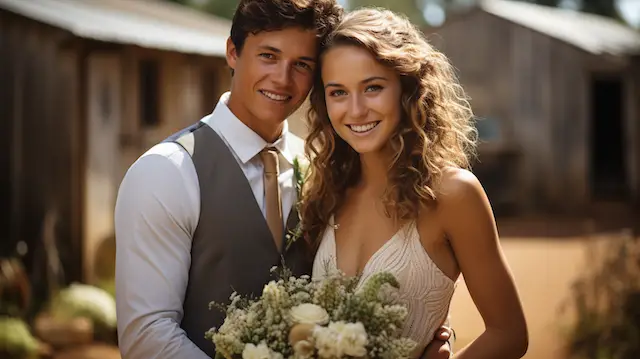 Your color palette could include soft pinks and muted greens, giving a nod to the natural beauty of the setting. Bountiful displays of food and drink are typical for southern weddings, so ensure to offer an abundant feast for your guests to enjoy.
Southern-style wedding key elements:
1. Venue: The perfect Southern-style wedding should be held in a stunning venue that reflects the charm and warmth of the South. Whether it's a grand farmstead house, a lakeside retreat, or a renovated barn – the venue should complement the wedding theme. Couples should pick a place that creates a welcoming atmosphere for their guests.
2. Food: A Southern-style wedding should burst with delicious, home-cooked food. This might include traditional dishes such as fried chicken, shrimp and grits, and mac and cheese. Food stations offering everything from bourbon-glazed ham to freshly shucked oysters are also popular. Having a family-style meal with long tables also adds to the intimately communal feel of the event.
3. Attire: The bride and groom's outfits typically play an important role in Southern-style weddings. Brides often choose flowing ivory dresses inspired by the iconic Southern belles of the past. Grooms might wear suits in lighter shades, with accents like a bow tie or linen pants. The wedding party members can also wear the same pastel shades as the couple for an even more cohesive look.
4. Decorations: Soft colors, elegant florals, and cozy touches are what make Southern-style wedding decor so special. The use of vintage furniture, rustic signage, and mason jar centerpieces also give a nod to Southern traditions. Lanterns and fairy lights can also bring the proceedings an intimate and romantic touch.
5. Music: No Southern-style wedding can be complete without live music. It's the soundtrack to all the special moments of the ceremony and reception. A good band can provide everything from twangy country ballads to uptempo dance hits. Hiring a specialty act like a bluegrass ensemble can add a unique twist to your day.
Seasonal Popular Wedding Themes
Spring Wedding
Spring weddings are all about embracing the beauty of nature as it blooms anew.
You can incorporate lots of flowers in your decor, boasting pastel colors, such as pink and lavender. Utilize elegant touches of lace and tulle for an airy, romantic vibe. White and soft pastel-toned ink on invitations helps to set the tone for a fresh and lovely celebration.
Summer Wedding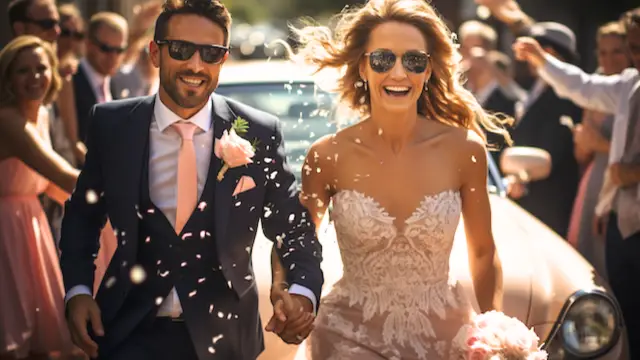 A summer wedding invites you to play with bright colors and a more casual atmosphere.
Consider incorporating navy, white, and rope accents for a nautical theme, or opt for vibrant shades of red, orange, and yellow for a warm, lively feel. Stick to seasonally appropriate flowers like sunflowers or daisies for your bouquets and centerpieces.
Fall Wedding
Embrace the season with a rich color palette featuring deep reds, oranges, and browns.
Incorporating dark ink on wedding planning materials will help set the tone. To create a cozy atmosphere, use pumpkins, rustic wood decor, and autumn-inspired flowers. Your guests will love taking home seasonal favors, such as homemade jams or spiced candles.
Winter Wedding
Focus on using white, silver, and icy blue tones in your decor to create a frosty aesthetic.
Sparkling lights and soft faux fur accents will offer warmth and glam to your celebration. Winter weddings can also utilize bolder, vintage-style lace patterns in attire. Poinsettias and evergreens make for timeless flower options, enhancing the seasonal feel.
Christmas/Holiday
Embrace the festive season with a Christmas or holiday-themed wedding. Choose colors like red, green, gold, and silver to create a warm and inviting ambiance.
Use delicate strings of fairy lights, ornaments, and pinecones in your decor, evoking a nostalgic, family-oriented vibe. Don't be afraid to play with plaid patterns or work with velvet fabrics in your attire. Incorporate seasonal flowers like amaryllis, poinsettias, holly, and mistletoe for a truly merry celebration.
Unique Popular Wedding Themes
Travel-Themed Wedding
Embark on a journey with a travel-themed wedding. Choose a venue that transports your guests to a different time or place, like an old train station or airplane hangar. Design your invitations with a vintage map, passport, or postcard aesthetic. Personalize your tablescape with table numbers representing your favorite destinations, and use a globe guestbook for a touch of wanderlust. Incorporate elements like rope and navy colors for a nautical vibe.
Eco-Friendly Wedding
Make a statement with an eco-friendly wedding. Opt for a rustic outdoor venue, such as a forest, garden, or farm, to embrace nature's beauty and minimize energy consumption.
Prioritize sustainable materials and local resources for your white dress, invitations, and décor. Repurpose items like wooden crates or vintage suitcases for an alternative aesthetic and to reduce waste.
Gothic Wedding
Embrace the dark and mysterious with a gothic wedding theme. Choose a venue with dramatic architecture, like a historic church or castle, and incorporate black and white elements into your décor. Add a touch of macabre to your invitations with dramatic font styles, and don't be afraid to break away from tradition with a black wedding dress or sharp accessories. Design a moody tablescape with black linens, candlesticks, and bold florals.
Retro Wedding
Take a step back in time with a retro-themed wedding. Choose a unique venue like a vintage movie theater or historic ballroom, and draw inspiration from your favorite era for your attire and styling. Play period-inspired music, and serve nostalgic treats like candy or popcorn to evoke a sense of nostalgia. Create a nostalgic vision with Polaroid photos, vintage cars, and period-appropriate hairstyles.
Art Deco Wedding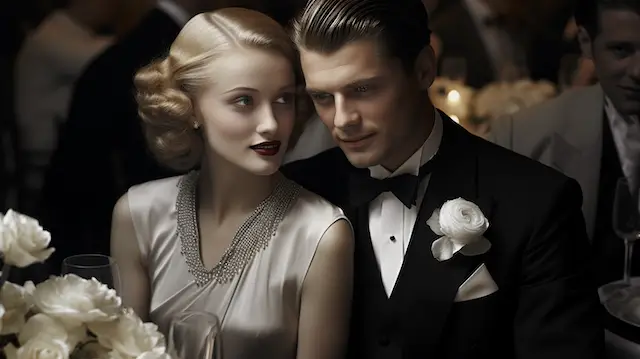 For a glamorous affair, consider an Art Deco-themed wedding. Select a lavish venue with bold geometric patterns, metallic accents, and mirror details. Incorporate distinctive style into your invitations, cakes, and fashion choices.
Adorn your tablescape with luxe linens, gold accents, and geometric centerpieces. Embody this luxurious era through your décor, attire, and overall ambiance, and consider a vintage art deco engagement ring.
Incorporating Your Wedding Theme into Various Elements
Once you have settled on a theme for your wedding, you want to ensure your vision is carried through all aspects of the event. Otherwise, it could feel incohesive.
Here is a quick checklist of what you need to consider:
Wedding invitations and stationery
Wedding ceremony and reception venue
Floral arrangements and centerpieces
Table settings, linens, decor, signage
Wedding attire and accessories
Menu and Bar, Signature Cocktail
Wedding cake, cake topper, and dessert displays
Wedding favors
Music, Entertainment, Photography, Videography, Photo booth
Frequently Asked Questions
What Are The Top Popular Wedding Themes?
In recent years, some popular wedding themes have emerged, capturing the hearts of couples worldwide. Top trends include rustic chic, emphasizing natural elements and simplicity; bohemian, which combines a carefree and romantic vibe; and vintage-inspired weddings, often featuring unique elements from past eras. Sustainability and eco-consciousness have also gained popularity, leading to green, eco-friendly wedding themes. However, trends continuously change, and choosing a theme that resonates with you and your partner is essential.
How Can I Choose A Unique Wedding Theme?
To select a unique wedding theme, reflect on your shared interests, hobbies, and experiences with your significant other. Travel, favorite books, or movies could serve as inspiration. Additionally, consider blending different popular wedding themes (i.e., vintage/southern) or adding a personal twist to timeless classics. The key is incorporating distinctive elements that embody your love story and personalities.
What Are Some Classic And Timeless Wedding Themes?
Traditional wedding themes never go out of style. Some examples include classic elegance, featuring timeless elements like white flowers, ornate table settings, and sophisticated attire; a romantic garden wedding, which takes advantage of lush surroundings and intimate lighting; a fairytale or fantasy-inspired theme, perfect for those who've dreamt of a storybook romance. To make these themes feel fresh and unique, integrate your personal touches.
What Factors Should I Consider When Selecting A Wedding Theme?
When selecting a wedding theme, consider the following factors: your style and preferences, the venue's ambiance, the time of year, and your budget. A theme that complements the venue can create a cohesive and immersive atmosphere. Moreover, seasonal elements can enhance the overall experience, while staying on budget is crucial to prevent unnecessary stress.
How Can I Personalize My Wedding Theme?
Personalizing your wedding theme is about incorporating meaningful details representing your relationship. Ideas for personalization include:
– custom-designed invitations
– unique table numbers or names based on shared interests
– personalized favors
– decor
– signature cocktails inspired by your favorite drinks
Think about what represents your love story, and weave those elements into your wedding theme.
What Is The Significance Of Having A Wedding Theme?
A wedding theme sets the tone and atmosphere for your wedding, from invitations to decor and attire. It helps unify all aspects of the event, making planning more manageable and purposeful and helps create a visual identity for your special day. Moreover, a well-chosen theme can leave a lasting impression on your guests, making your wedding successful, memorable, and a unique experience.