Cocktail Style Reception Wedding (Pros and Cons)
Cocktail parties without a formal seated dinner are increasingly popular.
This style of wedding reception is all about being social.
If you want your guests to be mingling and enjoying themselves rather than sitting at tables with their backs to each other, then this is the type of reception you want.
Imagine stations of your favorite appetizers and finger foods set up around the room and waiters butler-passing additional items from trays.
As people walk around action stations and smorgasbords and having drinks at bars, they become acquainted and engaged in conversation.
In addition, live music or a DJ will still keep your guests entertained and on the dance floor to keep the energy going.
If you're looking to avoid formal seated dinners and want more of a cocktail party atmosphere, cocktail receptions are a great option.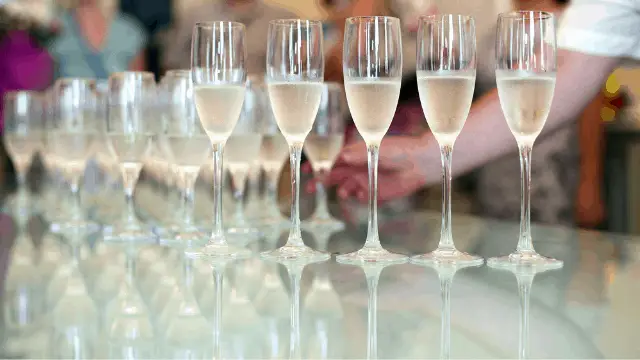 Don't mistake a traditional dinner buffet with a cocktail reception style wedding
Buffets vs. Stations: understand the difference and how it affects the vibe you want to create.
A traditional buffet is usually set up like a long cafeteria-style table with servers behind them helping you with food items such as salads and other appetizers, hot entrees, and accompaniments, followed by dessert, coffee, and tea.
Buffets intend to serve guests full portions on large dinner plates, and consequently, all guests would need to be seated at dinner tables in order to be able to eat their full plates.
Unfortunately, the true essence of a cocktail reception is lost when you offer a buffet dinner. 
Buffets can easily feel a little uninspired for such a big and important day.
In contrast, a cocktail reception focuses on socializing and mingling. Guests are encouraged to explore, interact more and find common interests.
You achieve a cocktail-style reception offering individual food stations and bars scattered around the room. Guests will be encouraged to move about as they consider what is next to explore and taste.
Guests can graze as they please, while using smaller plates and getting smaller portions, instead of using full-size dinner plates.
Moreover, waiters will walk around the room butler-passing hors d'oeuvres like sliders or mini crab cakes to enhance the menu and keep the service fluid and timely.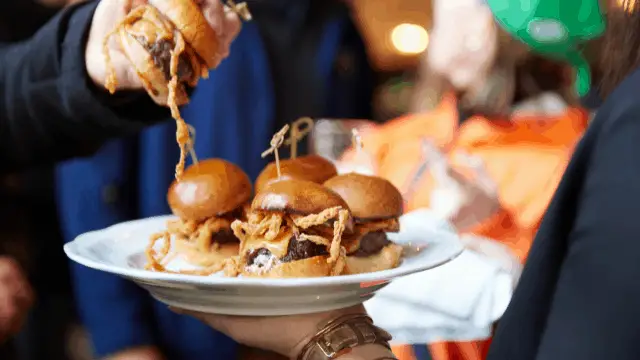 Pros Of A Cocktail Style Reception
Here is why you should throw an evening cocktail reception wedding party instead of a seated formal dinner.
Cocktail parties encourage guests to get up and move around. The goal is for your guests to be socializing with one another as much as possible.
The various food stations give people the opportunity to try different foods and interact with different guests. This promotes dialogue and interaction, which a cocktail party is all about.
The cocktail reception style also allows guests to eat light at their leisure so they can dance the night away while speaking with other guests.
Bride & Groom have a greater opportunity to mingle with all guests compared to a seated dinner.
A cocktail reception is much less formal than a seated dinner. This is nice because it levels the playing field, so your guests are not intimidated by a formal event.
Cocktail receptions with their mixture of diverse stations offer a great variety of food, making it more fun and exciting for your guests.
Food stations with Chefs or servers make for a more interactive and engaging experience for your guests (i.e., Sushi -, Carving, – Pasta made to order -, Seafood with Oyster shucker Station, etc.)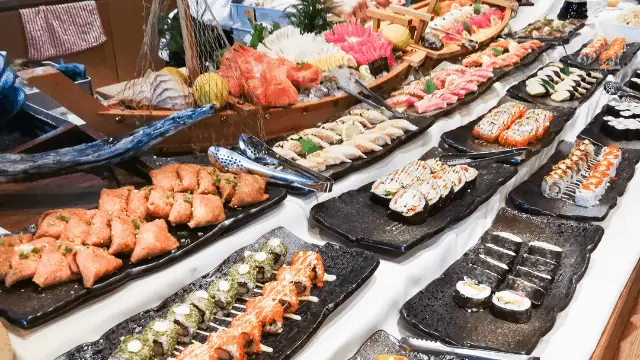 Guests can control their portions and don't overload on food like on buffets or seated multi-course dinners.
Guests can get customized individual plates made to their liking at action stations.
Cocktail receptions can be a great platform to serve local beers, regional wines, exclusive liquors, and signature cocktails on showy bars.
Cons Of A Cocktail Style Reception
Here is what you need to know before throwing a cocktail reception.
Although this is more of a misconception than a disadvantage, cocktail reception-style weddings are not necessarily more affordable than seated dinners if the stations are not carefully selected (i.e., the price difference between a seafood station and a pasta station is substantial).
To keep the stations full and presentable during the period in which they are on display, you will need more food, so your food costs will be higher.
You may save on costs for waiters, but adding Chefs at various food stations does not come cheap either and counteracts your savings on the wait staff.
Cocktail parties may require more space than seated dinners because stations take up more real estate.
Seating for a true cocktail reception is limited since the intention is to mix and mingle. This will make some guests desperate to find seating and, in turn, more protective of chairs and tables they find.
Guests don't have assigned tables or seats and don't have a place to leave their belongings.
You may find that your seats are gone when you return to the same cocktail table where you sat earlier.
Guests may stay cliquish after all and stay amongst their own group of friends and family.
A cocktail reception may not be appropriate if you have young children or seniors in attendance.
Cocktail receptions typically have a lesser waiter to guests ratio, and used dishes pile up quickly. The combination of fewer waiters, fewer tables, a surplus of small plates circling, and dishes being used quicker as guests graze and eat can leave sections of the room unbuzzed and messy at certain times.
It's more difficult to follow a timeline and get your guests' attention: first dance, speeches, toasts, and the cake cutting ceremony can be lost in the shuffle because guests are everywhere.
Stations in various areas of the room will help guests disperse, but there could be long lines during at beginning rush at the most popular food stations.
You won't have the wow factor of a grandiose setup ballroom with carefully aligned dinner tables, place settings, silver, glasses, candles, and larger floral centerpieces and table decor.
Some guests may take an early exit once they had food and drinks.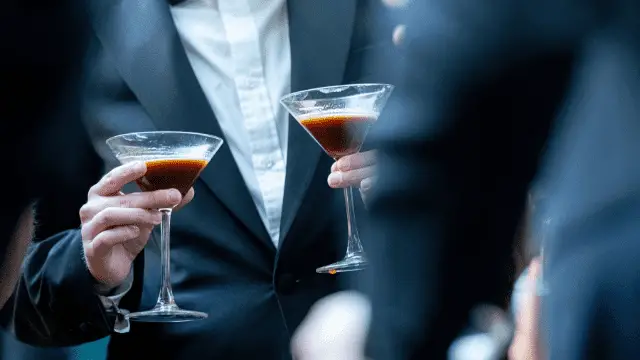 Cocktail Reception Followed By Seated Dinner – Kill Two Birds With One Stone
The ultimate wedding reception experience is a cocktail party followed by a seated dinner & dancing.
Mix and mingling for one hour is plenty for everyone to enjoy cocktail hour, and then guests can sit down to enjoy a seated dinner and hit the dance floor. This section is typically another four hours.
The cocktail party allows for mingling and people-watching, but there is still the formal feel of dining with assigned seating at tables that will satisfy even the most traditional of folks.
Another possible variation is a cocktail hour with stations and hors d'oeuvres, followed by a seated dinner with a served first course, which then is followed by a buffet with a variety of entrees and a dessert station, wedding cake, coffee & tea, and open bar throughout.
Cocktail receptions combined with seated dinners offer great benefits:
With this equation, you get the best of both worlds: a cocktail party and a seated dinner.
The entire reception stays exciting as you built up and spoil your guests with food, drinks, & entertainment to satisfy all senses.
You can keep a better schedule during the seated dinner portion since it is where speeches, toasts, etc., are given.
You may lose fewer guests during the evening since you can pace out the plated dinner with dance sets between courses.
Final Thoughts
Let your guests know in advance and try to be clear about what kind of meal they can expect at your wedding.
A cocktail reception-style wedding may be the best style for you if you like to keep your wedding casual and mix & mingling a priority.
Cocktail receptions are not necessarily a cheaper option than a seated dinner – you need to be mindful about the individual costs of each station and how they will affect your budget.
A cocktail reception also has disadvantages in terms of lost opportunity for a grandiose ballroom setup, difficult guests dispersal, overall limited seating and fewer tables, unattended tables, which can lead to messiness at peak time.
When weighing the pros and cons, keep your guests in mind.