Wedding Planning Problems (13 Hot Zones You Should Know)
Your wedding day is a once-in-a-lifetime event, and it can be absolutely magical. 
But it's also fraught with potential wedding planning problems making it extremely stressful at times on the way to the altar.
Although it's impossible to become a wedding planner overnight, it is expected of you, at least to some extent, if you want to have a wedding that is everything you've ever dreamed of.
In your first vision, you may think it's just about the marriage license and picking out flowers, but soon you will find yourself multitasking.
The usual headaches include budgeting, logistics, timelines, stressing about forgetting things, toggling DIY projects, keeping your people happy, and handling a full-time job for most couples.
There's a good chance you're not in the wedding industry, so you can't possibly anticipate everything that's going to happen.
To help minimize wedding challenges and make sure everything goes smoothly on the most important day of your life, here's our list of the most critical wedding planning pitfalls that could make you feel like all hope is lost before you even get there.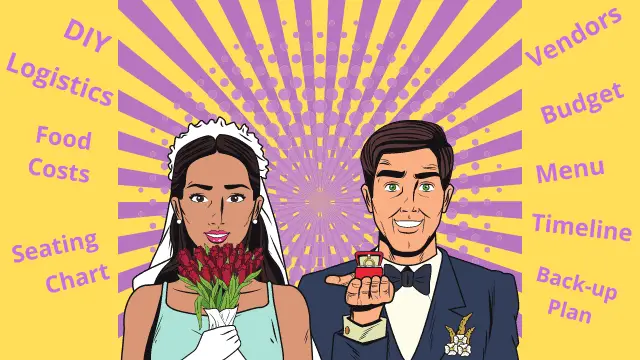 1. DIY Wedding Idea Traps
Many useful websites and blogs offer advice and solutions for those looking to plan their own weddings on a budget.
Unfortunately, it's all too easy to get caught up in the hype of Pinterest Wedding boards and YouTube wedding planners that you could end up throwing your money away on a DIY project.
You assume that DIY will be cheaper, but you can't discount the cost of the enormous amount of time that many couples underestimate that they will need to spend on these projects.
Please make sure you are aware of the scope of what it takes to replicate the look of a professional wedding dinner table centerpiece shown in a lustrous Pinterest picture and a DIY replica that seems all too easy to follow.
Can you recreate the look, including fancy table cloths, candles, silverware, napkins, and glasses, when it comes to scaling it for a 150-people wedding?
How are you getting the items to the wedding venue?
Who will set it up, and who will tear it down?
If you are unwilling to commit the time and don't have an army to help you, it may be wise to leave it to the professionals.
Even if you do it yourself, you will likely have to pay the venue to assist you with the setup and clean-up, which will diminish the savings you expected.
If you are still going through with a whole DIY wedding or DIY elements, your organization skills will be everything.
Make an inventory list and map out where all items need to be placed and set up on the wedding day.
Label and number every box, and attach an itemized list of what is in the box.
Prepare a mock setup of, i.e., a centerpiece or the candy bar you want to create, take a picture, and include it in every box so it's clear how you like the items to be set up.
Schedule several hours of setup time on the day of your wedding.
Be mindful that there could be several hours of tear-down time.
Find a committed group of helpers (family, bridal party) who are reliable and don't escape once the party is over.
If you handle rentals yourself (chairs, dishes, linens, etc.), be extra vigilant about what the vendors' policies are (delivery and pickup windows, breakage, cleanliness of returned items, and surcharges)
Are the rental companies only dropping off the items or setting them up, too? If not, who will set them up?
2. Seating Chart Mistakes
When you move your guests from one room to another, namely from the cocktail reception to a seated dinner, catering managers and their staff often hold their breath for a moment, hoping you have not made any mistakes with your seating arrangements.
Are there enough chairs at each table according to your table assignments?
Did you account for all guests that RSVPed?
If the answer is yes, you are off to a good start.
Ensure that you get this right the first time. As soon as you move 200 people, they will definitely need a table to sit at and a chair at a table that belongs to them for the rest of the night.
The dinner will get off to a rocky start when you aren't in control of the seating arrangements.
Sometimes there are guests who ignore their seating assignments, which causes a ripple at the start of the meal.  This is beyond your control, of course.
The usual suspects include:
Guests who bring another guest but never told you.
Guests switch out place cards between tables because they want to sit together with someone they know.
Guests add another chair to their table, pulling it from another table.
Guests that arrive very late and their chairs and place setting have been pulled off their assigned dinner table by the waiter.
In any of these situations, it is best to let the venue staff handle the problem. However, as a result, guests can wait unnecessarily and complain unjustifiably about the venue.
3. Miscalculating Your Wedding Budget
Many couples set an unprecise budget before researching vendors – often underestimating the cost of services and products.
Your guest count drives your biggest budget expense. But it is also an expense you have control over.
Leave room in your budget for enhancing your menu, upgrading to a premium bar, and other items on the way that suddenly become a must-have for you that you didn't see coming.
4. Overbearing Family
Your wedding day should be one of the happiest days of your life.
Unfortunately, when planning your wedding, you might have some overbearing family members who want to be in charge and add their two cents into everything from the dress color choice down to how many mini crab cakes should be served at the cocktail hour.
Your wedding day and the months leading to it are not only about everyone else but also about what makes you and your partner happy.
Stay your course, and do not be ridden into making decisions you are not happy with.
If it is a close family member (i.e., parents), go ahead and have an open discussion about your feelings. It may take several conversations to get the message across but in the end. Everyone needs to walk away feeling heard and respected by their point of view.
5. Unforeseen Logistical Challenges
If you are not in the hospitality industry, you may not be aware of the many logistical issues that can arise when planning an event.
It will most likely land in your lap come your wedding day if something goes wrong with one or more items on this list:
Your outdoor wedding needs to be relocated at the last minute due to a power outage at the location or bad weather conditions, and you don't have a backup plan.
The bridal party shuttle breaks down on the way to the ceremony site.
The wedding day is so hot that the AC can't keep up cooling the room.
Underestimating the time and manpower it takes for DIY projects, setup, and tear down at the venue.
Coordinating delivery, setup, and pick-up windows for vendors in conjunction with the venue's rules.
No-show vendors.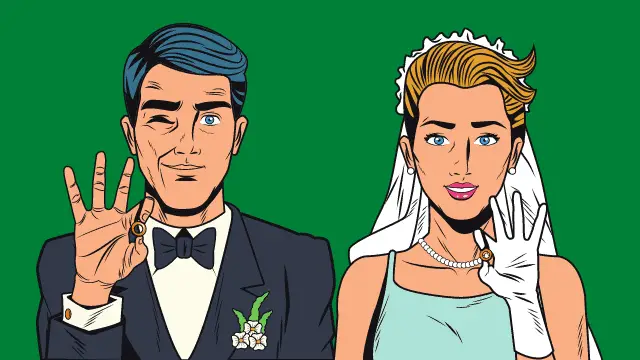 6. Reinventing the Chef's Wedding Menu While Ignoring Food Cost
Clearly, you want to surprise and impress your guests with a carefully selected and deliciously crafted menu.
Having a custom wedding menu is great and special, but not if it means you will be breaking the bank.
If you are a foodie, have your eyes on the venue's or caterer's menu right from the beginning before you book. Before being locked in contractually, you want to ensure that their menu goes along with your taste, vision, and budget.
Any changes you want to implement later will likely be considered as an upgrade, triggering additional costs. For example, Filet Mignon and Sea Bass will be much more expensive than Chicken and Salmon.
If you are thinking of changing one of Chef's menu items to a different recipe that fits your ethnic background and cuisine, make sure that the culinary team has the aptitude or book the right caterer from the get-go.
Banquet menus typically are well-rehearsed and produced many times over and over again by the culinary team. Therefore, if you are introducing a new twist to the menu, you may not get what you are used to and miss out on what they know how to do best.
7. Time Management
Planning a wedding takes an enormous amount of time in all areas. The average couple spends 200 to 300 hours planning their event without a wedding planner.
It is equally time-consuming for all involved professionals and peaks on the wedding day with a 12 to 18 hours workday for many people involved in your wedding.
With this in mind, time management is crucial because everything has to be done on time.
Everything from catering, rentals, florists, invitations, and favors delivery to the wedding party start times should all fall within a tight schedule.
It is also important to get to every appointment on time and respect everyone's schedule. This includes helping hands from family members and the bridal party.
8. Misjudging The Size Of Your Wedding And The Space Needed
A wedding celebration can bring together a small army of friends.
Once you add in your family and bridal party, there are more than enough mouths to feed, ears to listen, and chairs and tables to accommodate.
Planning for this amount of people can be challenging if you do not have adequate space at your venue. To avoid crowdedness and lack of space, you want to ensure that your venue is big enough.
It's not easy to grasp the size of an empty ballroom when you are doing your site visits while venue hunting.
In the end, you have to trust the salesperson who will let you know how many guests you will be able to accommodate, including space for the band or DJ and a dance floor and bars.
Try to be careful when it comes to maxing a room out with the top number of guests it can fit.
Well-meaning salespeople will try to help you accommodate that extra table if your RSVPs go over what you had anticipated. Still, top numbers often push a venue to its limit and will, in turn, make for a less desirable experience for your guests.
If in doubt, have your salesperson provide you with a diagram that shows the maximum number of tables fit in the ballroom before you book.
I have often met with couples showing them a ballroom that would have easily fit 200 guests for dinner and dance. Then they told me that they visited another venue with a smaller ballroom and were told they could host 200 guests in that space, too.
It shows that some venues are ok to pack a room while others want to make sure their guests have a good time.
9. Micromanaging Vendors (Or Friends)
For most brides & grooms hiring professionals is a big step in getting relief in the wedding planning process. It means that you are ready to start this new chapter and go with a company or individual who will help make your vision come true.
However, sometimes couples overestimate how much they know about what is going on and, in their excitement, start micromanaging their vendors.
Doing so will only make your wedding planner or service provider feel like they are not part of the team and, in turn, can reduce the quality of their work and create more stress for you in the long run.
Seasoned wedding professionals have been working for years in the industry, and most of them have gained the knowledge, expertise, and experience to know what they are doing.
It may be tough not knowing everything about the process, but it's best to let go a bit.
Once you hire your vendors, it is the art of finding a balance between trusting and not getting over-involved and checking up all the time.
The same is true in dealing with your friends, family, or bridal party if you involve them in any projects. They usually are doing you a huge favor, but it can be exhausting for them to answer your questions constantly.
Like with the wedding vendors, let go of some control and trust that they are doing their best to prepare everything on time.
10. Using A Friend Instead Of A Pro
We are dealing with a touchy subject here.
Occasionally, well-meaning friends become more excited than you are about your wedding and the part they could play in it. And by all means, that's a wonderful thing and well-meant.
Unless they are professional wedding cake makers, florists or dressmakers, photographers, or DJs, it's in many cases not a good idea to let them get involved in a process if it doesn't allow for any inaccuracies.
Certainly, they will feel flattered, but sometimes they are not on top of the game, especially when intermingling with industry professionals and keeping up with the pace.
It may be challenging to say "no" if you don't want to hurt someone's feelings.
But for your own sake, it is important to do so because you don't want them doing something that creates additional stress on themselves and you in an already tough process.
11. Letting Your Marriage License Expire
It sounds like something very trivial, but it's not.
The marriage license is an official document that allows you to get married in the state where your wedding will take place and must be signed by both of you before applying for a marriage ceremony with your local authorities or judge.
You should apply for one about 30 days ahead of time and be aware when its validity runs out; i.e., in New York state, a Marriage License is only valid for 60 days (unless you are active military personnel). If you miss the expiration date, you will have to start the whole process all over again and push out the date for your wedding.
This is not a situation where getting extra proof of purchase can help – your wedding license expires whether or not you like it.
If there's anything that could potentially devastate your perfect wedding day, it's this.
Don't forget the marriage license and save yourself a world of stress, headaches, and missing out on your own wedding day!
12. Not Having A Back-Up Plan For An Outdoor Wedding
Outdoor weddings are beautiful and exciting. But what happens when it rains?
Unfortunately, you don't have much choice but to move everything inside or get wet.
Don't risk losing your guests because they can go home if the weather is bad enough, just like in any other place where there's no protection from the elements.
Make sure to have a plan in case the wedding plans go under – literally.
13. Not Knowing About Hidden Wedding Costs
Hidden costs are the worst, but they are part of the game.
It can happen anywhere, but it's especially prevalent in wedding planning, where everyone wants to help, and no one will ever say "no" when you ask for favors or services.
You should always be on top of your expenses and know what is causing them so that you don't get surprised by anything that comes your way.
Make sure to have a detailed wedding budget, and ask every venue what possible hidden cost can come up. Unfortunately, these often only come up on a need-to-know basis.
Hidden Wedding Costs come in the form of:
A cake-cutting fee should you provide your own wedding cake.
Additional Chef fees at action stations.
Food, bar, and wine upgrades.
Setup and tear down fees.
Additional bartenders.
Early check-in fees for hotel rooms.
Overtime.
Delivery and pick-up fees.
Damage or repair fees.
Boxes and furniture moving fees (especially in union staff hotels).
Piano tuning fees.
Travel expenses and parking for vendors.
Transaction fees for using credit cards or doing a bank wire.
Surcharges for extra power needed for band or lighting.
The list can go on.
Take your time to research and ask for clarification when needed, but also make sure you know what the venue and vendors offer in case they say everything is included, but in reality, it's not.
Final Thoughts
Whether you're planning your wedding yourself or with the help of a professional, it can be overwhelming.
However, if you keep track of all the details and work on any potential problems early enough in advance, then there's no reason why anything should go wrong.
Good Wedding Planning will ensure you don't make the common wedding planning mistakes that many couples could run into.