How to Plan A Backyard Night Wedding
There's nothing quite like an at-home wedding. With the reception in your backyard, you can make the event as intimate or as grandiose as you please.
Hosting a backyard night wedding can also be a great way to reduce the cost of your wedding while still having a beautiful and memorable event.
Being lucky enough to have a large backyard and great weather on your wedding day are two key factors in making this type of wedding work.
You can do several things to make your backyard night wedding perfect.
From beautiful lights and decorations to delicious food and drinks and fun entertainment, there are many ways to turn your backyard into a magical venue for your wedding.
Here are some tips on how to make your backyard night wedding perfect:
1. Pick The Right Backyard For Your Backyard Night Wedding
You'll want to find a private spot with plenty of space for guests to move around freely.
If you have a backyard that provides privacy, this is ideal. If not, consider renting an outdoor space or find a friend or family member with a large backyard that you can use.
While you may love the idea of getting married in your backyard, chances are close neighbors won't be too thrilled about you hosting a wedding in the evening.
So instead of asking for permission, it's best to find a private backyard from the get-go that can accommodate all of your guests without cramping anyone.
If you're lucky enough to have a pool in your backyard, you can use it as a stunning focal point for your wedding ceremony or reception. Just be sure to provide a lifeguard if you plan on guests swimming! 
2. Make Your Backyard Night Wedding Feel Relaxed And Intimate.
Having your wedding in your backyard is the perfect way to achieve a relaxed and personal atmosphere. There are no worries about coordinating with a venue and depending on their schedule and rules, and you can take your time setting up and decorating before the big day.
You can have as much or as little decoration as you want. Then, you and your guests can relax in the comfort of your own (your parent's or friend's) home, enjoying the beauty of nature around you.
If you're worried about mosquitoes or other bugs bothering your guests, there are a few easy ways to keep them away—first, light citronella candles around the perimeter of your yard. You can also put bug zappers near any areas where guests sit or stand for long periods. Finally, ensure bug spray is available for guests to use if they start to get bitten.
Rent a fire pit or heater to keep guests warm after the sun goes down
If you're planning a backyard night wedding, you'll want to rent a fire pit or heaters to keep your guests warm after the sun goes down. This is a great way to extend the party and keep your guests comfortable. Just be sure to have marshmallows and s'mores on hand for a fun after-dinner treat!
Rent a tent to keep your guests protected
When planning a larger outdoor event, renting a tent should be one of your top priorities. Not only will it protect your guests from inclement weather, but it will also add a touch of elegance and sophistication to your wedding.
Ensure to include this expense in your budget and enjoy a worry-free wedding day.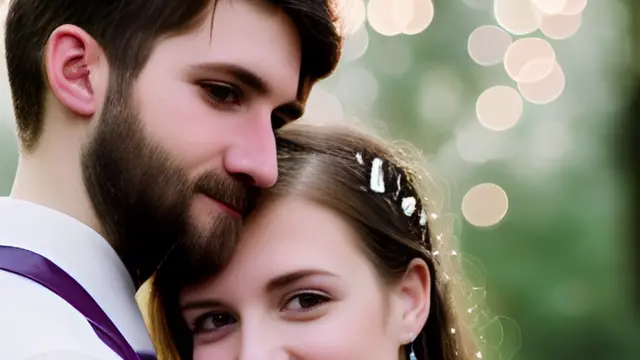 3. Consider The Climate Seasonality When Planning Your Backyard Night Wedding So Your Guests Will Be Comfortable
While a backyard wedding can be held in any season with some careful planning, consider the seasonality of your local climate. The best seasons for a backyard night wedding are from late spring to early fall in temperate climates.
If you live in an area with extreme weather conditions (hot summers or cold winters), it's best to avoid hosting your wedding during those times of the year. Again, instead, opt for a spring or fall wedding when the weather is milder and more pleasant. 
4. What Time Should A Backyard Night Wedding Start?
Figuring out when the sun will go down in your region during the time of year you want to get married is a great place to start planning.
The best time to start a backyard night wedding is about two hours before sunset.
This way, your guests will arrive while there's still natural light. Then, as dusk falls and the lanterns and candles are lit, your venue will take on an ethereal quality thanks to the fairy lights, lanterns, and candles.
This can make for some very stunning photos!
5. Make Sure You Have Enough Light To Keep Things Bright
One of the most important elements of a backyard night wedding is lighting.
The amount of light will largely depend on the size of your backyard.
You'll need to make sure there is enough light to see (nothing ruins a romantic moment quite like tripping over something in the dark!), but you don't want it to be so bright that it takes away from the romance of the occasion.
String lights are a popular and beautiful option for lighting up a backyard. They can be hung from trees, posts, or other structures.
Lanterns are also a great way to add light and ambiance to your backyard wedding. They're relatively easy to set up and take down.
Candles are always a good choice for adding ambiance to any event, but they're not ideal for lighting up an entire backyard wedding. If you choose to use candles, make sure they're placed in sturdy lanterns or hurricane glass cylinders, so there's no risk of them tipping over easily and causing a fire hazard.
And if the stars are out to light up the sky, your wedding will be even more magical.
6. Keep Your Food And Drink Simple
Offer cocktails with an attending bartender or at a self-serve bar and light appetizers outdoors instead of a formal dinner. This will allow your guests to move around and mingle, making the evening more relaxed.
Simplicity is key when it comes to food and drink for a backyard night wedding. You don't want anything too heavy or filling to weigh your guests down.
Food Options
For the food, stick to light appetizers that can be eaten without utensils or just a fork, like salads and cut fruit & berries.
Think about foods that are easy to pick up and eat in one or two bites. Some of our favorites include mini quiches, chicken skewers, fruit kabobs, mini meatballs, and crab cakes.
If you're looking for something sweet, make s'mores at your fire pit or set out a candy buffet and mini French or Italian pastries, including macaroons and cannoli. Your guests will appreciate having some snacks to tie them over until the late-night hours!
Drink Options
As for drinks, it's important to have various options available so all your guests can find something they enjoy. Offer wine, beer, and non-alcoholic beverages such as assorted sodas, flat and sparkling water, and juices.
If you're feeling festive, mix up a signature cocktail for your wedding, and offer prosecco or champagne! This is a great way to add some personalization to your big day. Be sure to have plenty of ice on hand so everyone can keep their drinks cold throughout the night.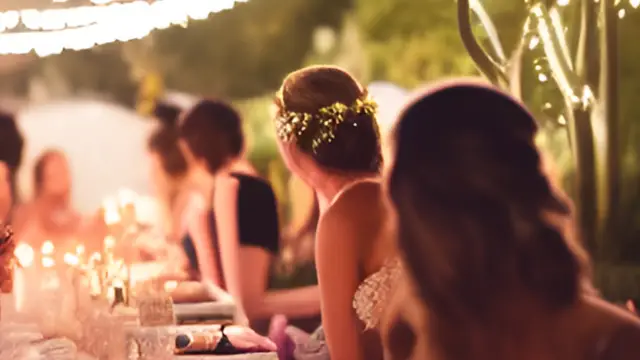 7. Have Fun With Your Dress Code
A backyard night wedding is a perfect opportunity to have some fun with your dress code.
Encourage guests to wear their best party clothes or comfortable, relaxed attire. For the bride and groom, anything from a formal gown and tuxedo to jeans and a button-down shirt would be appropriate.
For Guests: 
The great thing about a backyard night wedding is that it can be relatively casual, so your guests can dress accordingly. Party clothes or comfortable, relaxed attire is perfectly acceptable unless you specify it in your invitations.
Just make sure that whatever your guests choose to wear, it won't be too difficult for them to move around in—stilettos on grass are never a good idea!
For the Bride and Groom: 
As the bride and groom, you have more leeway regarding what you can wear. Anything from a formal gown and tuxedo to jeans and a button-down shirt would be appropriate.
But, of course, it all depends on your style as a couple and how formal or informal you want your wedding to be.
If you're unsure what to wear, err on the side of caution and go for something slightly more formal—you can always take off your jacket or tie if you get too warm!
8. Send Your Guests Home With A Sweet Treat
Send your guests home with a sweet treat as your backyard night wedding ends. Wedding favors are a great way to show appreciation for their attendance and participation in your special day.
For example, you can give each guest a small bag of candy, cookies, or even marshmallows to enjoy. Whatever you choose, your guests will be sure to appreciate the gesture!
9. Keep Your Guest List Appropriate To The Size Of Your Backyard
While you may be tempted to invite everyone you know to your backyard wedding, keeping the size of your guest list appropriate to the size of your backyard is essential. You want your guests to be comfortable and have enough room to enjoy the festivities. If your backyard is smaller, consider having a more intimate gathering.
This can be tough, especially if you have a large extended family or a lot of close friends, but it will make for a more relaxed and enjoyable atmosphere for everyone involved.
Start with immediate family members and close friends. These people are most important to you and will appreciate being included in your big day. From there, you can expand out to other family members and friends as needed.
Take a look at your guest list and see if there are any non-essential people that you can cut. For example, do you need to invite that second cousin you haven't seen in years? Probably not. The goal is to create a guest list that is both manageable and enjoyable for everyone involved, and you're not running out of space in your backyard. 
10. Consider Hiring A Professional To Help With The Details And Decor
A backyard wedding comes with its own unique set of logistics. There's a lot to think about, from coordinating with different vendors to ensuring that your guests are comfortable.
If you're feeling overwhelmed, consider hiring a professional to help with some details. A wedding planner can take care of everything from coordinating with vendors to decorating the space. This can free up your time to enjoy the lead-up to your big day.
Wedding planners have access to particular vendors and discounts that you may not be able to get on your own. 
Otherwise, consider a caterer, waitstaff, and bartenders to take care of food and drink service. This will allow you to relax and mingle with your guests without worrying about refilling glasses or keeping the food coming.
Choose a color palette that compliments the natural beauty of your surroundings. Neutral colors like white, ivory, and champagne will help accentuate an already gorgeous setting for your event. On the other hand, bright colors look best when used sparingly as an accent for a pop of personality!
11. Have A Backup Plan In Case Of Bad Weather
While you may be hoping for perfect weather on your wedding day, it's always a good idea to have a backup plan in case of bad weather.
If you're set on having your ceremony and reception outdoors, consider renting a tent to provide shelter for you and your guests. You can also move the party partially indoors if necessary, and your setup offers for it. Moreover, a contingency plan will help you relax and enjoy your wedding day, regardless of the weather.
12. Let Guests Wander Around The Yard And Explore The Property
One of the best things about having a backyard night wedding is that it provides your guests with a more relaxed and enjoyable atmosphere for everyone involved than a formal setting. Set up different areas of the yard for other activities, such as a bar area, a seating area, a tent, and a dance floor. This will give your guests plenty of places to go and things to do and hangouts.
Another benefit of having a backyard night wedding is that it gives you a unique opportunity to decorate the space in any way you see fit. The constraints of an indoor venue do not limit you, so you can let your creativity shine when decorating for your big day.
Whether you want string lights illuminating the space or lanterns hanging from trees, there are endless possibilities when decorating your backyard night wedding. 
It's also easier to create kids and games area in a backyard than an indoor venue. Set up some fun activities for the little ones so that they can enjoy the evening as well. This will help keep them entertained and out of trouble!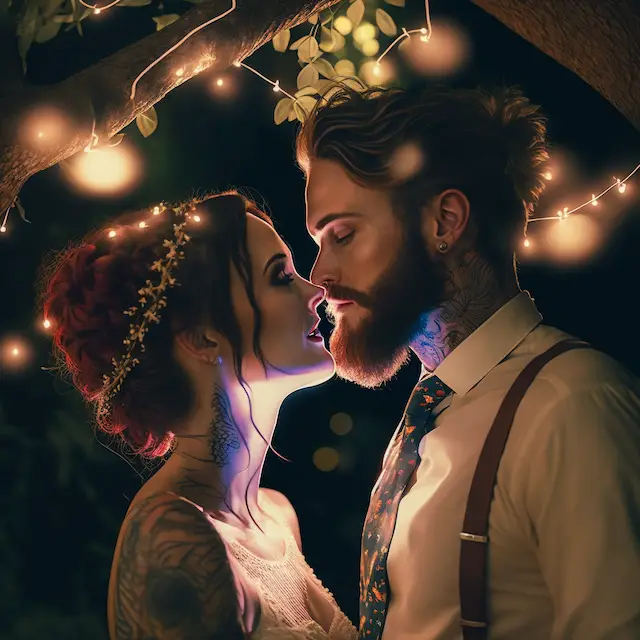 13. Play Music That Creates The Mood You Want
Start by thinking about the overall vibe you want to create. Whether you want a romantic and relaxed atmosphere or a more upbeat and festive mood, plenty of songs will help set the tone.
Consider using a mix of classic and contemporary hits to get started. This will appeal to many guests and create a celebratory atmosphere. Next, choose specific songs to be played at different points during the evening. For example, you might want to play classical music for your processional and switch to more upbeat music for the reception.
Decide on live music or recorded music. Live music adds an element of spontaneity and excitement, but it's also more expensive. Recorded music is more affordable, and you can control what's playing. Choose whichever option fits your budget and your overall vision for the wedding.
Finally, ensure that the music's volume is at an appropriate level. You don't want the music to be too loud or soft—you want it just right to set the perfect ambiance without being distracting or having your neighbors call the authorities.
Ask your musician or DJ to help you find the perfect volume level for your ceremony and reception.
14. Does Your Backyard Need A Complete Makeover Or Just Touch-Ups?
To create a more polished and put-together look for your guests, consider the following:
Adding more plants and flowers to brighten up the space
Installing a new or renovating the patio or deck
Painting or staining the existing furniture or adding new furniture
Removing any debris from the yard
Mulching any gardens or flower beds
Updating the light fixtures or adding more lights to the property
Updating an existing outdoor kitchen or adding an outdoor bar
Have your lawn mowed and any dead leaves removed
Adding an outdoor fireplace or fire pit
Have your pool cleaned and any outdoor furniture arranged neatly