Your Wedding Budget Breakdown – A Comprehensive Blueprint
When planning your wedding, one of the first things you should do is figure out how much money you can afford to spend and create a wedding budget.
It's essential to get a clear picture of how much money you have, where it's going, and the best way to use it.
To get an idea of how to navigate your funds for each area, here's a wedding budget percentage breakdown of what you should expect to include for each item.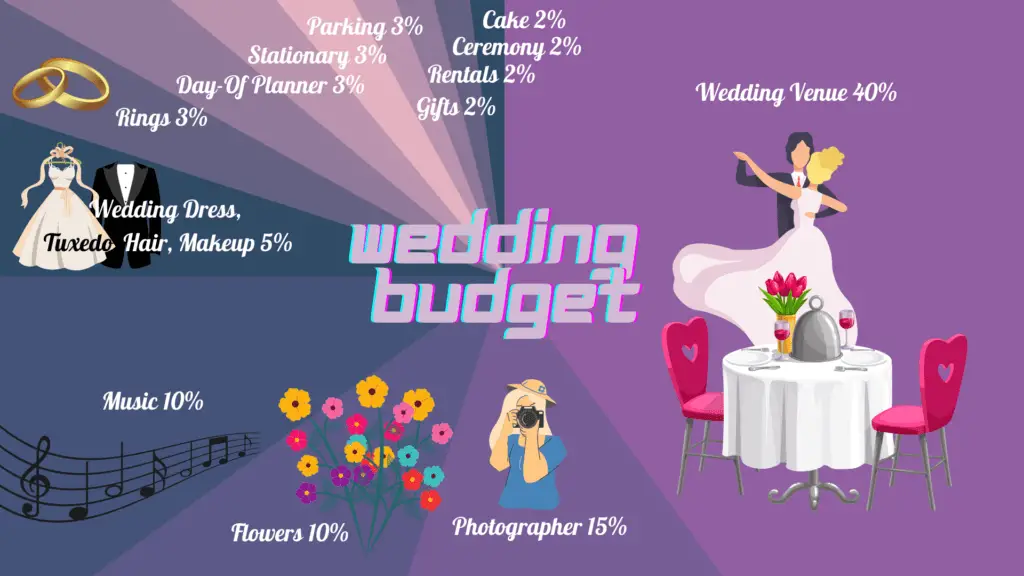 Keep in mind that these percentages are general guidelines, and you can adjust them based on your specific priorities and preferences. Remember, flexibility is key as you navigate through the planning process.
Wedding Venue And Food & Beverage Costs: 40%
Once you've determined the number of guests, there are three crucial aspects that require attention:
1. Cost Per Guest: the price per person for food and beverage at your wedding venue.
On average, a wedding with a ceremony on-site, followed by a cocktail reception, and then dinner and dancing might cost $150-$250 per person.
The per-person price has the most significant impact on your wedding's expenses, which affects what funds you have left over to spend on all the other items.
2. Venue Fee: the venue's rental fee.
Most wedding venues have a set rental fee on top of the per-person food and beverage package. 
But the range of venue rental costs could not be more extreme.
Depending on where you rent a space, it can be as low as nothing to as much as $25,000 & up for a floor in a landmark building or the hottest new venue in town in a major metropolitan city.
That is just for space alone.
3. Gratuities and Taxes.
Make sure you include gratuities and taxes on the per-person wedding package price.
Plus, add taxes on top of the venue fee.
Taxes vary from state to state, so it's important to research local regulations before making any major decisions. Be sure to include estimated taxes in your wedding budget as well. This will help ensure that you don't have any unanticipated expenses come up during the planning process.
Photography And Videography Costs: 12%-15%
Capturing your wedding memories is a significant investment and is considered one of the most expensive parts affecting your wedding budget.
This expense includes:
Professional photographer
Videographer
Engagement shoot
Album and prints
When it comes to expenses, wedding photography costs are surpassed only by the price of the wedding venue itself.
But without photos and videos, your memories are gone forever.
Reception Flowers And Decoration Costs: 8%-10%
Your wedding venue's design may determine how much money needs to go into decorating, mainly flowers. 
This expense includes:
Ceremony and cocktail reception flowers
Centerpieces for dinner tables
Lighting (with reservations, i.e., pin spot lighting for dinner tables can be costly)
Decorative elements
Venues that require minimal decorations would cut out some expenses, while those requiring elaborate designs could increase your wedding budget by hundreds – sometimes thousands of dollars.
Flowers, at the very minimum, your personal flowers (bridal party), and centerpieces on the dinner tables are an essential part of any wedding, but they don't have to have a too high impact on your wedding budget.
Options for flowers range from minimal flower arrangements with a simple design to elaborate and high-end centerpieces that could be hundreds of dollars per dinner table, depending upon what style suits you and your taste in floral design!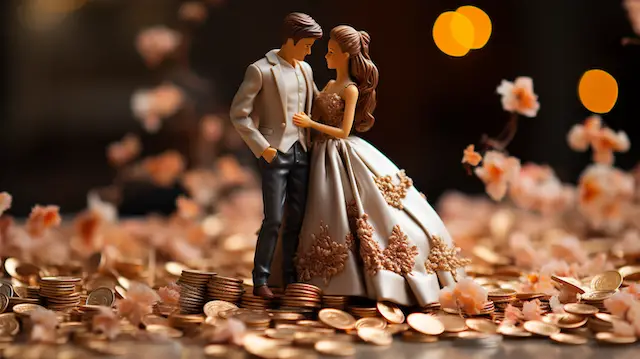 Entertainment – Live Band Or Dj Costs: 8%-10%
Your entertainment choice has an enormous impact on your event. It will carry and keep up the liveliness throughout the entire wedding and will set the tone of your evening.
This expense includes:
Ceremony and reception music
DJ or live band
Dancers or performers
Sound equipment
Live Band – the sheer spectacle of live music can provide great entertainment value (such as adding solos or changing up song choices).
DJs – rely exclusively upon pre-recorded music tracks; however, this makes their musical footprint and range unlimited.
Bands typically have higher upfront costs, largely from hiring musicians/singers + equipment rental fees, whereas DJs typically are self-sufficient. 
Bands average around $4,500, but you can find pricing between $2,500-$20,000 depending on how many musicians are in the band.
You may find out that the best bands are picked up many months in advance.
DJs are typically between $1,000 and $4,000, depending on their experience, availability, and popularity.
Wedding Attire, Hair, And Makeup Costs: 5%-10%
A wedding dress is what every girl dreams about but can also be one of the most expensive parts of your wedding budget.
This expense includes:
Bride's dress and alterations
Groom's tuxedo or suit
Accessories
Hair and makeup services
If you are on a budget, find a balance between finding an affordable gown and still making sure it looks amazing on camera! 
Think bargain dresses, department stores like Macy's or Dillard for lower-priced options (though they are often limited in selection), to high-end boutiques with more unique offerings so long as these retailers offer discounts/deals at specific points during each season.
Just don't forget all those accessories: shoes(!), veil & headpiece – these items will add to costs quickly if not adequately considered when shopping around! 
There may even come times when renting one item could save more money than purchasing several other pieces separately.
Ring Costs: 2%-3%
Your choice of jewelry can have a tremendous impact on your wedding budget if you go all the way, and should be well thought out before making a final decision.
The costs of engagement rings and wedding bands are typically a few thousand dollars, but the low end could start in the $500 range for the groom and the $1,000 ++ range for the bride.
Will they be gold or platinum? Gem-set in an antique style with diamonds all around the band for extra bling? What about other jewelry to wear on your big day? There are those beautiful diamond earrings – how many carats should that pair have?
Wedding Planner Costs: 3%-15%
Hiring a wedding planner for your wedding is a big decision.  Fewer than a third of all couples hire one.  A Day-Of coordinator would be a the lower end of the scale using up to 3% & up of your total funds. While a well-established wedding planner can save you money, they charge fees that go up to 15% of your total wedding budget if you prefer a full-service package.
Invitations And Stationery Costs: 3%
Your wedding guests will receive their first impression of your wedding from a beautiful invitation.  
This expense includes:
Save-the-dates
Invitations and RSVP cards
Programs and menus
Guestbook
Thank you cards
Stationery for your save-the-date and invitation cards could even be synchronized with your planned theme and colors, making them even more special.
Parking And Transportation Costs: 2%
You will need to include at least some of these expenses if your ceremony is not at the venue where you have the reception.
This expense includes:
Wedding party transportation
Guest transportation, if needed
Parking arrangements
At a minimum, you would typically be offering transportation for the bridal party and your parents. Unless it is within walking distance, you may need to hire shuttle buses to pick up your guests at church.
Finally, you will need to include the cost of any parking for guests arriving by car.
Ideally, your wedding venue has free valet or self-parking available. But if your wedding is in a large city with heavy traffic and minimal street parking, provide your guests with parking garage options. 
Find out if you can negotiate special parking rates with the facility and give your guests this information in advance.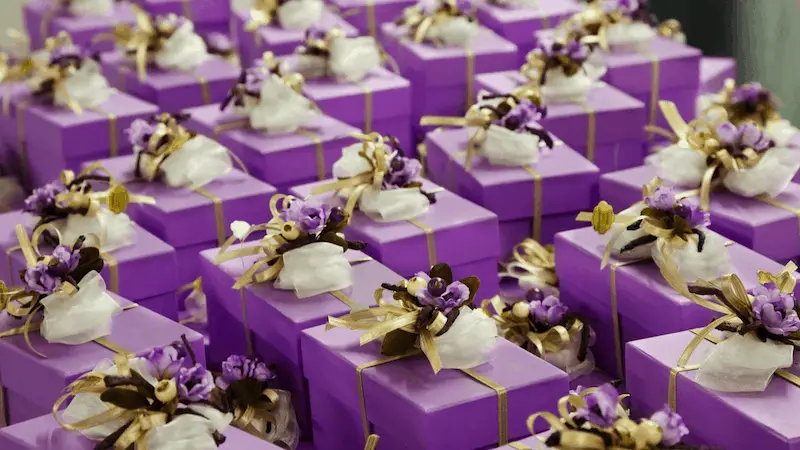 Gifts And Favors Costs: 2%
Gifting guests at one's wedding is an excellent signal to express gratitude and appreciation.
Let's say you have a destination wedding and thank everyone who contributed to the event, including those who helped with preparations.
Also, consider buying gifts for the wedding party and include family members in your wedding budget. These favors are a small way to say "thank you."
Rentals costs: 2%-10%
Most hotels and private clubs will let you use their chairs, tables, linens, glasses, flatware, and much more.
But suppose you are looking for a specific look for your wedding. In that case, you may consider renting Chiavari chairs, a unique designer dance floor, customized bars, pin spotlighting for the floral centerpieces, uplighting, special linens, and other items that make your wedding stand out from the existing in-house look.
If you have an outdoor wedding, you may need to rent a tent, if necessary, and special lighting to create a unique environment.
Ceremony Costs: 2%
These costs include the officiant, ceremony music, catering staff, and rental of the ceremony site if the ceremony is held off-site, e.g., in a church.
There's a lot of preparation work for the officiant at a wedding, so double-check what their fees include before hiring them.
If the ceremony is at the wedding venue, check with them if the space rental fee is already factored into your site cost. 
Wedding Cake Costs: 2%
A wedding cake may be already included in your venue's wedding package's food and beverage pricing. 
If not, and you are getting a cake from an outside wedding cake maker, you should spend about 2% of your wedding budget.
Your wedding cake budget would also need to account for the delivery fee and a cake topper and or cake stand.
Final Thoughts
Creating your wedding budget is one of the first things you'll need to do.
It's not the most fun or glamorous part of wedding planning, but it is important for accurate spending and a successful event!
I hope this article gave you some ideas on creating your wedding budgeting framework and will help simplify your decision process in determining the appropriate guest list size with which to evaluate what items to include in each category.
Now let's get started!
FAQs
What is a decent budget for a wedding?
According to The Knot's 2022 Real Weddings Study, the average cost of a wedding is $30,000 (source: The Knot). However, a reasonable wedding budget is going to differ for everyone (source: NerdWallet). It ultimately depends on factors such as location, number of guests, and personal preferences.
Is $15,000 a good budget for a wedding?
There is no one answer to this question as it largely depends on the couple getting married, their priorities and expectations, and their location!
Generally speaking, an average wedding budget of $15,000 can cover most of the basics for a wedding, such as a cake, decorations, food and beverage, venue, wedding flowers budget, and photography if you keep it below 50 guests; however, some couples may find they need more or less money depending on their needs.
As a rule of thumb, setting aside 10-12 percent of the budget to cover unexpected costs and contingencies is highly recommended. Ultimately, it pays to be realistic about what you can and cannot afford for your special day, so planning ahead and budgeting carefully is essential. With a good plan in place and a little creativity, you can make your perfect wedding dream come true for $15,000 or less.