Wedding RSVP Questions: The Ultimate List
One of the most important aspects of the wedding planning process is sending out wedding invitations and RSVPs to follow up and nail down who is actually coming to your wedding.
RSVPs are typically sent out with the wedding invitation or shortly after.
Why are Wedding RSVP Questions Important?
Wedding RSVP questions are essential to solidify the final guest count, seating arrangements, menu selection (i.e., dietary restrictions or kids meals), and other crucial details such as budgeting.
Adding or removing a person from your guest list can cause a chain of events that affect various aspects of your wedding planning. Therefore, it's crucial to keep everything updated to avoid any missed details.
Changing table seating arrangements.
Renting additional chairs or other rental items.
Adding special meals if needed.
Potentially splitting up a whole table of guests that were supposed to sit together.
Buying more wedding favors and or welcome bags.
Adding escort cards and place cards.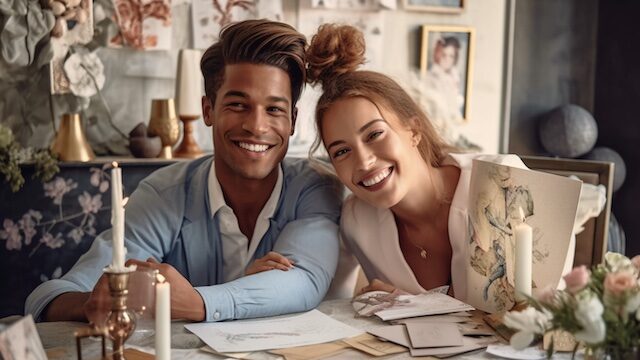 What Items Should Your Wedding RSVP Questions Include?
Ask For A Definite Answer Of Acceptance Or Decline
The first question you want to ask your guests is whether or not they will attend. According to your invitation, they can respond with "Yes, I will be there," or "No, I regret that I cannot attend."
This question is essential for planning purposes, such as knowing how many tables and chairs to set up and the exact number of guests to prepare for the reception.
Ask For The Plus-Ones
If you plan to allow your guests to bring a plus one, this is the question to ask. Be sure to indicate how many guests they are allowed to bring and whether or not they need to add the name(s) of their plus ones. This way, you'll have an accurate headcount, can accommodate any plus ones, and know everyone attending.
Ask For General Information
You'll first want to ask for general information about your guests. This should include their names and contact information, which will also help you send out Thank-You Notes after the wedding.
Name of the guest(s)
Number of guests attending
Address (for mailing Thank Yous)
Email address
Phone number
Plus-one information (if applicable)
Ask For Dietary Restrictions
As you plan your wedding menu, it's essential to keep all your guests' dietary restrictions in mind.
In the RSVP, ask your guests if they have any dietary restrictions or food allergies you should know about. It will ensure that your guests can enjoy the food without any worries.
Meal Preferences that your guests will point out may include:
Vegetarian or vegan
Gluten-free
Allergies such as nut allergy, seafood allergy, shellfish allergy, or certain fruits and ingredients
Kosher meals
Steamed-only food
Kids meals
Teens eating adults meal (but not allowed to consume alcohol)
Ask For The Entree Option To Get The Meal Choice Count
In addition, depending on your deal with the caterer, you may be required to provide them with a count or breakdown of, i.e., how many fish or beef or whatever main courses you'll be providing ahead of time.
Ensure you obtain all the required information beforehand by asking for it in the RSVPs.
Ask For Song Preferences
Do you want to ensure all your guests have a good time at your wedding reception? Include a section in the RSVP where they can request a song they'd love to hear at the reception. It will get them excited for the event and show that you're willing to make an effort to ensure they have fun.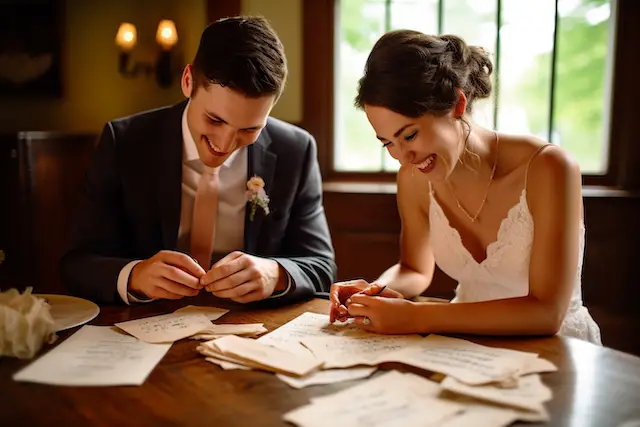 Accommodation Needs
If your wedding is at a destination or venue that allows you to accommodate guests, it's a good idea to ask in the RSVP if they require a room. It will help with your guest count and room block reservation and determine how many welcome bags you need to prepare (if applicable).
Consider adding a question to your RSVP asking if guests require special needs accommodations. This could include wheelchair access, a specific seating area, or even a quieter space for guests with kids or mothers who need to nurse.
By asking these questions in advance, you can better prepare and ensure that your celebration is inclusive to all.
Attire
Often couples have specific dress codes or themes for their wedding, including a slot for attire preference in the RSVP, whether formal, semi-formal, or casual dress, which will ensure that your guests are dressed appropriately and feel comfortable.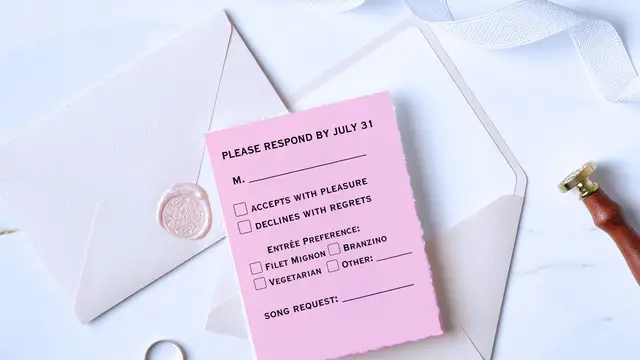 Online RSVPs vs. Paper RSVPs
When it comes to wedding RSVPs, couples have two options: online RSVPs or paper RSVPs. Each option has pros and cons; ultimately, the decision comes down to personal preference.
Online RSVPs
Online RSVPs have become increasingly popular in recent years and for good reason. They are convenient, cost-effective, and eco-friendly.
With online RSVPs, guests can efficiently respond to an invitation with just a few clicks on their computer or mobile device. This eliminates the need for response cards and postage, saving couples significant money.
Online RSVPs also make it easy for couples to keep track of their guest list. Many wedding websites offer tools that allow couples to view and manage their guest list in real time. This can be especially helpful when tracking RSVPs and meal choices.
The downsides of online RSVPs are that some guests may not be tech-savvy or comfortable with online forms. Additionally, technical difficulties or internet connectivity issues are always risky.
Paper RSVPs
Paper RSVPs are the traditional option for wedding invitations. They are formal and elegant and give guests a physical reminder to RSVP.
Response cards can also be customized to include meal choices, song requests, and other important details.
However, paper RSVPs can be expensive. Couples must pay for the cost of printing and postage, which can add up quickly.
Additionally, paper RSVPs can be time-consuming to manage.
Couples must manually track responses and update their guest list accordingly.
Despite these drawbacks, paper RSVPs are still a popular choice for couples who want a classic and formal wedding invitation.
Tips for Gathering RSVP Information
Encourage guests to RSVP early
Provide clear instructions for RSVPing (e.g., by mail, email, or online form)
Offer a deadline for RSVPs.
Make it easy for guests to provide complete information (e.g., by offering checkboxes or drop-down menus for meal choices)
Follow up with guests who haven't RSVPed by the deadline
Other Wedding RSVP Questions To Ask Wedding Guests
While the basic "yes or no" RSVP provides some basic information, there are other questions you may want to add to ask to help ensure that your big day goes smoothly.
Adding a few extra questions to your RSVP card ensures that all your guests are prepared and comfortable.
Attendance at pre-wedding events (such as the rehearsal dinner)
While most guests will likely attend the wedding, you might also be planning a rehearsal dinner or other pre-wedding activities. By asking guests if they plan to attend these events, you can ensure that you have an accurate headcount for each occasion. Plus, it can be helpful to know who will be attending so that you can tailor the events accordingly.
Interest in participating in wedding activities (such as dancing or games)
Do you plan to have a lot of dancing or games at your reception? If so, you might want to ask guests if they're interested in participating in these activities. This can help you gauge how many people will be dancing or playing games and help you plan these activities accordingly. Plus, it's always nice to know who's excited to be a part of the festivities!
Willingness to give a speech or toast
Are there certain people that you would love to hear from on your big day? Perhaps you want your best friend to give a heartfelt toast or your dad to say a few words. By asking guests if they're willing to give a speech or toast, you can ensure that you have the right people in mind and can coordinate the logistics accordingly.
Gift plans (if not included in the invitation)
While many couples choose to include gift registry information on their invitations, you might want to ask guests about their gift plans separately. By doing so, you can get a better idea of what people are planning to give you and can also ensure that you don't receive multiple copies of the same gift.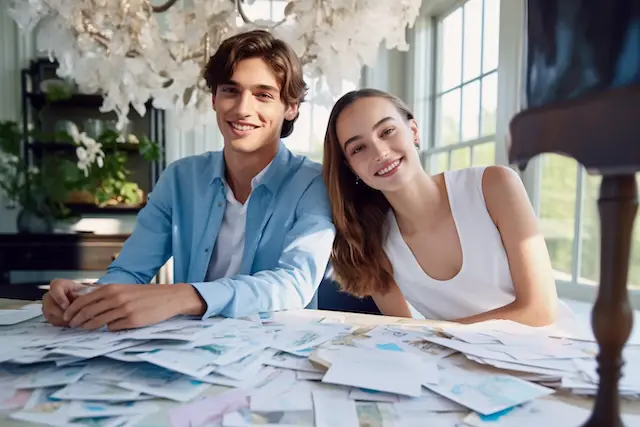 Photography/videography plans
Do you plan to have professional photography or videography at your wedding? If so, it can be helpful for a core group of guests to know if you have counted them into friends and family photos. This can help you ensure that there aren't too many people crowding around the photographer or videographer and can also help you avoid any unnecessary distractions.
Wedding RSVP Template
[Design/illustration]
Maggie and Adam
Together with their families,
Request the pleasure of your company
At their wedding celebration
Saturday, the [date] of [month], [year]
At [time] in the evening
[Venue name and address]
Kindly respond before [RSVP deadline] by visiting [wedding website] or by mailing the enclosed card.
_____ Accepts with pleasure
_____ Declines with regrets
Name: M_________________________________
Number of guests: ______
Name: ____________________________________
Name: ____________________________________
Entree preference:
Please select one option for each guest:
____ Beef
____ Chicken
____ Fish
____ Vegetarian
____ Vegan
____ Gluten-free
____ Kids meal
Other: _____________________
Accommodation:
We have reserved a block of rooms at [hotel name and address] for your convenience. If you would like to book a room, please call [hotel phone number] and mention our wedding.
Will you be staying at the hotel we have reserved a block of rooms at?
____ Yes, we have already booked our room
____ Yes, we will book our room soon
____ No, we will stay elsewhere
Transportation:
Will you need transportation to and from the ceremony to the wedding venue?
____ Yes, please arrange transportation for me
No. of seats _____
____ No, we will arrange our own transportation
Thank you for your prompt response. We look forward to celebrating with you!
Warm regards,
[Name 1] and [Name 2]
Frequently Asked Questions
What is a good RSVP response?
Unless you received an RSVP reply card, a good RSVP response is simply emails or telephone calls confirming the attendance of the guest(s) to your wedding celebration. However, if you do receive an RSVP reply card, then make sure that you check off the appropriate box (acceptance or regrets) and include any other necessary information (such as the number of guests attending).
Here is a quick and clean RSPP response:
"Thank you so much for inviting me to your [event name].
I'm really excited to be a part of it! I'll definitely be attending, and I'll be bringing [number of guests] with me.
Please let me know if there are any specific details or requirements I should be aware of, such as dress code or dietary restrictions.
Thanks again for inviting me to your celebration. I can't wait to see you soon!
All the best, [Your Name]"
What percentage of RSVPs show up?
Unfortunately, there is no one-size-fits-all answer to this question. Generally speaking, many couples estimate that around 70% – 80% of their RSVPs will show up on the wedding day.
However, this can vary drastically depending on factors such as location and time of year. Additionally, the percentage may be lower if you have invited a lot of out-of-town guests or if the wedding is on a holiday weekend.
The best way to get an accurate headcount is to keep track of your RSVPs closely and follow up with any guests who have yet to RSVP. This will ensure that you can plan ahead for enough food, seating, and other necessary arrangements.
What does "M" mean on an RSVP?
If you're wondering what the "M" on an RSVP card means, you're not alone!
The "M" is actually the first letter of the guest's title, such as Mr., Mrs., Ms., or Miss.
This traditional way of addressing guests on formal invitations helps to ensure that your guests know how to fill out their responses properly. Once your guests have filled in the appropriate title, they should write their full name along with the names of anyone else who has been invited on the line provided.
For example, a guest attending the wedding alone should write "Ms. Jane Smith" on the response card. Remember that not all invitations or cultures use the "M" on RSVPs, but it can be a helpful tool for ensuring that your guests feel comfortable and confident in their responses.