Bridesmaid Duties: What To Expect Before, During, And After The Wedding
Having the honor of being a bridesmaid comes with some bridesmaid duties attached.
There are various duties to do before, during, and after the wedding that we will discuss in this blog post.
Most of the time, you'll be doing things outside your routine and experiencing new things with people who will become lifelong friends.
Whether you're new to being a bridesmaid or have been one before, here are some tips on surviving being a bridesmaid!
What Are Typical Pre-wedding Bridesmaid Duties?
Support The Bride And The Maid Of Honor
As a bridesmaid, you become part of a close-knit team supporting the bride. 
This includes directly assisting the maid of honor, who often functions as the link between you and the bride and is already or may become your new best friend!
This hierarchy may feel a little awkward at times since, after all, you are all girlfriends, but with the new sisterhood you will form, it will be a great experience, and it is all for the best since the bride needs a lot of assistance.
Supporting The Bride And Helping Her With Her Decision On Bridesmaid Dresses
Highly anticipated and sometimes fretted!
After the bride's wedding dress, the bridesmaids' dresses are the most awaited attires that guests can't wait to see.
Ironically, a longstanding Hollywood tradition of distraught bridesmaid characters in comedies unleashing "I'm not wearing that dress" has inflamed women's angst of being forced into wearing a dreary dress.
Luckily, bridesmaid dresses are now more diverse and flattering, with various styles, and most brides are very accommodating.
Some brides prefer to have all their friends wear the same style while others like variety, so they ask each maid to pick out what she likes best!
And if you pay for your own attire, shoes, and jewelry – you may get to pick your own gown!
Ensure that you keep the bride posted with your selections and send her as part of your bridesmaid duties photos so she can envision how you'll look on her big day.
The best part there are some budget-friendly options available for those looking to save.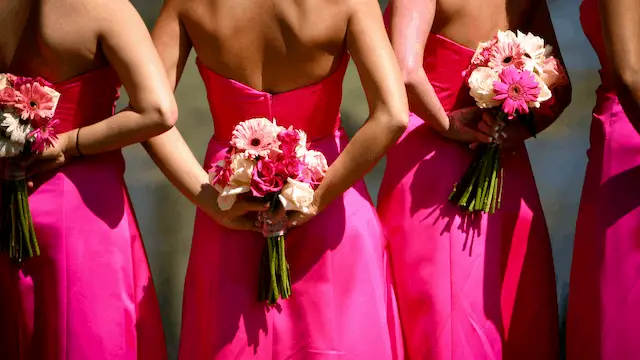 Of course, some other possibilities include the bride buying all the dresses for everyone in the bridal party.
Either way, think about what feels right for the bride and what will make her happy.
The wedding party should all agree with the chosen bridesmaid dresses so it doesn't cause any issues later on.
Book Your Overnight Rooms And Make Travel Arrangements
Whether the wedding is at a fancy resort overseas or a closer by location, you will need to book your hotel and make travel arrangements.
Check with the bride if she has arranged for a wedding room block at special rates and book your room before the hotel's cut-off date. That would eliminate the option of a lower rate.
Aid With Prewedding Tasks
Some pre-wedding bridesmaid duties may include meetings at the bridal store to help the bride pick her wedding dress, find the perfect pair of shoes, and help pick out some jewelry and accessories.
Be ready during these couple of months leading to the wedding to be helpful and available as much as possible and keep a few dates open on your calendar.
Offer to help with stuffing invitations, give a hand with crafty projects like making flower girl baskets, and even run small errands that you know she'll forget.
Attend Pre-Wedding Events
Engagement Party
As a future bridesmaid, attending the couple's engagement party is highly probable since you are already part of the bride's inner circle.
This is a way for the bride and groom to get their friends together before saying "I Do." You now should find out pretty soon if you are asked to become one of the bridesmaids at the wedding.
Bridal Shower
The bridal shower is one of the most intimate and special moments shared with close friends, family members, and bridesmaids.
As one of the bridesmaids, your bridesmaid duties may not be as intense during the bridal shower, but you typically would help to organize it, show up and have a good time.
Most bridal showers are hosted as luncheons, but another way to have fun is by organizing an afternoon "high tea" party or a cocktail reception with a bar and hors d'oeuvres in the evening.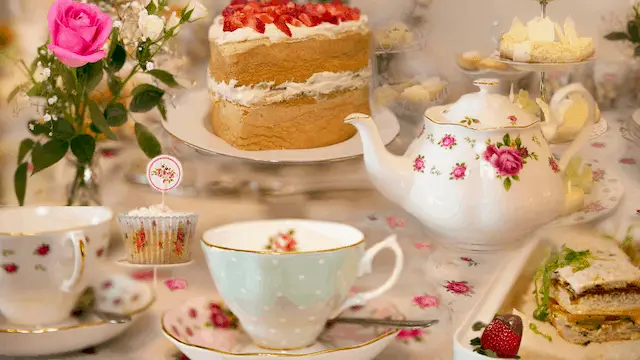 Bachelorette Party
Your list of bridesmaid duties will also include helping The Maid of Honor plan the bachelorette party and help pay your share and raise funds for the event.
If you plan a trip, this could include sorting out travel arrangements, figuring out hotel reservations, and dividing costs among different bridesmaids.
Attend The Wedding Rehearsal
Most couples will do a wedding rehearsal with their wedding party for a run-through of the ceremony the evening before the wedding. It is one of your bridesmaid duties to attend.
Make sure it is on your calendar and you are there on time.
The time can also be used to bring any items to the venue that will be needed and store them overnight, so there is less to carry on the wedding day.
Rehearsal Dinner
Traditionally, the groom's parents host a rehearsal dinner for the couple and their wedding guests on the evening before the wedding day.
This time you are off the hook for organizing and setting up for the event, but you are still expected to attend and mingle.
During The Wedding
Help The Bride Dealing With Nerves
Planning a wedding comes with many responsibilities for the bride and groom. As a bridesmaid and confidante, you can often just help by listening to the bride and soothing any emotional distress helping see things through. The bride may just need someone to vent to and know that she has friends she can depend on.
You also want to give your emotional support to the maid of honor since she takes a few more responsibilities during the weeks and months leading up to the wedding.
Help The Bride Get Ready (& Also Get Ready)
Get up at a reasonable hour, eat breakfast and take care of yourself before continuing your bridesmaid duties into the wedding day. Grab your bridesmaid dress, shoes, accessories, toiletries, and cosmetics, and make sure you are not missing anything you need on the wedding day!
Check with the other bridesmaids who is bringing an emergency kit (safety pins, fabric glue, bobby pins, a full makeup kit, bandages, tweezers, a sewing kit, hairspray, nail files, feminine products, scissors, anti-static spray, deodorant, breath mints, stain remover pen, blister balm, dental floss, lint brush, and pocket mirrors).
Arrive with your fellow bridesmaids before/together with the bride in the morning to get ready together in the dressing room.
Assist in any bridal tasks, make sure the bride eats, help her into her wedding dress, shoes, and jewelry and get yourself ready for the ceremony. Pour celebratory bubbly for everyone to enjoy when getting ready!
Offer A Helpful Hand With Wedding Preparation Tasks
Overall, it's expected that the bride and groom take care of all the aspects of their wedding planning.
However, bridesmaids will often assist with small tasks that are last minute on the wedding weekend, i.e., running an errand for the bride while getting ready, helping to put the escort cards in alphabetical order, or finding family members for photos during the night.
Additionally, some of your bridesmaid duties may be checking on vendors (i.e., the florist, DJ, or Band) on behalf of the bride to ensure they have all arrived and communicating any last-minute adjustments to the event coordinator at the venue. 
The bride may be busy getting dressed and doing hair and makeup, unable to speak with them directly.
Organizing Food And Beverage
Check with the bride if she wants her bridesmaids to help plan for any food and beverages while getting ready before the ceremony.
Chances are she already took care of this ahead, but just in case she didn't, her bridesmaids should offer to pick up snacks and beverages or order them ahead of time from the venue.
Purchase A Wedding Gift
A bridesmaid isn't exempt from gift-giving, either. A thoughtful gift will show your appreciation and friendship.
You could consult with the other bridesmaids and or family members you are close to, to present a more substantial present from the group or do your own.
To make the decision even more accessible, pick a lovely gift from the couple's gift registry reflecting something both would like to receive.
Be Ready For Photos for the Wedding Party
Keeping up with bridesmaid duties, it is also your responsibility to keep up with timing and hold the wedding party united so you all can take a group photo.
Especially with a large wedding party, it can be a challenge to get everyone ready to meet at the agreed time and location at the venue.
Ensure both the bride and groom keep up with their schedule and the bride's hair and makeup preps, or dealing with vendors is not delaying the planning.
Be Part Of And Know Your Position During The Ceremony
After practicing the ceremony the night before, you will know all the details of your position during lining up for the actual wedding ceremony, where you stand next to the bride in front of the room, and which groomsmen will escort you out during the recessional.
Ensure the bride or wedding planner doesn't have to find you when they need to line you up and be set and ready.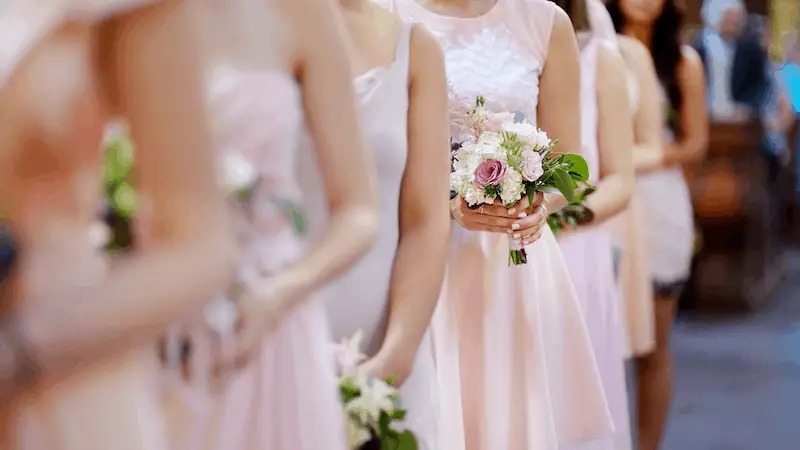 Work In A Team With Your Fellow Bridesmaids
Your other friend bridesmaids and the maid of honor will be your right-hand gals for the wedding, and you will want to work together with them as a team.
You should share all your ideas about how you would like things done on the wedding day. Planning out details together may sometimes be more straightforward, sometimes more frustrating. But it's always better to get things figured out before the big day.
Who gets their hair and makeup done first? Or be the one who will help with a few bridesmaid duties while she has her wedding-related tasks to attend to.
The bride may delegate last-minute pieces of her wedding day duties among you ladies. Just keep smiling, and don't get overwhelmed.
Help With The Wedding Attire
Some brides may hire a planner who can help with the dress, but your bridesmaid duties may include helping to bustle the dress.
Get familiar with all hooks, bands, and buttons in the dress construction beforehand to not have a challenge later. Having safety pins handy is a good idea.
You may also be of great importance in assisting in taming masses of fabric in the restroom.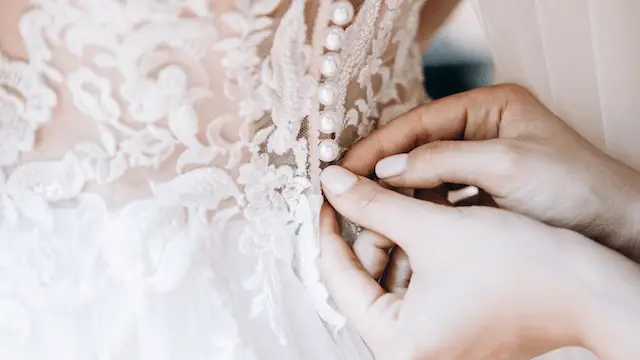 Mix And Mingle With Wedding Guests
Finally, when the wedding reception is finally starting, the bars open, and the hors d'oeuvres are being passed around, the most important items on your list of bridesmaid duties are checked off.
Mingle and chat with as many people as possible – it's okay if you can't remember their names!  Check with the bride & groom from time to time to see if they need anything.
Have A Good Time And Help Keeping Up The Energy
Be prepared to be part of the introduction of the bridal party and the bride & groom. It usually happens immediately after the cocktail reception, once guests are all settled in at their dinner tables.
You will likely be walked to the dance floor by one of the groomsmen and wait there, or at your dinner table, for the newlyweds to be introduced and do their first dance. Shortly after their dance, you would rejoin the couple with the entire wedding party and friends and family who would like to hit the dance floor.
Post Wedding Bridesmaid Duties
The wedding is over, and you're a bona fide bridesmaid to someone who just got married! Congrats on your success.
You successfully helped the bride or groom with all of their pre-wedding needs, and now there are just a few things left for you to do on your list of bridesmaid duties:
check if the bride & groom need you to deal with any payments for vendors (often the Best Man will do that)
help the groomsmen set up the getaway car
find out if you need to help to collect any wedding gifts, and make sure they get to the bride & groom's room or house safely
take another look at the dressing room before leaving to retrieve any items
help giving out any party favors as guests leave
collect any unused printed dinner menus, programs, favors, the guest book, pens, the cake knife, personal champagne glasses
collect bride's and bridesmaids' bouquets
In Conclusion
The best bridesmaids are the ones that have fun with their role in the wedding and help out when they can.
As a result of this mindset, you'll be able to provide support to the bride on her big day without getting stressed about anything else.
Remember these bridesmaid duties tips for being an awesome friend so it will go smoothly.
Congratulations again on becoming a member of such a special group!