Wedding Planning Risks: What Could Go Wrong?
There are no shortcuts in wedding planning, and wedding planning risks are real. In fact, it can be downright stressful at times!
Couples plan their wedding for months and are determined to make it perfect. But as the big day draws closer, you may start to worry about all the things that could go wrong.
What if the flowers arrived late? Or the caterer canceled? Or did the DJ not show up? The list of potential problems can be overwhelming.
But what's the alternative? Not getting married? Of course not!
Fortunately, most disasters at weddings are easily preventable- if couples and vendors know what to look out for!
Planning ahead can help minimize any stress or problems that may arise!
What could go wrong? Well, let's find out…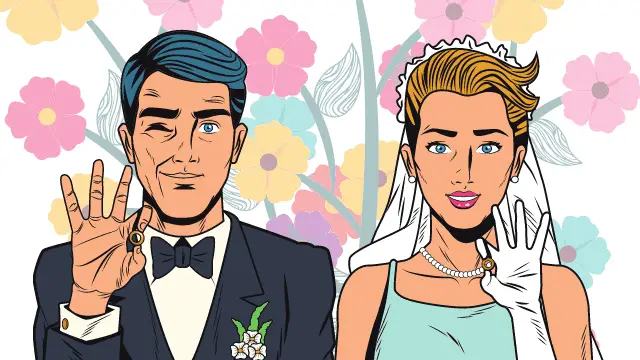 Not Budgeting Properly
One of the biggest wedding planning risks is not budgeting properly. It's easy to get carried away with all the details of your dream wedding, and before you know it, you've blown your budget. It can lead to a lot of stress in the weeks leading up to the wedding. It may even cause you to scale back on your plans or even cancel your wedding altogether.
There are a few things you can do to avoid this:
Create a detailed budget and stick to it as closely as possible.
Shop around for suppliers and compare prices.
Don't be afraid to ask for discounts.
Think about what is important to you and be willing to compromise on other aspects of the wedding.
Choosing The Wrong Venue
When it comes to choosing the right wedding venue, it's essential to do your research and consider all of your needs and wants. However, even with all of that planning, it's still possible to make a mistake and choose the wrong venue.
Here are some of the biggest risks involved in choosing the wrong wedding venue:
1. Not being able to accommodate all of your guests. This is probably the most common problem when choosing the wrong wedding venue. If you have an extensive guest list, make sure the venue can accommodate them all comfortably. Otherwise, you'll end up with many unhappy guests who can't find a seat or are cramped together in a small space.
2. Not having enough space for your wedding ceremony and reception. If you want to have both your wedding ceremony and reception at the same venue, make sure there's enough space for both. You don't want to end up having to move all of your guests from one side of the building to the other after the ceremony is over.
Not Hiring A Wedding Planner
Many couples choose to go the do-it-yourself route when it comes to wedding planning, thinking that it will save them money. While this may be true in some cases, it can also lead to disaster. Without the experience and expertise of a professional wedding planner, couples can run into several problems.
One of the most significant risks of not hiring a wedding planner is that you may not have enough time to plan everything properly. There are a lot of details to consider when planning a wedding, and if you're not familiar with the process, it's easy to overlook something important. This can result in last-minute scrambles and potentially disastrous mistakes.
Another risk of not hiring a wedding planner is that you may not afford everything you want. A wedding planner can help you stay on budget and make the most of your money. Without their guidance, you may end up spending more than you planned or compromising on essential aspects of your wedding day.
Ultimately, hiring a wedding planner is one of the best ways to reduce the risk of things going wrong. This is because they have the experience and resources you need to plan your wedding without unnecessary stress or risk.
Forgetting To Invite Important Guests
Another risk of wedding planning is forgetting to invite important guests. This can happen for many reasons, such as getting caught up in the excitement of planning and failing to send out invites or accidentally leaving someone off the guest list.
Either way, forgetting to invite an important guest and then catching up by sending a late invitation can lead to a lot of hurt feelings.
They now may not be able to make it, or they may show up expecting to be part of the celebration and find out that they weren't even invited! To avoid this risk, make sure to triple-check your guest list before sending out invites and ask someone else to do a final check for you.
Over-Planning And Becoming Overwhelmed
When it comes to wedding planning, it's easy to get overwhelmed. There are so many things to consider, and if you're not careful, you can quickly become bogged down in details.
The key is avoiding planning excessively or in more detail than is necessary. Have a solid plan in place before you start worrying about the small stuff. And be realistic about what you can accomplish in the time frame you have.
If you find yourself swamped, take a step back and reassess your priorities. Are there any tasks that can be cut from your list? Or can you delegate some of the work to others?
Remember, it's important to enjoy the planning process as well. So try not to get too stressed out – it's supposed to be fun!
Unknowingly Breaking Any Wedding Traditions
Wedding traditions matter if they are meaningful to you or your family, and you want to be respectful and sensitive to a culture or heritage. But even if you think no one cares, there's still the chance that someone will be offended.
Of course, it is critical if you have a religious wedding custom. If you're not sure what wedding customs are vital to your guest, ask a family member or friend who knows them well.
No rule says religious people need to be married inside of their church by a priest, minister, or rabbi – but if they haven't been married before and plan on having the ceremony in their house of worship, they should check with the clergy to see what is allowed.
Conflicts With Vendors
One of the biggest frustrations of wedding planning is clashes with your wedding vendors. These can arise when a vendor doesn't show up on time or doesn't deliver on the product/service that was promised.
These conflicts can happen for a number of reasons:
Miscommunication.
Vendors overbooking themselves.
Personal crises.
Friction with your wedding vendors can have several adverse effects:
Rushed setup.
Missing products/services.
Lack of communication between vendors and venue staff.
When everyone is working together towards a common goal, minor hiccups can quickly be resolved. However, when there is tension and disagreement between vendors and bride & groom, you can be sure that they will not go the extra mile when you depend on it.
It can lead to missed deadlines as everyone tries to hash out their differences. As a result, tasks may not be completed on time, increasing costs as vendors may charge more for their services to compensate for the lost time.
When planning your wedding, you will depend on many people working together in unison to bring your vision to life. So be sure to respect their expertise and let them do their job.
If you try to micromanage every little detail, you're likely to run into issues. Wedding vendors have years of experience and know what they're doing. If you try to tell them how to do their job, you're just going to end up creating tension and ruining the relationship.
Ignoring Delivery & Pick-Up Logistics
One detail often overlooked is your wedding venue's delivery and pick-up logistics. If not handled correctly, this can lead to unnecessary friction on your wedding day.
For example, if your wedding venue requires that you arrange for all of your decors to be delivered at a specific time and picked up after the event and not the next day, make sure you discuss this with them and your florist, designer, rental company, and DJ or Band well in advance. Failure to do so could result in additional charges.
In addition, be sure to confirm the delivery and pick-up times with your wedding venue so that there is no confusion on the day of your wedding. If something goes wrong and your decor is not delivered or picked up on time, it could cause significant delays and problems.
Missing Deadlines
Missing deadlines can unleash a cascade of frustrations. For example, if you can't produce your invitations on time, the printer or your calligrapher may be too booked to do them in time for the RSVP deadline.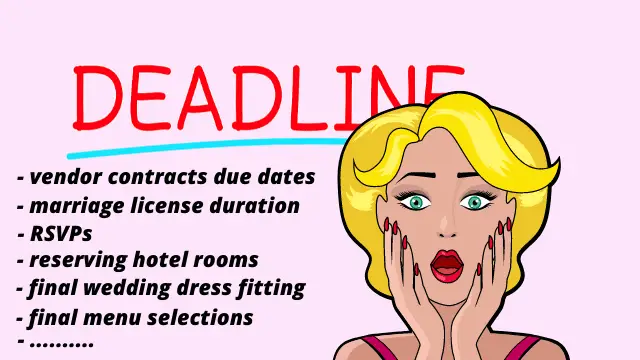 It will stall the flow, cut into the time to complete the task, and you become overwhelmed and do not know where to start. In addition, when you miss deadlines, it can cause problems down the road, such as not having enough time to order your dress or stationery for invitations or not reserving your preferred date and venue.
To avoid missing deadlines, it's essential to be realistic about how much time you need for each task and create a timeline that outlines when each task needs to be completed.
Underestimating The Amount Of Work It Takes
It's a lot more intriguing to watch a wedding from the outside in, as a guest. But when it's your turn to plan a wedding, you may discover that you misjudged how much work it takes to put an event like a wedding together.
The truth is that no one teaches you how to plan a wedding as it is not something that people often do, and thus, for most cases, it becomes a once-in-a-lifetime event.
The amount of work required to prepare for such an event takes time. It takes money, too, but the monetary aspect can be managed if the two partners and families pool together.
Many couples begin planning their wedding hoping that it will be a simple process, only to discover that they must deal with a long list of decisions, suppliers, and other tasks that have to be completed before the big day even arrives.
Here are a few tips for tackling the wedding planning workload:
First, break the process down into smaller tasks. This will make it feel less overwhelming and more manageable.
Delegate tasks to your partner, family, and friends. They can help out in many ways, from researching to helping with the actual wedding day preparations.
Make a timeline or checklist for yourself, and stick to it as closely as possible. This will help you stay on track and avoid any stressful surprises.
Expect the unexpected. There are always things that can go wrong during wedding planning, so be prepared for them and have a backup plan ready to go.
Listening To Too Many Opinions From Family and Friends
When it comes to planning your wedding, it's important to remember that you're the one in charge. This means that you should make the decisions about your wedding and not let anyone else dictate what happens. This dynamic can, of course, be completely different if your parents are paying for your wedding, but even then, you should have the primary say on what goes.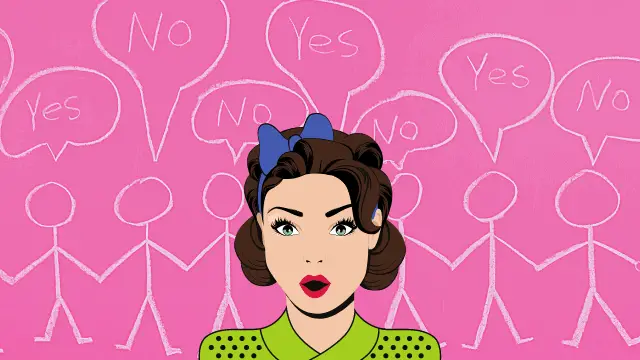 It can be easy to get swayed by everyone's thoughts, from the dress to the menu. As a result, you end up with a wedding that's not really representative of you as a couple.
The best way to deal with this is to listen to everyone's advice politely, but then make the decisions you feel are best for you and your fiance. This can be tough, but it's essential to stay true to yourself and not let anyone else control your wedding.
Hiring A Friend Or Vendor With Little Experience
Hiring professionals who have experience in the wedding industry is essential. However, hiring a vendor or a friend with little experience can greatly disappoint.
For example, if you hire a well-meaning friend to do your photography, they may not be familiar with all the dos and don'ts of wedding photography. This could lead to poorly lit photos or being out of focus, lack of spontaneous and candid pictures, and missing the moment.
Another risk of hiring a vendor with little experience is that they may not be familiar with the logistics of a wedding. For example, they may not know how to work the sound system or set up the tables and chairs properly, follow a day-of wedding timeline, and get things done in time.
Not Studying The Fine Print In The Contract
Ensure to read your vendor contracts carefully and make sure that you understand what is included in the service that they will provide and any additional fees (such as tax) or services that may be available for an extra charge like overtime hours if needed during setup/cleanup.
It's a good idea to verify references not just with the wedding venue but also any vendors you're thinking about using for your big day if you're unsure of them.
Suppose you don't read the fine print carefully. In that case, you may not realize that the venue can cancel your wedding for various reasons, such as missing a payment, hiring an unapproved 3rd party vendor, or disregarding the venue's regulations.
When in doubt, be sure to ask lots of questions before signing on the dotted line and get all agreements in writing to avoid any misunderstandings or surprises down the road!
Having an Outdoor Wedding
Outdoor weddings come with their own unique set of risks that you need to be aware of before you say, "I do." One of the biggest risks is weather-related. A sudden storm could ruin your wedding day, so it's essential to have a backup plan in case bad weather strikes.
How about sound? Can your guests hear you when you exchange your vows outdoors in front of the Atlantic ocean?
Another risk is insects and pests. If your wedding is taking place outdoors, there's a good chance that you'll run into mosquitoes, bees, or other pesky critters. Make sure you have bug spray on hand to keep them at bay.
Finally, outdoor weddings can be more challenging to manage than indoor weddings. There's more to consider, like where to put the seating and how to deal with windy conditions. Make sure you have a plan in place for every possible scenario, and be prepared to adjust on the fly.
Choosing The Wrong Caterer
The caterer you choose for your wedding day will be one of the most important decisions you make. After all, they're responsible not only for feeding your guests but also for setting the culinary tone for a memorable event.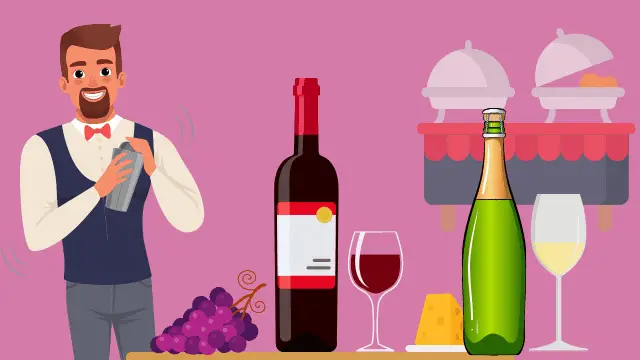 Hire a caterer that is right for your culinary style and knows the art of cooking and presenting food for a large group in unison with your budget. Do your research, read reviews, and ask for referrals from friends if possible. If you're not sure where to start, consider hiring a wedding planner who can help you find the perfect caterer for your big day.
Make sure the caterer includes a wedding tasting in the agreement and sample their food to fine-tune your final selections for your dinner menu.
Final Thoughts
Wedding planning can be a daunting task, but it's important to remember that you can avoid many of the typical wedding planning risks by taking the time to do your research and plan ahead.
Underestimating the amount of work it takes to pull off a successful wedding can lead to costly mistakes and missed deadlines, so make sure you allow yourself plenty of time to get everything done.
Choosing the wrong venue or caterer can also put lots of stress on the road toward your big day, so it's essential to take your time to select the right one for your needs.
Not hiring a wedding planner may seem like a cost-saving measure, but in reality, they can save you money in the long run by helping you stay on track and avoiding last-minute expenses.
By tracking these tips and doing your homework, you're sure to have a wonderful wedding day without any issues!