How to Find An Officiant for Your Wedding
One of the most important decisions you'll make during wedding planning is choosing the officiant for your ceremony.
The officiant will set the tone for your ceremony and help you create lasting memories.
Here's how to find an officiant for your wedding.
What Is A Wedding Officiant?
An officiant performs or presides over a wedding ceremony.
But that's not all they do.
An officiant, religious or secular, works with the couple in the months before the wedding day to frame the ceremony, which may include personal vows, readings, music selections, and more. 
They must be ordained and follow the laws in the state or country you are being married in that are in effect for marriage licenses.
During the months leading to the wedding, the officiant will typically work with you to create a custom ceremony that reflects your unique relationship and values. They may also help you choose readings, music, and other elements included in the ceremony and provide premarital counseling. 
In addition, your officiant will be responsible for sending your marriage license back to the county's clerk's office so it can be certified after all the signatures have been collected (yours, the officiants, and witnesses') immediately after the ceremony.
There are three main types of officiants: religious, civil, and humanist.
Religious officiants are ordained by their faith to perform marriages. They can be priests, ministers, or rabbis.
Civil officiants are appointed by the state or county to officiate weddings. They can be judges, justices of the peace, or notaries public.
Humanist celebrants or officiants do not follow any particular faith but instead emphasize a couple's love and commitment to each other. These could be ordained friends or family members, or professional celebrants.
Determine What Type of Officiant You Want 
Do you want a religious leader, a justice of the peace, or an ordained friend or family member?
Your officiant should be someone you feel comfortable with and who shares your values. 
Once you've decided on the type of officiant you want, you can begin your search. 
Consider Your Budget 
Your budget is an important consideration when choosing an officiant. Just as with any other wedding vendor, there are fees associated with booking an officiant.
Be sure to ask about any potential fees upfront, so there are no surprises later on. 
Do Your Research, Including Reading Online Reviews
There are several ways to find potential officiants, including searching online or asking friends and family for recommendations.
You could also check at your wedding venue if your ceremony is, i.e., at a hotel. Often catering managers know a couple of officiants that they've worked with successfully in the past.
If you are hiring a wedding planner , they likely also have a few officiants that they've worked with before and can recommend.
One of the best ways to find a great officiant is to read online reviews from other couples who have used their services. This will give you a good idea of what others thought of their experience and whether or not they would recommend them. 
Ask Friends and Family for Recommendations 
If you're looking for a religious leader, ask your friends and family if they know anyone who could officiate your ceremony.
If you're looking for a justice of the peace, check with your local courthouse or city hall to see if they have any recommendations. 
Interview Potential Officiants 
It's time to interview potential individuals once you've compiled a list of possibilities.
Interviewing is an important step in the process because it will allow you to get to know the officiant and ensure they're a good fit for your ceremony. 
Be sure to ask each candidate about their experience officiating weddings, fees, and availability on your wedding day.
You should also ask about their pre-marital counseling policies, special requests accommodations, and whether they're willing to travel to your wedding location.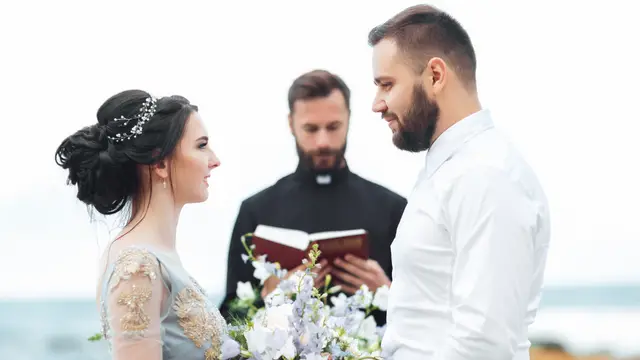 Questions to Ask Potential Officiants  
During your interviews, there are a few key questions you should ask potential officiants to get a better sense of whether they're a good fit for your wedding. 
What is your experience? 
How would you describe your style? 
What do you feel makes a successful ceremony? 
Do you have any ceremonies or rituals that you typically include? 
Is there anything that you don't feel comfortable doing during a ceremony? 
Can we see some examples of your work? 
Do you have any references we can contact? 
How much do you charge? 
Will you be able to attend or conduct our rehearsal?
What are you going to wear for the ceremony?
Asking these questions will help you better understand each officiant's capabilities, and whether they're someone you could see yourself working with on such an important day.
Trust your gut; if someone doesn't feel like the right fit, move on to the next candidate. 
While it's important to find an officiant who meets all your needs, it's also essential to find someone you click with personally.
Make a Decision
Once you've interviewed all the candidates, it's time to decide.
Be sure to choose an officiator who makes you feel comfortable and whom you feel confident in having as part of your wedding day team!
Remember, this is someone who will be helping you create lasting memories on one of the most important days of your life—so choose wisely!
Finalize the Details With The Officiant
Once you've selected an officiant, it's time to finalize the details with them.
Be sure to re-confirm their fee, date availability, and other pertinent details related to their services.
You should also provide them with a copy of your wedding ceremony script so they can familiarize themselves beforehand.
And that's it! You're now one step closer to having the perfect wedding ceremony!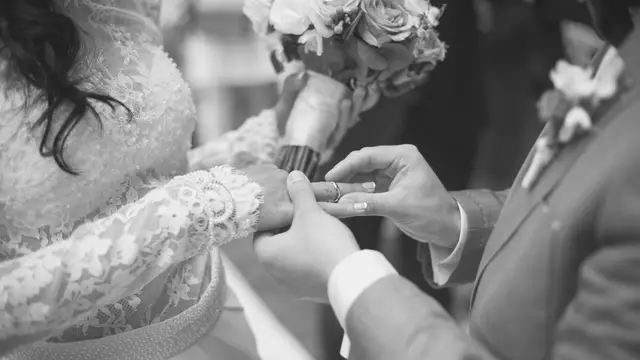 Come to an Agreement on Details and Logistics
Once you've found an officiant whose style and personality meshes well with yours, it's time to talk logistics.
Discuss fees, scheduling, what type of ceremony they're willing and able to perform (e.g., civil vs. religious), and their role in the overall proceedings.
It's also essential to agree on who will make announcements, when music will be played, how long the ceremony will last, and whether or not they're comfortable being photographed or filmed.
You can avoid any potential issues by working out all the details ahead of time. 
Conclusion
Choosing an officiant for your wedding is an important decision that shouldn't be taken lightly!
Be sure to research and interview potential candidates before making your final choice.
And don't forget—the officiant is there to help make YOUR special day memorable, so be sure to choose someone YOU click with personally!