How Much Do Wedding Flowers Cost (10 Tips How To Save)
Nothing goes better with flowers than a wedding.
Wedding flowers evoke happy feelings and make your guests smile. 
Their fragrant blossoms and their beautiful colors become the highlight of your wedding set and give it a touch of luxury.
Whether you buy them from a wholesale chain or a high-end floral boutique, there are many options available to keep you on point with your wedding flower budget.
But managing your wedding flowers' cost can be a challenge for many couples getting married.
The average cost for different types of flowers varies based on several different factors, making it difficult to determine an average price that applies to everyone.
Fresh-cut flowers are very delicate creatures with a very short lifespan, making them quite pricey.
Whether you are holding your wedding in Florida or the Arizona desert, or Boston in February, the place matters a lot when it comes to wedding flowers cost.
This post will help to explain what factors affect your wedding flower budget, where you can save, and what essential wedding flowers cost on average.
At a minimum, you should set around 8% of your total budget aside for flowers for the ceremony and reception, but if you are going with the most expensive range of fresh flowers, 25% to 30% of your budget may be more realistic.
It is essential to do your research before planning your big day, and we'll explore how much specific items typically cost at both average weddings and high-end weddings!
Essential and Optional Wedding Ceremony and Reception Flowers
The floral arrangements you choose for your wedding day will depend on what type of venue or theme you may select. 
For example: if it were a rustic barn-style wedding, you would want to choose wedding flowers in the same style. In this case, wildflower bouquets would be perfect.
If it were a more formal wedding, you would want to choose wedding flowers in the same style! In this case: roses and orchids may work best for your event if they were chosen from an upscale florist or boutique flower shop – but again, there is no correct answer when deciding what type of bouquet to have for your wedding.
The best thing you can do is ask the florist for tips, and then decide based on their advice!
You will be glad that this was done because it could free money on your wedding budget  – but also, if not chosen correctly, flowers may end up costing more than anticipated.
Essential Flowers For The Ceremony – Price Ranges
Bridal bouquet (low: $65 ea to high: $500 ea)
Bridesmaid bouquets (low: $30 ea to high: $125 ea)
Corsages for mothers, wrist or to pin-on (low: $10 ea to high: $65 ea)
Boutonnieres for groom and groomsmen (low: $5 ea to high: $60 ea)
Petals for Flower Girl (low: $5 ea to high: $20 ea)
"Optional"  Ceremony Flowers
Using flowers as a backdrop and accent pieces during the ceremony is almost inevitable, but they are optional if you want to save money.
Ask your florist what they suggest, and then create your vision based on their tips!
Altar arrangements
Petals for the center aisle
Flowers tied to chairs for the center aisle
Branches overhead down the aisle
Entrance arch
Flower backdrop, flower wall
Essential Flowers For The Cocktail Reception And Dinner – Price Ranges
Floral centerpieces for the dinner tables (low: $75 ea to high: $300 ea & up)
Florals for the cocktail rounds (low: $24 ea to high: $45 ea & up)
Flowers for a head table (if you are doing one) (low: $65 ea to high: $300 ea & up)
A bouquet for the sweetheart table (if you are not sitting with the bridal party) (low: $75 ea to high: $300 ea & up)
"Optional" Flowers During The Wedding Reception
Add blooms to these areas for your wedding for a better look.
Bouquets on the bars.
On food stations or buffets.
Petals and greens on the wedding cake table.
Blooms on the wedding cake (i.e., as cake topper or on tiers).
A large arrangement on the escort card table.
Floral decor for the guest book table.
Blooms on trays used for hors d'oeuvres (if you have canapés being butler passed).
Blossoms on each place setting (i.e., on top of the menus, napkin, or the show plate).
A separate bridal bouquet for tossing purposes only.
Miscellaneous optional flowers
Flowers on the (getaway) limousine.
Wreaths or flowers as accessories for hairstyles.
Garlands for staircases, balustrades, or decor on railings, and any other architectural features.
Bouquets in the Ladies' and Men's bathrooms.
Hire a Good Florist – It will pay off!
Unless you have plenty of extra time and a green thumb, it is never a good idea attempting to make your own flower arrangements for your wedding.
It may not turn out as great as something bought from an experienced florist with years worth of practice doing this specific kind of work. 
It can quickly turn into a logistical ordeal when dealing at the same time with all the other preparations you have to do for your wedding. Chances are you've never done flowers on such a scale, and a wedding has no margin for error.
Spend the extra money and hire a reputable florist to do your reception flowers.
Make sure you have the following information ready.
Know what you intend to spend. By knowing your budget, the florist will let you know what it can accommodate. It will affect what types of flower arrangements are possible.
Date of wedding:  the date of your wedding affects what flowers are available on the market during that season and consequently affects pricing.
Location: the florist needs to be able to figure out logistics, transportation, and delivery costs.
The wedding's exact timing: at what time do the rooms need to be set & ready for the ceremony, cocktail reception, and dinner & dance.
At what time should the florist return to pick up flowers and vases, and does that incur any extra costs for overtime (i.e., if the event runs late)?
Let the florist know if there is a tight window for the setup and installation time. You may need to pay the florist additional labor fees to get the job done in time.
How many people are in the Bridal Party? 
How many dinner tables will you have at your wedding?
What is their size? (i.e. 60″, 66″ or 72″ rounds?)
What shape are they? (i.e., round, rectangular, oblong?)
How many guests are seated at each dinner table?
How many cocktail tables (high tops and regular cocktail rounds) will be used during the cocktail reception?
To make all these elements come together, present your preferred color palette, and provide inspiration photos from magazines, blogs, Pinterest, Google Images, etc. 
10 Tips To Reduce The Cost Of Wedding Flowers
1. Use Local And Seasonal Flowers
In the Spring, lilacs are blooming, and tulips are about to pop open. This is an excellent time for choosing this type of flower.
Seasonal blooms will be more cost-effective in the long term and can take you a little further down the road without throwing out too much money on the day of your event.
Additionally, locally grown floral arrangements are often the freshest blooms you can get than those shipped from another country or continent.
On the one hand, you will be saving money on the cost of shipping. On the other hand, you would also support local farmers who might not otherwise get business if their goods weren't in demand by brides, event planners, or florists.
2. Using Expensive Flowers And Inexpensive Flowers Together
This might sound strange at first, but it's actually a  clever idea to tame your wedding flower costs! 
In fact, you can blend and match almost any kind of flowers you want and put together bouquets that are just as beautiful as the ones that are made from only more expensive types of flowers.
For example, you may choose to use roses for the bouquet and lilies as your bridal party's corsages or boutonnieres; this will give an elegant feel without breaking the bank.
Many types of flowers make for a good combination with others and complement each other.  You can combine high-priced flowers with non-expensive ones and still create gorgeous bouquets. 
3. Consider The Benefits Of Using Live Plants
Potted plants are a good alternative or addition to fresh-cut wedding flowers.
Live plants are often cheaper than flower arrangements and can be reused for years to come.
If you have a large ballroom to decorate, as well as the ceremony, plus a room for cocktails, then you'll need quite a lot of flowers. 
Also, potted plants don't require re-decorating as real cut flowers do, and you can gift them to your friends and family or take them home yourself. 
The ideas range from working with orchids in bark or moss, potted herbs, small topiaries, to succulent plants in decorative terracotta pots and everything in between. 
4. Choose A Venue With A Distinctive And Beautiful  Design
Finding a naturally beautiful venue for your wedding can save you money on flowers and additional décor. You don't have to spend tons of time and energy enhancing the look of the location with your florist because it's already pretty.
For example, a wedding at the botanical garden needs fewer flowers than one taking place in a library.
The actual design of a venue can significantly affect your flower budget.  A stark industrial loft may need a lot more flowers than a 5-star hotel ballroom.
5. Reuse The Flowers From The Ceremony For Dinner Table Centerpieces
Make the most of your wedding day flowers and save money by reusing them. 
If you plan to use flowers for the ceremony, ask the florist how they can be repurposed for dinner.  A great florist can create arrangements that serve a dual purpose. 
For example, fresh floral arrangements could flank both sides of the aisle during the ceremony and later become centerpieces on each dinner table. 
There will be at least an hour for cocktails in between the ceremony and the dinner for the florist to move the flowers from one room to another.
Also, reuse the bridesmaid bouquets and don't just toss them in a corner.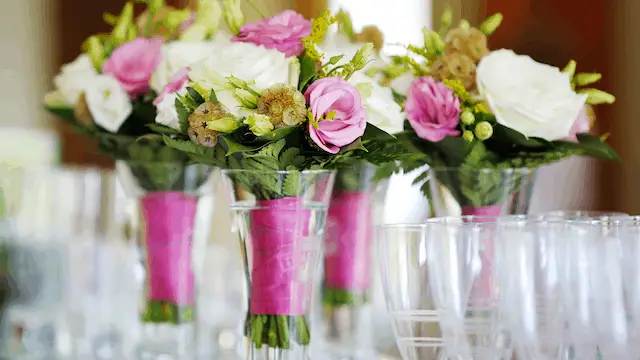 They could be placed around the wedding cake with a couple of votive candles. They could also be decorative next to the sign-in book, on the gift or wedding favors table, or on the bars.
6. Complement Centerpieces On Dinner Tables With Other Decorative Items
Enhance your floral centerpieces by adding candles, lanterns, candelabras, using round glass mirrors, decorated ceramic, or even porcelain instead of glass vases, etc. 
This creates a lush ambiance and some extra flair! 
Candles in any shape or form will add extra sparkle.  It can be as simple and inexpensive as adding clusters of votive candles around the table or hanging them from tall, sprawling branch arrangements.
7. Decide To Go For Larger Flowers And Add Spreading Branches
Flowers come in all shapes and sizes. Voluminous inflorescence (i.e., hydrangeas or baby's breath) will occupy more real estate in your wedding arrangements and have a high visual impact. 
In addition, tall spreading curly willow branches add extra volume to floral centerpieces, even if you only use a few flower stems with them, and don't have to break the bank, unlike using cherry blossom branches.
You will also end up with beautiful arrangements that will look stunning in photographs on your special day.
8. Keep Your Florals Limited To A Few Distinct Types
If only green plants were sufficient!
When guests walk into the room where your ceremony will take place, they should be awed by how beautifully everything is.
However, unless you have an endless budget, another cost-cutting floral option is to limit the variety you are using. 
For example, if you choose to use roses and hydrangeas for your wedding arrangements, then the cost will be lower than it would have been had they also included orchids or peonies in them as well! 
Some flower varieties are more expensive than others, so limiting yourself to only choosing one type per arrangement (or even just two) can help save money on floral costs at weddings without sacrificing beauty too much either way!
Discuss with your florist how you can keep the bill for your flowers in check by sticking to just a few types. More varieties of flowers equal more money spent.  
9. Stay With Your Vision But Also Understand Your Florist's Recommendations
Keep an open mind when speaking with your florist about your options while keeping your vision on colors and budget. 
The florist will have a lot of experience and knowledge about what flowers work best for your wedding, so they can offer you advice on saving money without sacrificing beauty. 
You should also ask them if there are any discounts or deals that might be available – most florists are willing to provide special offers depending on their season.
10. Focus The Majority Of Your Flower Budget On What Matters Most
Another way to cut costs is to allocate your budget toward the area you will be using the longest during your wedding.
This would be on the dinner tables in the ballroom, where you would typically spend about four hours during your wedding.
Also, consider other prominent areas throughout the wedding reception where you can impress your guests. 
After a walkthrough, together with your florist, they can give you great ideas on highlighting specific areas to make them pop or potentially "hide" any flaws at the venue.
Conclusion
Balancing your wedding budget with the cost of flowers can be tricky.
Keep in mind the prices of your wedding flowers vary depending on:
what flower types you choose
your geographical location and availability in that region
the season (spring, summer, autumn, winter)
the actual cost per stem to the florist and mark up
labor costs (from field workers to floral artist)
If budgeting is an issue, avoid overspending on costly options and consider less expensive alternatives; and you will still have a spectacular wedding!