What Makes a Good Wedding? 21 Tips to Make Your Wedding Perfect
A successful wedding is the dream of every couple. So naturally, they want to celebrate their love in a beautiful and perfect setting, surrounded by family and friends.
But what makes a good wedding?
What makes a perfect wedding?
Many factors come into play, but here are 21 tips to help make your wedding day unforgettable!
1. Create a Personalized Program for the Ceremony
By personalizing your wedding programs with beautiful stationery, you capture your guests' attention and provide them with detailed information about the ceremony's proceedings. This can be a great way to enhance the festivities and ensure everyone knows what's going on. Plus, it will keep your guests busy following the proceedings if the ceremony runs late.
You may include additional details in your program, like a translation of traditional vows or a note to let guests know to turn their cell phones off and possibly not take photos.
2. Keep the ceremony sweet and short
The key to a successful wedding ceremony is keeping it short and sweet. This will ensure that everyone stays interested and that the focus is on you, the bride and groom. So keep your ceremony brief and to the point, and you'll be sure to have a perfect wedding day!
3. Choose a unique wedding venue
If you want your wedding to stand out, you'll need to choose the right venue that sets itself apart from the rest and sets the tone.
A unique wedding venue will help your wedding day be remembered by all who attend. There are endless possibilities for choosing a remarkable wedding venue, from an outdoor ceremony in a beautiful garden to a grand ballroom with crystal chandeliers.
It's significant to find a venue that fits your personality and style and can accommodate all of your guests. So take your time in choosing the perfect venue for your big day!
4. Spoil Your Out-of-Town Guests with a Welcome Bag
A welcome bag is a great way to show your out-of-town guests staying at hotels how much you care.
Fill them with items like a map of the area, information on fun places to go, snacks, and bottled water to help your guests feel at home. Also, include a handwritten note expressing your excitement to have them there to celebrate your big day!
Include information about any events you have planned for the wedding weekend, such as a rehearsal dinner or post-wedding brunch. Your guests will appreciate having all the details in one place.
Welcome bags are a thoughtful way to start off your wedding weekend on the right foot!
5. Make a Well-Planned Seating Chart
When creating your wedding seating chart, you want to ensure that guests have things in common and opportunities to interact.
One way to do this is by grouping guests by interests. For example, you could put all the golf enthusiasts or foodies together. This will allow them to chat and learn more about each other throughout the evening.
Another way to create a successful seating chart is by grouping guests by background. For example, you could put all the guests who went to the same college together or all the guests who grew up in the same town. This will allow them to catch up and reminisce about old times.
6. Greet & Meet All Your Guests
When you greet all of your guests, it sends a clear message that you care about them and want to celebrate with them.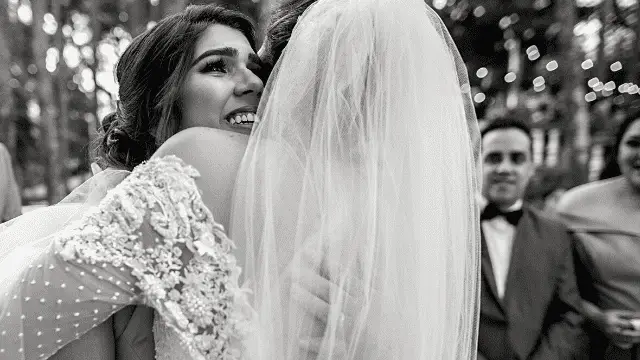 So mingle and chat during the cocktail hour, visit your guests at their dinner tables, and dance away with your friends and family. It will be that much more special if you try to spend a little time with each guest at your wedding.
7. Spend a little more on an open bar
Open premium bars can be expensive, but they are a sure way to impress your guests.
However, there are ways to make them work to make them slightly less premium using less expensive brands. For example, you can offer beer and wine and sparkling wine instead of champagne and limit hard liquor to only a few options if you need to cut back.
8. Be sure to keep speeches short and tasteful
Another thing that makes a good wedding is that no one wants to hear a longwinded ramble, so keep it brief.
Wedding speeches and toast should be three to five minutes max. Consider specific speakers who can keep track of the time, so they don't go over. This will help keep the speeches exciting and your guests engaged.
9. Offer amazing wedding food
Great wedding food is what makes a good wedding. It is one of the most important aspects of a successful event, so it's worth getting it right. Be sure that your guests will enjoy a delicious meal. It will be one of the most memorable topics about how guests remember your wedding.
Choose a variety of dishes that will please all tastes.
Make sure there is something for everyone, from vegetarians to meat-eaters.
Provide a variety of canapés and finger foods for guests to nibble on during cocktail hour.
Serve a sumptuous sit-down meal or a more informal buffet.
Whatever you do, make sure the food is fresh, tasty, and generous in the realm of what you can afford.
10. Select your music well to set the ambiance of your wedding
Your wedding would not be complete without music. Good entertainment makes a good wedding.
The music you select will set the tone and atmosphere of your wedding. It will also be a source of entertainment for your guests.
Choose music that is meaningful to you and your spouse-to-be. Whether you opt for live music or a DJ, make it a point to have a variety of songs that everyone can enjoy.
11. Tune Down the Music During Meal Serving Times
At a wedding, it's a good idea to turn the music volume down during meal serving times.
This will ensure that guests can hear each other and enjoy their food. Additionally, it will help create a more intimate setting. Invite guests back to the dance floor in between courses, or wait until dessert is served.
12. Get a photo booth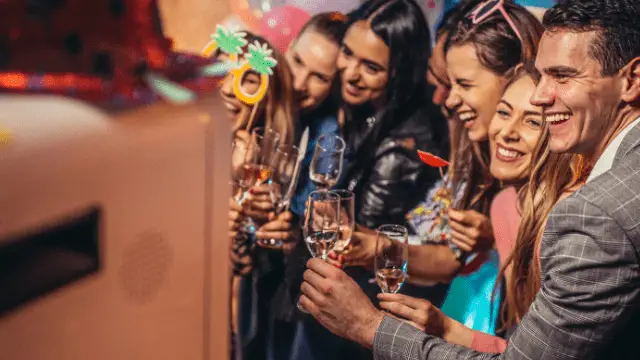 When you choose to have a photo booth at your wedding reception, you give your guests a unique and fun way to commemorate the day. Rather than signing a guest book or taking home a favor, they can snap some fun photos in the booth and have a keepsake to remember your wedding day.
When selecting a photo booth, be sure to consider the size of the space where it will be set up. You'll want to ensure that it's not too large for the room.
13. Merge Two Cultures if you have a multicultural wedding
Your wedding is a great opportunity to merge both of your cultures into one beautiful event if you are from different backgrounds.
This can be done in many ways, incorporating traditional customs, food, drinks, dances, attire, and music from both cultures. Doing this will make your wedding unique, and it will also show your guests how much you value your relationship.
14. Hire a children's entertainer
If you have any children attending your wedding, hire a children's entertainer (i.e., balloon sculpting and magician) or set up a kids' corner with activities and toys, so they are not bored.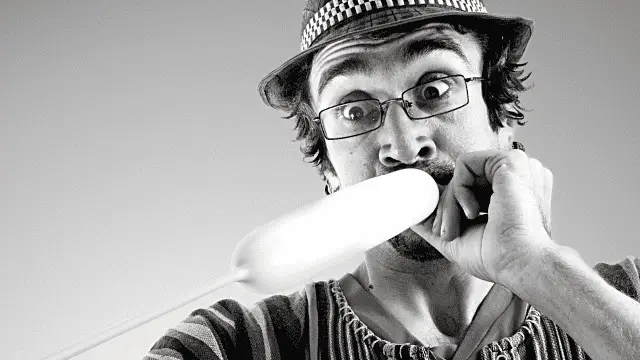 This will allow the adults to enjoy the wedding without worrying about keeping the children entertained.
A children's entertainer with lots of activities will keep them busy, and they are supervised so you can relax knowing the kids are being looked after.
Include a kid's snack area, including healthy snacks and drinks to have a little break from the adults.
15. Create a Lounge Area Away from Music
Creating a small lounge area away from the music can be a great way to add another layer of comfort to your wedding.
This area can be used for guests to relax or take a break from the dance floor. If you want to make your lounge area even more unique, consider adding a few comfortable chairs or couches. This can be a great place for guests to chat and relax without worrying about the music being too loud. You can even put some light snacks and drinks in this area so that guests can have something to nibble.
16. Ensure there is enough staff on hand to help things run smoothly
If you want your wedding to be successful, it's essential to have enough staff on hand to help things run smoothly. This includes servers, bartenders, and other staff who can help set up and clean up. If you don't have enough people to help, things can quickly become chaotic and stressful. So be sure to budget for enough staff – it will be worth it in the end!
17. Make your guests feel comfortable
Making sure that your wedding guests feel comfortable should be one of your priorities. After all, you want them to have a positive experience and remember your big day fondly.
Keep your guest's comfort in mind by ensuring they have access to proper accommodations if they are from out of town.
During the wedding reception, you want to make sure there is plenty of seating, especially for the elderly guests.
In hot climates, make sure the ac is cranked, or there are fans and chilled drinks available to keep everyone cool.
If your wedding is outdoors, provide bug spray, sunglasses, or umbrellas for your guests.
Provide them with everything they need, such as water, shade, and comfortable seating.
If you have elderly or pregnant guests, make sure they have a place to rest.
What makes a good wedding is giving your guests the feeling they are being taken care of to relax and enjoy the celebration.
18. Make your wedding a celebration where you genuinely enjoy yourself
Being the center of attention on your big day can be daunting, but if you can relax and enjoy yourself, your guests will feed off your positive energy and have a good time.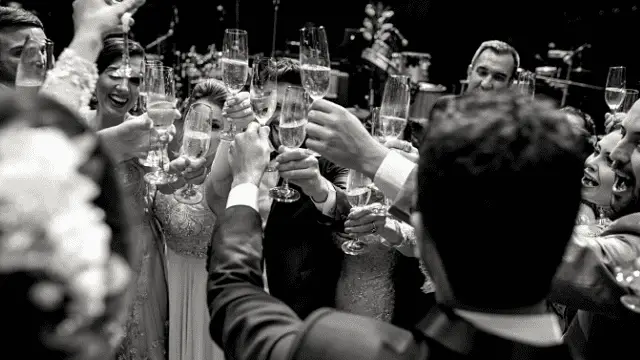 After all, your wedding is a celebration of your love, and you should enjoy every moment!
Don't stress about the little things.
It's easy to get caught up in the details of your wedding, but try to take a step back and focus on what matters – your relationship with your partner.
No one will remember if the flowers weren't exactly how you wanted them, but what makes a good wedding is that everyone will remember how happy you looked together.
19. Offer Late-Night Snacks and Bites
Serving late-night snacks is a great way to keep your wedding guests' energy levels up until the end of the reception. By providing something to eat, you'll help them stay awake and enjoy the rest of the night!
Have your caterer set up easy-to-eat snacks like mini burgers, chicken fingers, mini pizza, and french fries. This way, guests can help themselves throughout the night.
And don't forget the late-night sweets! A candy bar, brownies or mini desserts, and fruit kabobs are always a hit with guests of all ages.
Avoid anything that requires utensils, or that is too messy.
Another fun activity is hiring a food truck to come to your wedding location parked outside the venue's entrance and offer late-night snacks to go.
20. Create a Memorable Wedding Exit
To make your party outstanding, end the event with a bang and make sure that everyone leaves cheerful.
Pick a high-energy song as your last dance, and make sure that all of your guests are out on the dance floor with you.
You could also include making sure people have access to transportation and setting up wedding favors that they can take with them as memories of your event.
Before your big exit, find out whether rice, rose petals, sparklers, and the like are permitted at your wedding venue.
21. Show appreciation and Send Thank you notes
When it comes to tipping, it is always best to err on the side of generosity. You may want to consider tipping the catering and reception staff and the cleanup crew or drivers (unless gratuity is added to the total bill); if you have any questions about who to tip and how much, ask your wedding planner or coordinator.
In the days following your wedding, send handwritten notes to anyone who played a significant role in making your wedding day successful, and mail thank-you notes to all guests. If you have the time, you may also want to send thank-you notes to vendors. Your wedding would not have been possible without them!
Final Thoughts
These 21 tips will help you make your wedding day perfect and discover what makes a good wedding. But remember, it's your wedding, and it should reflect your personality!
Make sure to add in your own touches to make the day truly yours, and your wedding will be an event to remember for years to come!