Everything You Need to Know About Junior Groomsmen (But Were Afraid To Ask)
If you're in the process of planning your wedding, you've no doubt been introduced to the various roles and responsibilities that come with being a part of a wedding party.
One of those roles may be junior groomsman, but what exactly does that mean?
If you have any young male relatives or friends who want to participate in your wedding, consider appointing them as junior groomsmen.
What is a Junior Groomsman?
A junior groomsman is typically a young teenage man who is chosen to participate in a wedding ceremony.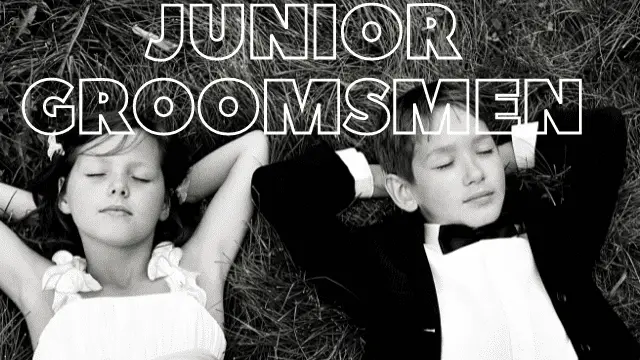 There seems to be some leeway in how old Junior groomsmen are, but typically they are in the range of 8 to 17 years, serving as honor attendants to the groom.
The title of junior groomsman is typically given to young men who are related to the groom or bride, such as a nephew or cousin. However, they can also be a younger brother, son, or stepson from a previous marriage if the bride or groom is remarrying.
What is a Junior Groomsman's role in the wedding party?
The duties of junior groomsmen are typical to assist the groom and the best man with any tasks that he may need help with, such as bearing the rings or even acting as a messenger between the bride and groom if needed.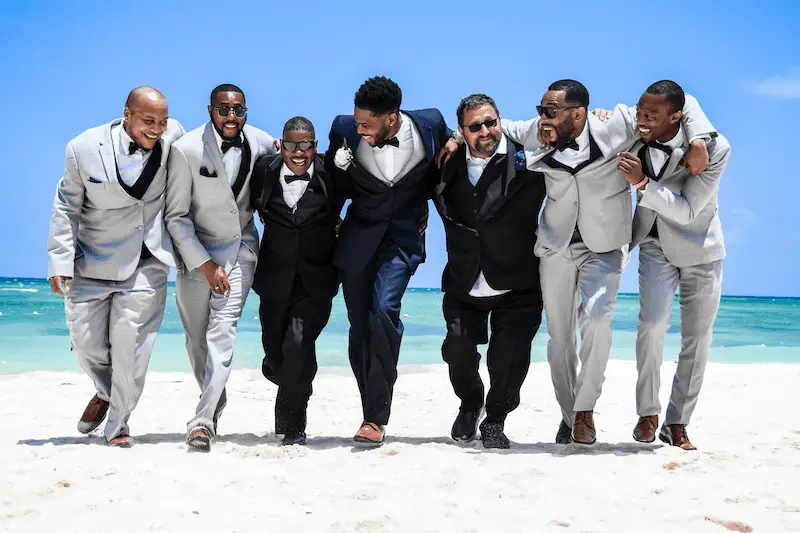 A junior groomsman may also be tasked with passing out programs or ushering guests to their seats before the ceremony, pulling down the aisle runner, or helping with the guest book.
During the ceremony, junior groomsmen will also stand up with the groom and other wedding party members.
He may also be tasked with leading the other children in the wedding party down the aisle.
How do you choose a Junior Groomsman?
If you are considering asking a young man to be a junior groomsman at your wedding, be sure to discuss it with him and his parents first to make sure that they are comfortable with the time and financial commitment involved in being a part of your wedding party.
The young man should also be someone you feel comfortable entrusting with the few tasks assigned to him on your wedding day.
What are some tips for working with a Junior Groomsman?
Here are some general tips for working with junior groomsmen and preparing them for their roles:
Make sure to include the junior groomsman and his parents in any wedding planning discussions they are involved in so that everyone is on the same page about what is expected of him.
Be sure to assign age-appropriate tasks to the junior groomsman and within his capabilities.
Make sure the junior groomsman feels like a valued member of the wedding party by including him in pre-wedding festivities, such as the rehearsal dinner.
Thank the junior groomsman for his help on your wedding day, and be sure to include a gift for him in your thank-you notes to your wedding party.
Make a special day out of shopping with him for suits or tuxedos along with the groomsmen.
How Do Junior Groomsmen Differ From the Rest of the Groomsmen?
A junior groomsman is an underage individual who helps with a wedding, as opposed to a full groomsman who is an adult.
Because they are minors, junior groomsmen typically have fewer responsibilities than their adult counterparts.
For example, a junior groomsman might help with setting up before the wedding, but he generally won't be responsible for tasks like coordinating transportation or giving a speech.
Being a junior groomsman is often seen as a rite of passage for young boys who are close to the groom, and it can be a fun way for them to participate in a wedding without having too much pressure.
What Does The Junior Groomsman Wear? 
Most junior groomsmen will have the same attire as the groomsmen, with some variations depending on size.
The typical attire is a dark suit, dress shirt, and tie. The junior groomsman may also wear a cummerbund or vest if the wedding is more formal.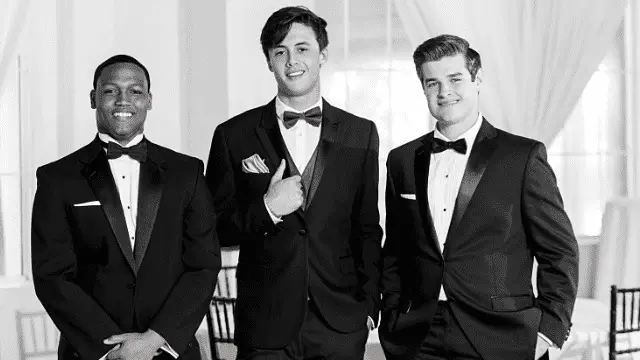 For a less formal wedding, the junior groomsman may wear slacks and a dress shirt with or without a tie.
The key is to make sure the junior groomsmen match the other members of the wedding party in some way, so they all look cohesive on the big day.
Where do junior groomsmen Walk in the processional, and Where Should They Stand?
Junior groomsmen typically walk directly after the groomsmen and before the ring bearer during the wedding processional.
They can also walk earlier depending on the importance and ties to the family, or he can pair with the junior bridesmaid if there is one.
The junior groomsman can stand immediately to the right of the best man during the ceremony or all the way to the right next to the last groomsman.
If the bridal party is seated during the ceremony, he will sit in the first or second row.
Should you have a junior groomsman?
This can be a confusing question for some couples. After all, it's not like you have to have a junior groomsman, but if you have a close male family member who is around the right age and too young to be an adult groomsman, it can be a nice gesture to include him in your wedding party. Plus, he'll probably be thrilled to be involved!
If you're on the fence about whether or not to have a junior groomsman make sure everyone is on board and that there won't be any hurt feelings. You don't want to start your wedding off with any drama!
Junior Groomsman Gifts
There are many different options for gifts for a junior groomsman, depending on his age.
Take into account his age when choosing a gift.
You can't give an 8-year-old boy the same gifts as the other groomsmen.
Some appropriate gifts for a junior groomsman include:
-A small toy or game.
-A gift card to a favorite store.
-Tickets to a movie or sporting event.
-A football or baseball engraved with his name.
-A more traditional wedding party gift, like an engraved money clip or watch.
-Something else that is appropriate and unique to his interests and hobbies.
Whatever gift you choose, make sure it is something that the junior groomsman will appreciate and remember. Giving a thoughtful gift will show him how much you value his role in your wedding.
Final Thoughts
A junior groomsman is a great way to include a young male family member in your wedding. He will enjoy participating in the festivities and getting dressed up for the big day. It can be a fun experience for him to remember for years to come.
Be sure to choose a gift that is appropriate for his age and interests. This will show him how much you appreciate his role in your wedding.
With a bit of planning, you can include a junior groomsman and have a blast at your wedding!