What To Wear As Mother Of The Bride
As a bride's mother, your wardrobe is important to your daughter's special day. You will be standing in photos that will be treasured for years to come. Therefore, it's important to look and feel your best!
Whether you opt for traditional or trendy attire or something in between, ensure that you select clothing that reflects your taste and style and compliments the setting, occasion, and your daughter's wedding dress.
Here are some popular options for you to consider as to what to wear as the mother of the bride:
A beautiful, formal evening gown accentuating the wedding colors and theme.
A sleek pantsuit in a subdued color like black, navy, or grey.
An elegant skirt suit in a hue that compliments the wedding colors.
A chic cocktail dress in a color scheme that matches the wedding colors and theme.
Dress/Pant Suit Combo – This option looks especially great if you wear a long skirt. The combination of the dress and pantsuit creates a unique, stylish look.
A versatile dress option for a wedding falls either at the knee or mid-calf in a classic silhouette, like an A-line or sheath shape.
A long dress made of luxurious fabric like silk or satin makes an excellent option for a black-tie formal wedding.
A lace or beaded dress invokes a romantic and vintage-inspired style. This is the perfect choice for a vintage-themed or bohemian wedding.
An airy maxi dress made with a light fabric, like chiffon or silk, is an ideal choice for a beach or outdoor wedding.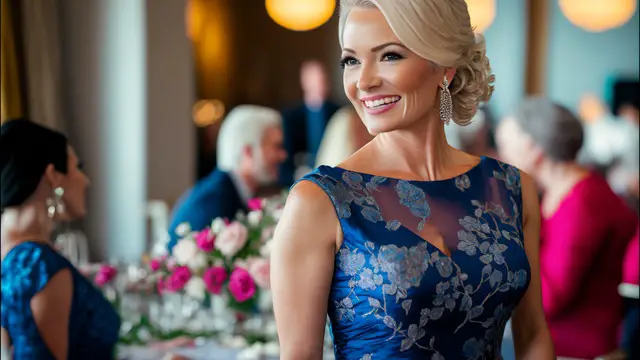 Research Your Daughter's Color Palette 
The first step in choosing a color palette is to research what colors your daughter has chosen for her wedding theme.
While white may be customary for brides, it is often seen as taboo to wear this color to avoid upstaging the bride.
Here is a list of some popular colors for mother of the bride dresses:
Navy blue
Black
Silver or gray
Champagne or blush
Lavender or lilac
Burgundy or wine
Sage or forest green
Eggplant or aubergine
Teal or turquoise
Cream or beige
But, ultimately, choose a dress that you feel good in and that suits the style and tone of the wedding.
Most brides have already chosen a color scheme that reflects their personalities and sets the tone for their special day. You should also consider that if any bridesmaids are involved, you may decide to coordinate your dress with theirs.
Talk with your daughter about what color scheme she has chosen – this will help narrow down which shades will work best for you. 
For example, if your daughter has chosen navy blue gowns for her bridal party, you could opt for a navy, teal, or even silver dress. On the other hand, if she's decided on pastels like pink or lavender, you should stick to one of those shades or try a coordinating hue.
Mix & Match Patterns
Once you know what colors will work best with the wedding theme, it's time to consider patterns and textures. There are countless options available for fabric and pattern choices, so don't be afraid to experiment! If you prefer something more muted or subtle, look for textured fabrics such as lace or chiffon in neutral tones like beige or cream.
On the other hand, if you want something a bit bolder, opt for brighter hues like pink or yellow combined with prints like polka dots or stripes. Depending on your preferences and budget, there are plenty of options out there! 
Coordinate Your Outfit With Stylish Accessories And Shoes
Your outfit won't just be made up of clothes – accessories will make all the difference in completing an outfit!
Choose jewelry, shoes, and a purse matching your clothing to create a fashionable ensemble.
Think about jewelry pieces such as necklaces and earrings that add some extra sparkle or scarves that can perfectly tie together different elements of an outfit.
Accessorize your outfit with appropriate jewelry and a handbag to complete your look. A clutch or small handbag is a good choice for a formal wedding,
Not forgetting shoes either – make sure they match (or at least compliment) your dress and those worn by other bridal party members, so everyone looks coordinated on the big day!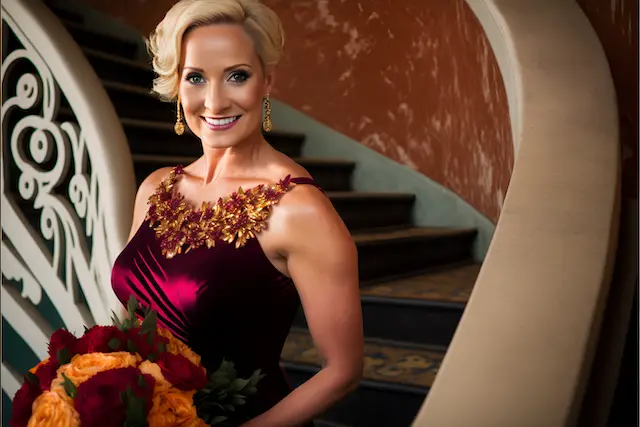 Mix Traditional With Trendy
When selecting a style that suits you and the event, consider combining traditional silhouettes with modern details. For instance, if you choose a knee-length shift dress in black lace over nude lining, it may appear classic but still, have a contemporary feel. Or perhaps select a full-length evening gown with an off-the-shoulder neckline instead of a strapless one—it's unique yet timeless!
Should The Mother Of The Bride Wear A Long Dress Or A Short One?
It ultimately depends on the style of the wedding, as well as your personal preference. For example, a long dress is classic and elegant for a formal affair, while a short dress can be more fun and flirty for an informal gathering. It would be best if you also kept in mind that whatever you choose should complement the other dresses worn by members of the bridal party.
Velvet Jackets & Embellished Accessories 
Consider pairing your dress or gown with velvet jackets or embellished accessories like a belt or capelet to add even more flair to your ensemble. This is a great way to dress up your look and make it one-of-a-kind. Also, look for pieces made with luxurious fabrics such as silk, satin, and tulle to elevate your style further.
These small additions can take your outfit up a notch without overwhelming it (or taking away from the focus of the day). And they give you more opportunities to incorporate color into your look as well!  
Whichever silhouette you decide on, make sure it is age appropriate—you don't want to look like one of the bridesmaids! At the same time, try not to look too matronly either; remember, this is also your chance to shine! Lastly, choose comfortable shoes with a stylish silhouette that complement your ensemble and will be easy to dance in.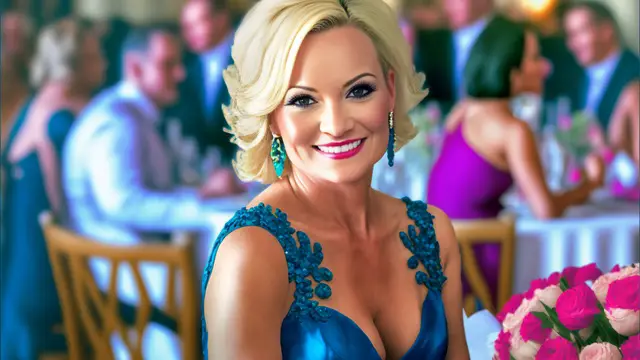 Locations, Time, and Weather
As a mother of the bride, your outfit should also consider the wedding's location and time of the day.
A prime example would be if you wore a formal evening gown to a black-tie wedding instead of a cocktail dress or pantsuit, which would be more appropriate for daytime weddings with less stringent clothing requirements.
Weather and climate should also be taken into account. For example, if the wedding is held outdoors on a hot day, avoid heavy fabrics and opt for something light and airy like chiffon or cotton. On the other hand, if the ceremony takes place indoors during cold months, heavier materials such as velvet or wool can provide warmth without compromising style.
What Should The Mother Of The Bride Not Wear?
You want to look your best on the big day but go for darker colors instead of white, cream, or ivory. Wearing these colors may seem like you're trying to upstage the bride.
Don't wear revealing or inappropriate clothing if you want to make a good impression. Choose something classy and suitable instead.
Don't wear a dress that doesn't go with the style of the wedding. Instead, pick a dress that fits the theme or type of wedding. For example, flowing sundresses are more appropriate for casual beach weddings than formal evening gowns.
Mothers Of The Bride And Groom: To Match Or Not To Match?
It's a big decision for you as the mothers of the bride and groom – should you match? From coordinating outfits and colors to individualizing their look, there are many choices when picking the perfect ensemble.
Ultimately, it's about feeling confident and comfortable in your own skin. But you should also consider the tone and style of the wedding when choosing your attire. Formal weddings may call for more formal attire, while casual weddings allow for more flexibility. No matter what option you choose, make sure you both feel good about what they're wearing!
If you're curious to learn more about the Mother of the Bride's duties and responsibilities at a wedding, please read on.