Are Weddings Worth The Cost?
There are many reasons people get married, but one of the most common reasons is making a lifetime commitment.
The pressure to have a picture-perfect wedding can cause many couples to overspend on everything from lavish venues to designer dresses and extravagant floral arrangements. But are weddings really worth the high cost?
The average cost of a wedding in 2023 is $29,000.
Some people might find this a lot, but how much money do you need to spend to have the perfect day?
It can be challenging to decide if weddings are worth the price tag because many factors contribute to the total cost.
What is your budget, and what are your priorities when it comes to weddings?
These are all important questions that you need to answer before deciding if a wedding is worth the money.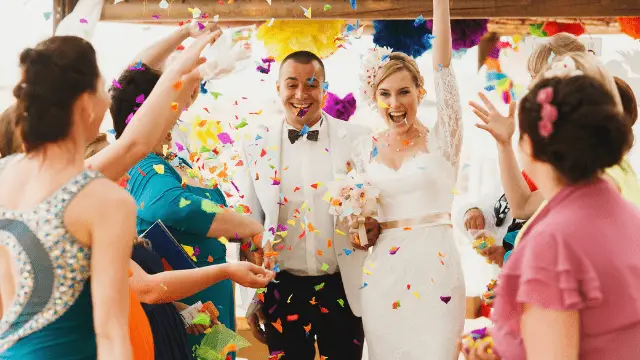 Your Dream Wedding Is Priceless
No price can be put on your wedding and the memories you and your spouse will make on this special day.
It is worth every penny to spend without blowing your budget to have the wedding of your dreams because once it's over, you cannot recapture the memories.
Remember that weddings are for celebrating your love with all of the people who have helped you along the way, so spend as much as you can to make sure everyone has a great time!
The wedding industry is a billion-dollar business. And if you maneuver your budget smartly, you can have a stress-free celebration that will be remembered for the rest of your lives.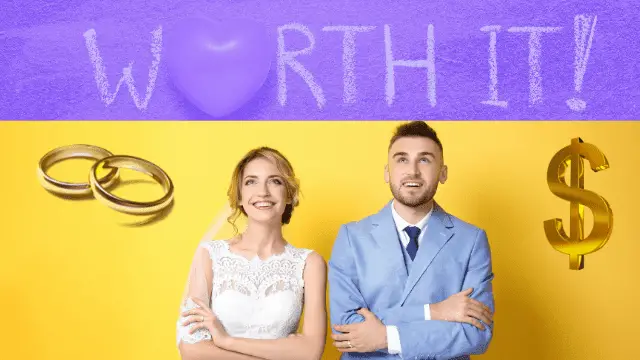 Decide What Is Important To You and Prioritize
Weddings can cost as much or as little as you make them, and doing some research before making any decisions will help ensure success and satisfaction with your plans.
Depending on how you handle the following key aspects, a wedding may or may not be worth the high price.
Are Designer Wedding Dresses Worth It?
All the tuille and huge yards of satin plus a famous designer's name can add up quickly for a dress that you will only wear for a few hours and never again thereafter. But how can you blame brides for wanting to look and feel beautiful on this once-in-a-lifetime day?
It is worth it if you can afford it or splurge and don't feel guilty about it afterward.
If you know that the price tag of a specific wedding dress is not within your budget, then don't feel bad about opting out and looking for something more affordable.
You can still find a beautiful gown that will make you feel like a princess on your special day. The sky is the limit when it comes to options and creativity, so get out there and start looking!
Wedding Planner Or Day-Of Coordinator
Are wedding planners worth it?
A wedding planner is a lifesaver for your wedding and is well worth the cost. They are there to help you every step of the way, right from the beginning stages, and ensure that you are on track for success.
If you hire a wedding coordinator vs. a wedding planner, meaning a person who will jump on board much closer to the big day instead from the get-go, she or he will alleviate a lot of stress on you and your spouse on the day of the wedding. Hiring a coordinator is like having a right-hand person who will be there to make sure everything runs smoothly on your big day and that all the details are taken care of so you can enjoy your special day stress-free!
They will ensure that nothing falls through the cracks when you are preoccupied with all of the finalizing details and last-minute preparations.
So give yourself a break from all the stress that weddings bring.
Number Of Guests (The Biggest Cost Of Your Wedding)
You will quickly notice how expensive weddings can get when you look at your guest list.
Depending on your circumstances and needs, you may opt for a smaller wedding that is more affordable or stretch the budget to accommodate 200 guests.
It's a highly personal choice to decide whether a smaller or large wedding is worth it. Just remember the number of guests at your wedding is your biggest expense impacting wedding costs.
While smaller weddings are more intimate, and you can spend more time with your closest friends and family members, larger weddings are showy and have an air of grandeur.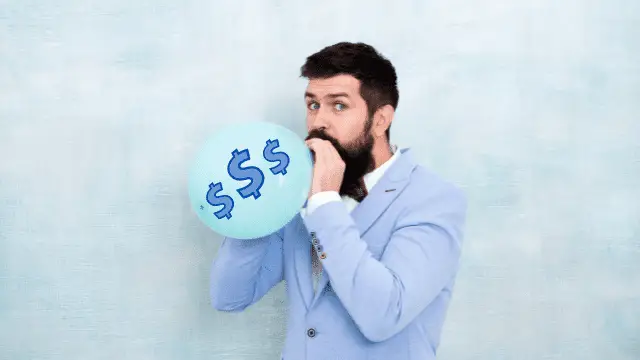 Weigh Between A Big vs. Small Wedding
If you are dead set on your budget, it makes a significant difference in the quality of the overall event if you spend the same amount on 50 guests or 200 guests.
Consider whether you want to spend the same amount on a smaller high-end wedding or a large wedding and need to cut some corners on the venue, menu, entertainment, etc.
Wedding Photographer And Videographer
A well-known wedding photographer or videographer can quickly cost into the thousands.
This is a considerable expenditure for your wedding, but it will be well worth the investment, especially since these photos and videos are memories that cannot be recreated.
An excellent wedding photographer will capture pictures at the exact right moment that would otherwise be lost forever.
Are Destination Weddings Worth The Cost Vs. Local Wedding?
Destination weddings are a double-edged sword.
They are surely more expensive for your friends and family to attend due to the added travel costs and overnight accommodations needed.
However, all-inclusive wedding destination packages can be very tempting for some couples when they cannot have the same experience anywhere else, such as a wedding on a beach, in the mountains, or at an exotic location.
If your guests can afford the added expense of attending a destination wedding, it is worth it if that's what will make both of you happy on your special day.
So weigh out all the options before deciding which type of wedding to have.
Wedding Band or DJ?
A live band is an excellent option for your reception entertainment. If you have the budget, it's certainly worth going for this option. It is not just a recital or a show but a two-way visceral experience that satisfies all your and your guest's senses.
A great band with true talent and a vast repertoire will make your reception unforgettable. They will play all of the songs you want and more, making it very personalized for everyone in attendance!
A DJ provides music and MC-ed entertainment with lots of energy and caters to an entirely different level of synergy with your guests. The musical variety is almost limitless.
Spending good money on your entertainment is worth it! It's all up to you and what will make the best party!
Peonies Or DIY Wedding Centerpieces?
Flowers and decorations matter because they set the mood and ambiance for your wedding.
You don't necessarily need expensive flowers or grandiose decorations because all you want from your wedding day is to be with the people you love and have a good time.
Admittedly, peonies are stunning flowers, but so are carnations! They may just have gotten a bad reputation from being associated with the nineteen fifties, but they are still unique and beautiful flowers.
And if you are doing DIY centerpieces, you might be saving money on flowers which could free up funds for other expenses.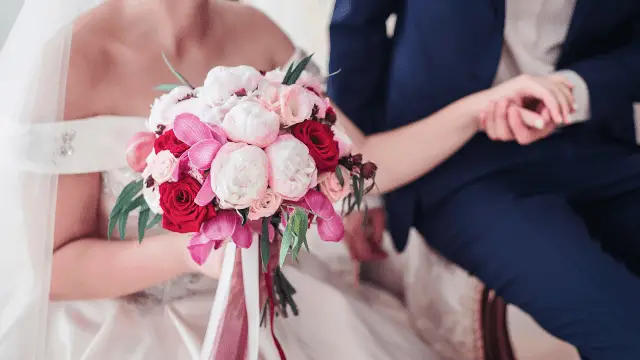 Should You Consider A Weekday Wedding?
Doing your wedding on a weekday instead of a weekend can be completely worth it.
You can save money on the venue, catering, and entertainment since you won't compete with couples bidding on locations and vendors on Saturday nights.
However, it is necessary to consider whether your family and friends will have time off from work or school to attend your wedding.
If they do not, then it might make more sense to get married on the weekend.
So weigh out all the options before deciding which type of wedding to have.
Wedding Catering Costs
When it comes to planning your wedding luncheon or dinner, you get what you pay for. So, for example, if you want an amazing caterer who uses farm-to-table ingredients, you can expect to pay top dollar.
Spending extravagantly for a one-of-a-lifetime event is completely worth it when it comes to food and beverage. 
A well-put-together menu paired with good wine leaves a great impression and memory on everyone being part of your big day.
Final Thoughts
Are weddings worth the cost? First, decide what works best for your specific circumstances and then weigh all of your options before deciding which type of wedding to have.
If budget isn't an issue, hire a band for your reception entertainment, go all out on the food, wine, and bar, have a fantastic photographer to capture every moment in detail, etc.
If you are working with limited funds, look into a few DIY projects and all-inclusive wedding packages, and find other creative ways to save.
With good research and planning, you can have your dream wedding without going bankrupt.
The most important thing is to have fun with everyone who will be part of your special day!