17 Hidden Wedding Costs You May Not Have Anticipated
It's no secret that weddings are expensive. There's no way around that. But even if you're prepared for the big-ticket items – the dress, the venue, the catering – there may be some hidden wedding costs that catch you by surprise.
So, before you say "I do," make sure you know these hidden expenses!
Here are 17 hidden wedding costs that you may not have anticipated…
1. Flower Buyer's Remorse: Hidden Wedding Costs of Floral Arrangements
When you think of weddings, flowers are probably one thing that comes to mind. But did you know there's a hidden cost involved with floral arrangements?
The average couple doesn't realize how much money can go into ordering and caring for these beautiful plants at their wedding reception or ceremony site!
For example, centerpieces alone may range from $200-$500–and this isn't even including any other decorations like tapers on tables lit by them (which also costs).
So before deciding which type is best suited, go in detail over the pricing information with your florist so as not to have regrets later down the road.
Here are some additional hidden costs to take into account when ordering flowers for your wedding: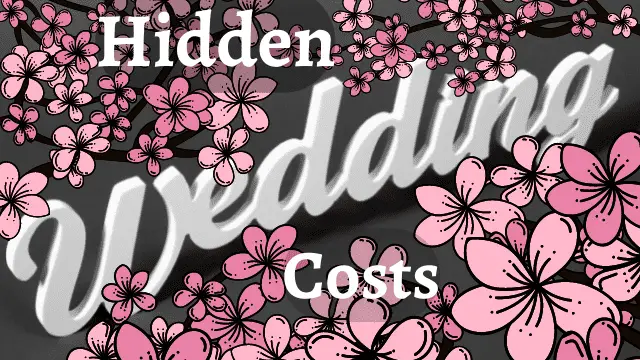 Flower delivery, setup, and pick-up fees
Some venues require you to have the flowers removed immediately after your wedding instead of the next day.
This may cause dual fees:
Late-night pick-up fees by the florist.
The venue's overtime fees if the florist (or any vendor for that matter) is running late.
These fees might be substantial and can significantly increase the overall cost of your final bill.
Hidden Cost of Choosing Different Flower Types: What You Should Know
Peonies vs. Carnations? Your taste for a particular flower can significantly impact the cost. Flowers, like peonies, are much more expensive than others. So if you're set on having a specific upscale type of flower in your arrangements, be prepared to pay extra.
Is it cheaper to do your own wedding flowers?
There is no definitive answer when it comes to the cost of wedding flowers and if it is cheaper to do them yourself.
It honestly depends on a variety of factors, such as the size of your wedding, the types of flowers you want, and how many arrangements you need.
If you're crafty and have time to spare before the big day, then DIYing your own flowers may be a cheaper option for you.
But can you handle the logistic of such an undertaking?
If time is money, and you don't have much time, then it might be worth paying someone else to deal with the hidden costs and stresses of flower shopping, delivery, setup, and teardown.
2. Cost Of Overtime
If your reception goes longer than the allotted time, you can almost be sure to be charged an overtime fee by the venue and or caterer.
In the same way, whether you hire a band or DJ, photographer, videographer, wedding planner, or coordinator, they also charge overtime fees.
Overtime fees add if you don't catch them when your wedding is nearing the end.
To avoid paying hidden overtime fees, keep an eye on the clock and make sure you communicate with all vendors involved in your wedding.
Talk to your vendors ahead of time about the possibility of extending their services. Factor the costs into your budget if you want to avoid any stressful surprises at the end of your wedding.
3. Fees On A Need-To-Know Basis
Some of the most frustrating hidden wedding costs remain secret until they are needed to be known and revealed to you by your vendors.
These hidden on need-to-know basis wedding fees include:
Cake cutting fee
Corkage fee
Box moving and handling fees at venues
Storage fees
Extra guest fees for last-minute guests
Paying for no-shows (hotel rooms)
Taxes on top of service charges
Labor fees for setup, tear down and clean up
Vendor meals + their assistants
Greenroom for entertainers
Dressing rooms at venues
Additional power needed at the venue
Additional chefs fees, bartender and waiters fees if needed
Labor Shadow Fees (unionized venues)
Early access setup fees and late-night cleanup fees
Travel fees and accommodation fees for vendors
Menu upgrades both food and beverage
Special dietary requirements
Kids meals
Re-set fees for changing setup last minute
Gratuity, tax, and service charges on items and services you didn't anticipate
Extra people you bring to the wedding tasting
On a need-to-know basis fees can catch you by surprise and put a sore damper on your wedding budget.
It is important to be aware of all potential costs that may arise so you can plan and prepare accordingly.
With a little bit of research and planning, you can avoid any stressful surprises on your big day.
Do you have any hidden wedding costs that we missed? Let us know!
4. Minimum Guarantees Required at Wedding Venue
As you search for the perfect wedding venue, beware of the sneaky expenses that can easily go unnoticed.
Among them, one crucial aspect is the minimum guarantee of guests required by the venue, which you'll be accountable for covering.
Therefore, before putting your signature on the dotted line, ensure that you're comfortable with the minimum numbers specified in the contract.
It's worth noting that even if your actual attendance falls below the guaranteed count, the venue won't reimburse you the difference, so be mindful of the numbers you agree to. Don't let this hidden cost surprise you on your big day!
5. Wedding Insurance
Another hidden cost that is frequently overlooked is purchasing, or perhaps worse, not purchasing wedding insurance.
This type of insurance protects you financially if something goes wrong on your big day.
While you may be hoping and praying that everything will go off without a hitch, it's always better to be safe than sorry.
In addition check with your vendors on their type of insurance and what is included in their coverage before deciding.
Liability Insurance and Cancellation Coverage are typically the two types that provide protection for you. However, it's an expense that may feel like an unnecessary hidden cost at the time until you run into a situation where you wish you had it.
6. Guests You Didn't Expect
Even after accounting for everything, there may be some unexpected expenses.
One such hidden cost is guests you didn't expect at your wedding. This sometimes happens when people who did not RSVP suddenly decide to attend your wedding without giving you any notice.
While it's nice to have them there, it can also be costly if you use up your budget after you have already counted them out. Also, if you're not expecting them, you may not have enough food or drink for them, but the venue will still charge you for each additional guest showing up.
Besides, you will need to get additional place settings, rental chairs, tables, linens, etc. All of this can add up fast for each person added.
7. Hidden Costs Of Audiovisual Equipment & Technicians
Planning a wedding can be an exciting yet overwhelming experience, especially when it comes to the audiovisual aspects. While hiring a band or DJ is crucial for setting the right atmosphere, many couples overlook the hidden costs associated with audiovisual equipment and technicians.
Firstly, it's important to ensure that your chosen band or DJ has their sound system and audio technician. If not, you may have to hire an audiovisual company – and trust us, they don't come cheap!
Moreover, if you plan on showing a video montage during your cocktail hour or reception, renting equipment such as projectors, screens, and audiovisual technicians can add up quickly. These expenses are typically not included in a DJ's or band's fee.
If you need a mic and sound system during the ceremony, it's worth checking whether your officiant or venue can provide one or if the DJ/band can supply the equipment. Otherwise, you'll be accountable for renting this gear and ensuring it's set up correctly on your big day.
But here's another sneaky twist: some hotels have an exclusive in-house audiovisual company. So even if your band or DJ has their sound system, you may still be forced to use the hotel AV company's equipment – and pay for it too!
In short, make sure you budget accordingly for any additional audiovisual costs that may arise during your wedding planning process. It's better to be prepared than caught off guard with unexpected expenses!
8. Postage Fees and Fancy Wedding Invitations
Finding the perfect wedding invitation stationery can be a daunting task since there are so many choices available nowadays. With all the different colors, fonts, and designs available, it's hard to know where to begin!
However, once you've selected the style you love, it's time to tackle the cost.
Did you think about the postage?
Do you want a response card? (more postage)
Depending on the weight and size of your invitations, you can expect to spend anywhere from $0.50 to $2.00 per invitation just for postage!
If you're inviting a lot of people to your wedding, those hidden wedding costs can start to add up.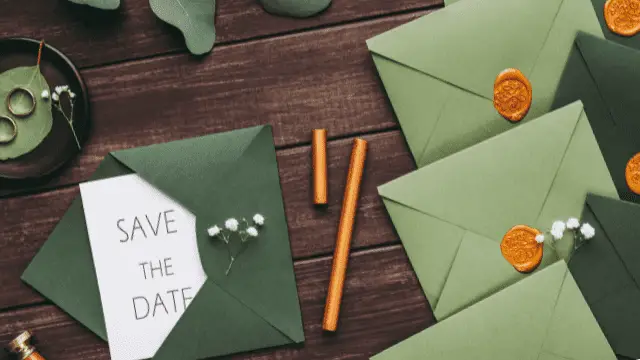 To save on postage, try to keep your invitations as light and slim as possible. You can also ask your postmaster about hand-canceling, which is stamping the invitations so that they don't need additional sorting by the post office.
While it may cost a few extra dollars upfront, it can save you money in the long run.
9. Another hidden cost of weddings is tipping
Generally, it is expected to tip service-based vendors, especially if you are happy with their work.
This includes vendors such as your catering manager and staff, bartenders, hair & makeup artists, photographer, and DJs or bands.
While it is not required to tip these vendors, it is customary to do so.
Tipping your vendors is a way to show your appreciation for their services.
While most couples are aware that they need to tip their wedding vendors, they often don't factor in how much they should be tipping.
A good rule of thumb is to tip 15-20%
Have your cash ready a few days before to save time on your wedding day.
Separate vendor tips in envelopes for each person onsite to be handed directly to them on the wedding day!
You can ask each vendor ahead of time if they include gratuity in their invoice.
Sometimes venues or catering companies will add a "service fee" on top of the cost, but this doesn't always go to staff members who work hard during your event!
10. Wedding Vendor Trials
Additional fees can apply if you change the original design or plan you and your vendors agreed to. Often hidden in the fine print of contracts, these "change fees" can affect your budget.
-Tastings with caterers can get pricey if you are trying to reinvent the menu instead of going with what the venue offers.
-Cake tastings and consultations can also be charged, depending on the number of flavors and fillings you want to try and cover the labor cost.
-If you're planning to use a band, they may charge a fee for songs that are not in their repertoire and need to be learned.
-Rental companies will charge delivery and setup fees for mock-up setups if required for your wedding.
11. Alterations
When you purchase your wedding dress, the cost of alterations is not always included.
Wedding dresses are not built to fit everyone, which is why you should budget for modifications.
Depending on the designer and the style of your dress, alterations can be a couple of hundred dollars & up for tailoring.
Don't forget to factor in the cost of your veil, headpiece, jewelry, and shoes!
12. Using Outside Vendors
When selecting your wedding venue, check with them if they allow you to use an outside vendor. Many venues charge a fee for using outside vendors or only allow specific caterers, florists, and photographers.
Also, if your venue does not allow outside alcohol, be prepared to pay their bar minimums, which can be pretty costly.
13. Extra Night Fee for Bridal Suite
If you are getting married at a hotel or are staying in a hotel close to your wedding venue, you may consider getting ready in your bridal suite if it is big enough.
Getting ready often means gaining access to the room early in the morning on your wedding day.
Hotels will charge an extra night fee for early access to the room.
Don't forget to contact housekeeping before leaving for the wedding so that your room will be clean and ready when you return from the reception.
14. Custom Lighting 
When picking out your dream venue, ensure it has the lighting for an intimate wedding. 
You can get customized uplighting to make the space feel more romantic and inviting and highlight certain features to make them pop. Gobo lights, for example, can enhance the lighting experience by projecting images or words onto the walls or dancefloor.
The cost can range from a few hundred to a couple of thousand dollars depending on how many lights you need and how much customization you want.
15. Backup Plan for Outdoor Weddings
If you're planning an outdoor wedding, it's crucial to have a backup plan in your budget in case of inclement weather.
Many couples choose to have their ceremony and reception outdoors, but your wedding day could be ruined if a storm hits.
There are considerable hidden wedding costs associated with having a backup plan, including renting a space for the ceremony and reception, decorating the area, and having a Plan B for your food and drink.
If you're determined to have an outdoor wedding, ensure you're not caught off guard on your big day.
16. Meals While Getting Ready on the Wedding Day
If you're getting ready for your wedding at home, you'll need to provide food for your bridal party. The same goes if you're getting ready at a hotel – the cost of room service can add up quickly!
Keep it simple with bagels and fruit for breakfast and a platter of sandwiches and wraps for lunch.
Make sure to have plenty of snacks and water.
And don't forget to provide the bubbly!
17. Wedding Favors
Wedding favors are a nice way to show your guests a little token of appreciation. However, they can also be a hidden cost if you're not careful.
Depending on the type of favor you choose, you can easily average $8-12 (and more) per guest, which can eat up a significant chunk of your wedding budget if your guest list is large.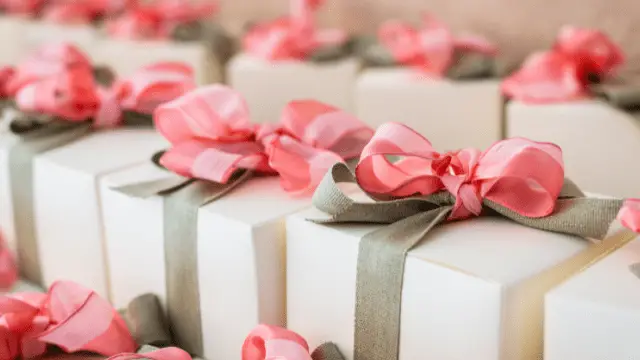 Final Thoughts
If these hidden costs were not enough, take a peek at the following table to get an idea of other potential unknowns. Some may be obvious to some but hidden to others. Stay informed and be prepared!
46 More Hidden Wedding Costs You Should Know About
| | Hidden Cost | Description |
| --- | --- | --- |
| 1 | Additional entertainment rental items | Renting additional items such as a photo booth or lighting equipment |
| 2 | Additional wedding day transportation | Transportation for the wedding party and guests to and from the ceremony and reception venues |
| 3 | After-party | Food and beverage, venue, labor and entertainment fees |
| 4 | Alcohol | Specialty drinks, bartending services, permits, luxury drinks and champagne |
| 5 | Bridal gown cleaning and preservation | Cleaning and preservation services for the gown |
| 6 | Bridal party gifts | Gifts for the bridesmaids, groomsmen, and other members of the bridal party |
| 7 | Bridal shower expenses | Venue rental, decorations, food, and activities for the bridal shower |
| 8 | Caterers administrative fees | Administrative surcharges from caterer |
| 9 | Day-of coordination | Management of details and timeline on the big day by dedicated coordinator |
| 10 | Décor setup and breakdown | Setup and breakdown of decorations and rental items |
| 11 | Destination wedding expenses | Additional expenses such as passports, visas, and transportation for a destination wedding, travel vaccinations |
| 12 | Emergency wedding day kit | First-aid supplies, needle and thread, etc. |
| 13 | Extra decor rentals | Renting additional decor items such as chair covers or special linens, napkins |
| 14 | Food tasting fees | Fees for tasting menus at the wedding venue or caterer and cake maker |
| 15 | Gift wrapping for bridal party gifts | Wrapping and supplies for bridal party gifts |
| 16 | Hair and makeup trials | Try different looks before the wedding day |
| 17 | Honeymoon expenses | Airfare, accommodations, activities, etc. |
| 18 | Horse-drawn carriage | Professional transportation for the wedding day, such as a horse-drawn carriage |
| 19 | Late fees | Late fees for vendors or venue if payments are not made on time |
| 20 | Late-night snacks | Snacks for guests who stay late into the night |
| 21 | Limousine | Limousine for bride and groom |
| 22 | Marriage license fee | The fee for obtaining a marriage license |
| 23 | Out-of-town guest accommodations | Accommodations for out-of-town guests such as hotel rooms or transportation |
| 24 | Parent's gifts | Gifts for parents or other loved ones |
| 25 | Parking and valet services | Parking and valet services for guests at the wedding venue |
| 26 | Photographer's editing time | Time spent editing and enhancing wedding photos |
| 27 | Portable restrooms | Portable restrooms for outdoor wedding venues |
| 28 | Post-wedding brunch | Venue rental, food, and drinks for a post-wedding brunch |
| 29 | Postage for thank you cards | Thank you cards to guests after the wedding |
| 30 | Pre-wedding beauty treatments | Spa treatments and hair appointments before the wedding day |
| 31 | Pre-wedding fitness classes | Fitness classes to get in shape before the big day |
| 32 | Professional dance lessons | Professional dance lessons for the bride and groom or the wedding party |
| 33 | Rabbinical Supervision | Jewish weddings |
| 34 | Reception setup and breakdown | Labor costs for setting up and breaking down the reception venue |
| 35 | Rehearsal dinner | The cost of a rehearsal dinner, including venue rental, catering, and decorations |
| 36 | Rentals for outdoor weddings | Tent rental, flooring, chairs, tables and heating/cooling units for outdoor weddings |
| 37 | Sales tax | Sales tax on purchases such as wedding attire, decorations, and catering |
| 38 | Security services | Hiring security personnel for the wedding venue |
| 39 | Souvenirs or welcome bags for guests | Gifts or items for out-of-town guests in their hotel rooms |
| 40 | Table, chair rental, silverware and glass rental | Renting tables, chairs, and place settings for the reception |
| 41 | Tax on wedding items purchases | Sales tax on wedding-related purchases such as the dress and decorations |
| 42 | Tuxedo rental | Rental cost for the groom and groomsmen's attire |
| 43 | Umbrella and fan rental | Renting umbrellas and fans for outdoor weddings in warm climates |
| 44 | Vendor travel and accommodation expenses | Travel and accommodation expenses for out-of-town vendors |
| 45 | Video recording | Videography services for the wedding day |
| 46 | Wedding website fees | Fees for creating and hosting a wedding website |