What Makes A Wedding Successful? Unveil The Magic
What makes a wedding successful is the perfect fusion of romance, elegance, and personal touches, brought to life through meticulous planning and a keen eye for detail.
From the stunning floral arrangements to the delectable cuisine, every element must be thoughtfully curated to create a truly unforgettable experience for you and your guests.
At the heart of it all is your love and joy, which sets the tone for a magical celebration that will be cherished for a lifetime.
Here is how to make your wedding unique and unforgettable, and don't fret; you don't have to be a wedding planner to make it happen.
Have a clear vision and plan
What makes a wedding successful is adding your personal touches that reflect your unique personalities as a couple and your love story, making it a truly one-of-a-kind event.
Define your wedding theme, budget, and key priorities. This will direct your decision-making process and ensure everyone understands your vision.
Define your wedding Theme
Decide on the overall style and atmosphere you want for your wedding, i.e.:
rustic
bohemian
modern/minimalist
classic/traditional
outdoors/garden
glamorous
This decision will impact your venue selection, decor, attire, and choice of vendors.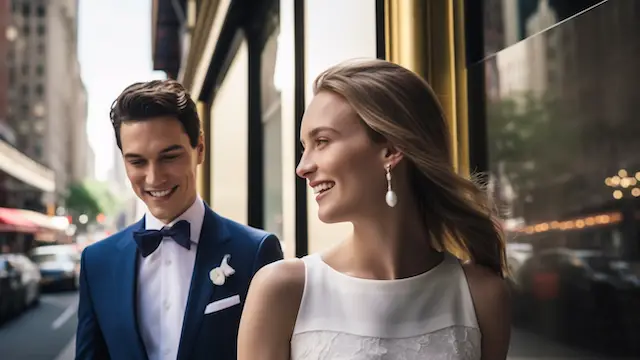 Establish a theme
Consider incorporating a theme that reflects your interests, such as a travel theme you picked up from vacation, nautical, vintage, literary theme, holiday, or whimsical or culturally themed.
Your theme will guide decisions about:
invitations (stationary)
decorations
and the menu
Set a budget
Determine a realistic budget early on to make informed decisions and allocate funds to different aspects of the wedding to keep financial control. Staying within your budget will help minimize stress and better decision-making throughout the planning process.
Identify key priorities
Determine the elements that are most important to you, whether it's:
exceptional food
stunning floral arrangements
specific musical performance
If you know what's most important for you, you can decide where to put your time, money, and energy to ensure those things are done well.
Create a detailed timeline
Creating a well-constructed timeline that includes all important milestones and deadlines is crucial. Breaking down the planning process into manageable steps will help you stay organized and avoid last-minute stress.
Here is why:
Organization: A detailed wedding timeline helps keep the planning process organized and structured, ensuring that tasks are completed on time and critical deadlines are met.
Stress Reduction: A wedding timeline helps alleviate stress and prevent last-minute scrambling or oversights by breaking down the planning process into manageable steps and deadlines.
Vendor Coordination: A well-defined timeline enables smooth coordination with vendors, such as photographers, caterers, entertainment, and florists, ensuring their services are booked and confirmed well before the big day.
Clear Communication: A comprehensive wedding timeline facilitates communication between you, your families, and your wedding party. This ensures that everyone is aware of their responsibilities, expectations, and the overall schedule of events.
Enjoyment of the Day: With a detailed timeline in place, you can relax and enjoy your wedding day and be confident that all aspects have been carefully planned and accounted for, allowing you to focus on celebrating.
Collaborate with a wedding planner
Consider hiring a professional wedding planner to help translate your vision into a concrete plan, recommend vendors, negotiate contracts, and oversee logistics.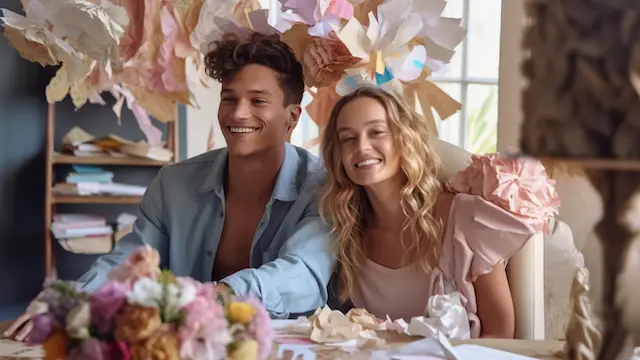 Maintain good communication
Effective communication between you, your families, and any wedding professionals involved is crucial. Keeping clear and open lines of communication will help you avoid misunderstandings, calm everyone's expectations, and avoid any unwanted situations or challenges that could arise.
Frequent communication with your partner
Make an effort to regularly discuss your wedding plans, expectations, and concerns together. By openly sharing your thoughts and desires, you can ensure that both of you are on the same page and make decisions together.
Example: Sit down with your partner and have a dedicated wedding planning night every week. Use this time to go over updates and make decisions.
Effective communication with family members
What makes a wedding successful is a strong support system of friends and family who come together to help you bring your vision to life and share your happiness.
Involving your parents and close family in the wedding planning process is a wonderful way to bring everyone together and create a truly special day that reflects your unique love story.
By clearly communicating your expectations and delegating tasks where possible, you can ensure everyone is on the same page and working towards a common goal.
Don't forget to listen to your parent's ideas and suggestions, as this will help avoid misunderstandings and ensure that everyone feels included and valued. With open communication and a shared vision, your wedding day will be a beautiful celebration of love and family.
Example: Arrange a family meeting where you can discuss important aspects of the wedding and get input from both sides. This can help you understand any cultural or traditional expectations and find ways to incorporate them into your wedding.
Regular updates with your wedding planner or vendors
If you have hired a wedding planner or other vendors, maintain regular contact with them. Provide updates on any changes, share your priorities and concerns, and ask for professional advice. This will ensure everyone is on the same page and working together toward the big day.
Example: Schedule monthly or bi-weekly check-ins, depending on your situation, with your wedding planner to review progress, discuss any updates, and address any concerns or questions.
Utilize technology for effective communication
Use email, messaging apps, and shared documents to keep everyone informed. This allows for quick and efficient communication, especially when dealing with multiple vendors or when you and your partner have busy schedules.
Example: Create a shared folder or document to store important information such as contracts, timelines, and vendor contacts. This way, everyone affected can access the information quickly and stay updated.
Clear communication with your guests
Supply your guests with all the necessary information to attend your wedding. This includes sending out save-the-date cards, invitations, and detailed directions to the venue. Additionally, be responsive to their questions or concerns and make them feel welcomed and informed.
Example: Create a wedding website where guests can find all the details about your wedding, including the venue address, accommodation options, transportation information, and any other important updates. Encourage guests to reach out with any questions and respond promptly.
Personalize your wedding
Make your wedding day truly yours by adding personal touches or a wedding theme that speaks to your individuality and love story. From personalized vows that tug at the heartstrings to bespoke decor that captures your essence to weaving in meaningful traditions or cultural elements, let every aspect of your special day reflect your unique bond.
Well-organized logistics
Take the time to plan and organize the logistical aspects of your wedding carefully. This includes coordinating transportation, creating a seating plan, and ensuring a smooth flow between different parts of the event. Paying attention to these details can minimize confusion and create a seamless experience for everyone.
Example: Create a detailed timeline that outlines the order of events, including the arrival and departure times for transportation, the start and end times for each wedding segment, and any necessary transitions or breaks. Share this timeline with your wedding party, vendors, and key individuals to ensure everyone knows the schedule.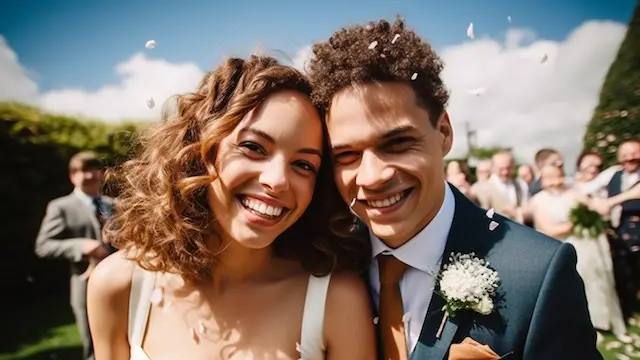 Thoughtful touches and personalization
Infusing personal touches throughout your wedding will make it more memorable and unique. Consider incorporating elements that reflect your personalities, interests, or shared experiences. These can include personalized favors, customized signage, or adding meaningful decor items.
Example: Instead of generic wedding favors, consider giving your guests personalized gifts that reflect your relationship or a shared hobby. For example, if you both love cooking, you could give out small jars of homemade spices with recipe cards with your favorite dishes.
Attention to decor and aesthetics
Create a visually appealing atmosphere by paying attention to the decor and aesthetics of your wedding. This includes selecting the right color scheme, choosing appropriate lighting, and incorporating cohesive design elements. The overall visual impact will considerably enhance the ambiance and mood of the event.
Example: If you've chosen a rustic theme for your wedding, select decor items such as wooden signs, mason jars, and burlap table runners to create a cohesive look. Use soft, warm lighting to create a romantic, intimate ambiance that complements the theme.
Personalized stationery and signage
Make use of custom-designed stationery and signage throughout your wedding. These details, from invitations and programs to menus and directional signs, provide essential information and add a polished and cohesive look to your wedding.
Example: Design unique wedding invitations that reflect your theme or incorporate elements representing your relationship. Use matching stationery throughout the event, such as place cards, table numbers, and menus, to create a cohesive visual experience for your guests.
Creative and unique guest experiences
Think beyond the traditional elements of a wedding and consider ways to surprise and delight your guests. This could include interactive stations, live entertainment, or unexpected activities that create memorable moments for everyone.
Example: Set up a photo booth with fun props and a backdrop that reflects your theme. Provide a guest book with instant cameras, allowing guests to take photos and leave heartfelt messages. These interactive elements will engage your guests and provide them with a unique experience to remember.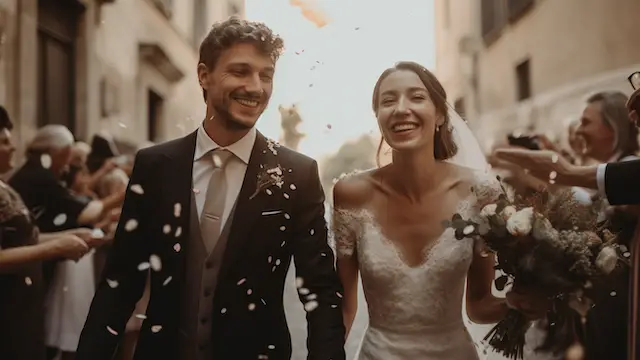 Attention to comfort and convenience
Consider the comfort and convenience of your guests throughout the wedding. This includes providing ample seating, considering dietary restrictions when planning the menu, and ensuring accessible facilities for all attendees.
Example: Offer a lounge area with comfortable seating options for guests to relax during cocktail hour. Provide vegetarian, vegan, and gluten-free menu options for different dietary needs. Ensure that your venue has accessible entrances, ramps, and facilities for guests with mobility challenges.
Pay attention to detail
What Makes A Wedding Successful is careful planning and organization that goes into every detail.
Enhance the overall experience by focusing on the finer details. This includes well-organized logistics, seamless transitions between different parts of the wedding, and thoughtful touches like personalized favors or signage.
Decor and aesthetics
The overall visual appeal of your wedding can significantly enhance the atmosphere and mood of the event. Pay attention to the details of your decor, including color schemes, floral arrangements, table settings, and signage.
Example: If you have chosen a romantic and elegant theme for your wedding, consider using soft and delicate color palettes, such as pastel shades of blush, ivory, and gold. Select intricate and luxurious floral arrangements with roses, peonies, and cascading greenery to create a dreamy and enchanting ambiance.
Tablescapes and centerpieces
The design and arrangement of your table settings can create a lasting impression on your guests. Pay attention to details such as:
table linens
napkins
place cards
centerpiece arrangements
Example: For a rustic-themed wedding, incorporate natural elements like burlap table runners, wooden chargers, and mason jars filled with wildflowers as centerpieces. Add personalized place cards with hand-calligraphed names to create an intimate and charming touch.
Stationery and paper goods
Your wedding stationery, including invitations, programs, menus, escort cards, and place cards, can set the tone for your event. In addition, attention to detail in the design, typography, and materials used can create a cohesive and polished look.
Example: Opt for custom-designed invitations that reflect your wedding theme and incorporate unique details like wax seals, envelope liners, or embossed monograms. Carry the same design elements throughout your other paper goods, such as menus and escort cards, to create a cohesive visual experience for your guests.
Lighting
Proper lighting can transform the atmosphere of your wedding venue. Pay attention to the type, placement, and intensity of lighting to create the desired ambiance.
Example: Use soft, warm lighting, such as string lights or candles, for an intimate and romantic setting during the ceremony and reception. Incorporate uplighting or spotlights to highlight architectural features or focal points in your venue.
Personalized touches
Infusing your wedding with personalized details can create a meaningful and memorable experience for you and your guests. These can include elements that reflect your shared interests, hobbies, or cultural backgrounds.
Example: If you both share a love for traveling, create table names or escort cards that represent different cities or countries you have visited together. Include personal stories or anecdotes in your vows or ceremony readings to create an emotional connection with your guests.
Ceremony and reception flow
Consider the flow and timing of different segments of your wedding day to ensure a seamless and enjoyable experience for everyone. Pay attention to details such as:
the length of the ceremony
transition times between different events
order of speeches and performances
serving times for food and beverage
Example: Plan for a smooth transition between the ceremony and cocktail hour by arranging for live music or a DJ to start playing immediately after the recessional. Provide a timeline or schedule of events for your wedding party and vendors to ensure everyone knows the sequence of events and timing.
Ensure a smooth flow and timing
Plan a well-structured timeline that ensures a smooth transition between different wedding elements. Avoid unnecessary delays and keep your guests engaged and entertained throughout the event.
Ceremony timing
Pay attention to the duration of your wedding ceremony to maintain a comfortable pace and avoid unnecessary delays. Coordinate with your officiant to ensure the ceremony stays on track and within the desired time frame.
Example: If you prefer a shorter ceremony, plan the order of events accordingly and communicate your preferences to your officiant. Work together to craft a ceremony that includes meaningful elements while keeping it concise and enjoyable for everyone.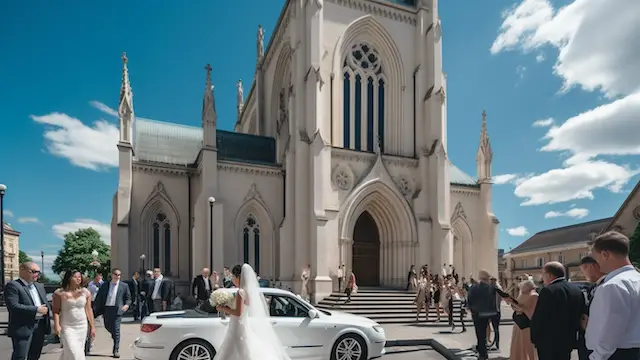 The transition between the ceremony and reception
Plan a seamless transition between your ceremony and reception to keep the momentum going. Coordinate with your wedding party, venue staff, and vendors to ensure a smooth shift from one location to another.
Example: Consider arranging transportation, such as shuttles or designated drivers, to transport your guests from the ceremony venue to the reception venue. This helps avoid confusion and delays, ensuring the celebration continues without interruption.
Cocktail hour
The cocktail hour allows guests to mingle, enjoy refreshments, and transition into the reception. Plan for a suitable duration for this segment, allowing guests ample time to socialize and enjoy the atmosphere.
Example: Allocate about 60-90 (max) minutes for the cocktail hour, depending on the size of your guest list. This timeframe provides enough time for guests to savor drinks, appetizers, and conversation while you and your partner complete any necessary photos or private moments.
Reception timeline
Develop a well-structured timeline for your reception, including the order of events, speeches, toasts, dinner service, and dancing. Ensure each segment has a designated time slot to maintain a smooth flow and prevent unnecessary lulls.
Example: Begin your reception with your grand entrance of the couple, followed by speeches and toasts, allowing guests to hear heartfelt messages while they are still attentive. Then, transition into the dinner service to keep guests engaged and satisfied before moving on to the dance floor.
Coordination with vendors
Effective communication with your vendors is crucial for maintaining a smooth flow. Share your timeline with them in advance and work together to ensure that they understand their roles and responsibilities throughout the day.
Example: Provide your DJ or band with a detailed playlist and specific timing cues for key moments, such as the first dance, parent dances, serving of each dinner course, and cake cutting. This allows them to seamlessly transition between songs and create a lively and energetic atmosphere.
Flexibility for unexpected delays
Despite careful planning, unforeseen delays or minor hiccups may occur. Therefore, maintain a flexible mindset and have contingency plans in place to address any unexpected situations that may arise.
Example: If there is a delay in the arrival of guests or unforeseen technical issues with audio equipment, have backup options ready to keep guests entertained and engaged. This could include having a backup playlist or a designated MC to entertain the crowd during unexpected breaks.
Work with stellar vendors and professionals
Choose reputable and experienced wedding vendors who can contribute to the success of your wedding. Their expertise, professionalism, and ability to handle unexpected situations can make a significant difference.
Wedding Planner
A skilled wedding planner will guide you throughout the planning process. They can help you develop a cohesive vision, recommend reliable vendors, manage logistics, and ensure that every detail is taken care of.
Example: Your wedding planner can assist in selecting a suitable venue, negotiating contracts with vendors, coordinating timelines, and managing the overall flow of your wedding day. They work behind the scenes to ensure that everything runs smoothly and seamlessly.
Photographer/Videographer
These professionals capture the precious moments of your wedding, creating lasting memories through beautiful images or videos. They have an eye for detail and can capture your special day's emotions, atmosphere, and intricate details.
Example: A talented photographer can document your wedding ceremony, reception, and candid moments, preserving the joy and love that radiate throughout the event. They can capture stunning portraits and candid shots and highlight the unique elements of your wedding.
Caterer
A skilled caterer can elevate your wedding with delicious food and impeccable service. They can design a menu that suits your preferences, dietary restrictions, and wedding theme, ensuring the culinary experience is memorable for your guests.
Example: A reputable caterer can create a customized menu that reflects your taste and style. They can present beautifully plated dishes, offer creative food stations or interactive experiences, and ensure seamless and attentive service. Make sure you are doing a wedding tasting.
Florist
A talented florist can transform your wedding venue with breathtaking floral arrangements and decor. They understand color schemes, floral combinations, and design elements to create stunning centerpieces, bouquets, and floral installations.
Example: A skilled florist can create stunning floral arrangements that align with your wedding theme and personal style. They can incorporate your favorite blooms, use creative and unique vessels, and provide guidance on floral design trends.
Wedding Officiant
Your wedding officiant plays a significant role in creating a meaningful and personalized ceremony. They can help you craft vows, guide you through the legal aspects of marriage, and create a ceremony that reflects your love story.
Example: A professional wedding officiant can work closely with you to understand your values, beliefs, and preferences. They can incorporate personalized elements into your ceremony, such as readings, rituals, or cultural traditions, ensuring that it is a true reflection of your relationship.
DJ/Band
An experienced DJ or live band can set the mood, entertain your guests, and keep the energy high throughout the reception. In addition, they have a vast music library, understand how to read the crowd, and can curate a playlist that resonates with you and your guests.
Example: A skilled DJ or band can seamlessly transition between songs, play the music that suits various age groups and tastes, and create a lively and vibrant atmosphere on the dance floor. They can also provide professional-grade sound equipment and lighting to enhance the overall experience.
Prioritize the guest experience
Consider the comfort and enjoyment of your guests. Provide clear directions, convenient accommodations, and thoughtful amenities, and consider dietary restrictions and entertainment options.
Clear communication and information
Provide your guests with clear and concise information leading up to the wedding. Share important details such as the wedding date, time, location, dress code, and any specific instructions or accommodations they may need.
Example: Create a wedding website or send detailed invitations with all relevant information. Provide directions, parking instructions, and suggestions for nearby accommodations if necessary. This ensures guests have the information to plan and navigate the event smoothly.
Thoughtful amenities and personal touches
Consider adding special amenities or personal touches that make your guests feel valued and appreciated.
Example: Welcome bags or baskets filled with personalized items, snacks, and useful items like water bottles or maps can be given to guests upon arrival. Additionally, consider providing amenities such as comfortable seating areas, outdoor heaters or fans, and bathroom amenities to enhance their comfort throughout the event.
Accommodating dietary restrictions and preferences
Take into account any dietary restrictions or preferences your guests may have, such as vegetarian, vegan, gluten-free, or allergies. Ensure that there are suitable food options available for everyone.
Example: Work closely with your caterer to create a diverse menu accommodating various dietary needs. You want to clearly label food options to help guests identify which dishes suit their requirements. Offering a variety of choices ensures that all guests can enjoy the culinary experience.
Entertainment and engagement
Plan activities or entertainment that keep your guests engaged and entertained throughout the wedding celebration.
Example: Provide live music during the cocktail hour, organize lawn games or photo booths for guests to enjoy, or hire a professional entertainer such as a magician or a caricature artist to add a unique touch. Creating interactive elements encourages guests to mingle, have fun, and create memorable experiences.
Seating arrangements and table assignments
Thoughtful seating arrangements can contribute to a positive guest experience by ensuring compatibility and fostering connections among guests.
Example: Take the time to strategically plan seating assignments, considering the personalities and interests of your guests. Seat guests with similar backgrounds, shared interests, or mutual acquaintances together to encourage conversation and connection. Avoid isolating individuals or seating incompatible guests together.
Timely and well-organized events
Respect your guests' time and attention by ensuring that the events of the wedding day progress smoothly and without unnecessary delays.
Example: Develop a well-structured timeline for the reception, ensuring that speeches, toasts, and other essential moments are scheduled appropriately. Communicate with your vendors, wedding party, and venue staff to coordinate the flow of events and maintain a seamless experience for your guests.
Gracious hospitality
Demonstrate genuine hospitality and gratitude towards your guests throughout the wedding celebration. Make them feel welcome and appreciated.
Example: Personally greet and thank each guest for attending your wedding. Take the time to mingle and interact with them during the reception. Show appreciation through gestures like personalized thank-you notes or small tokens of gratitude, such as wedding favors.
Create the right atmosphere and ambiance
Creating the right atmosphere and ambiance for your wedding sets the tone and mood of the entire event. It helps create a memorable and immersive experience that aligns with your vision and enhances the celebration. Here are some ways to create the right atmosphere and ambiance, along with examples:
Lighting
The proper lighting can transform the mood of your wedding venue. Choose lighting options that complement your desired atmosphere, whether soft, romantic, vibrant, energetic, or elegant and sophisticated.
Example: Soft, warm lighting such as string lights, candles, or fairy lights can create a cozy and intimate ambiance for an evening wedding. Uplighting or color washes can add a touch of drama or enhance the theme of the event. Utilize lighting techniques to highlight focal points such as the altar, dance floor, or centerpiece displays.
Music
The choice of music profoundly influences the atmosphere of your wedding. Consider selecting music that resonates with your style, reflects the desired mood, and appeals to a wide range of guests.
Example: For a romantic and elegant ambiance, consider a live string quartet or a solo pianist playing classical or contemporary love songs during the ceremony and cocktail hour. Transition to a lively band or a DJ playing a mix of genres to create a fun and energetic atmosphere for the reception.
Decor and Styling
Thoughtfully chosen decor elements can enhance the desired atmosphere of your wedding. Consider using colors, textures, and design elements that align with your theme and personal style.
Example: For a rustic or bohemian-themed wedding, incorporate natural elements like wood, burlap, and wildflowers. Use soft and muted color palettes, vintage-inspired decor, and eclectic furnishings to create a relaxed and whimsical atmosphere. Alternatively, opt for clean lines, sleek furniture, and a monochromatic color scheme for a modern and minimalist wedding to evoke a contemporary and sophisticated ambiance.
Venue Selection
The choice of venue plays a significant role in setting the atmosphere of your wedding. Consider venues that align with your desired ambiance, whether a lush garden, a grand ballroom, a beachfront location, or an intimate winery.
Example: An outdoor garden venue with blooming flowers, greenery, and natural surroundings creates a romantic and ethereal atmosphere. A historic mansion with ornate architecture and luxurious details sets an elegant and timeless ambiance. Choose a venue that resonates with your vision and provides a backdrop that enhances the overall atmosphere.
Scent
The sense of smell can evoke powerful emotions and memories. Incorporating pleasant scents into your wedding can create a multi-sensory experience and enhance the atmosphere.
Example: Place scented candles or diffusers with fragrances that complement your chosen ambiance, such as fresh flowers, citrus, or warm vanilla. The scent can evoke feelings of relaxation, romance, or even nostalgia, contributing to a more immersive and memorable experience for your guests.
Signage and Stationery
Thoughtfully designed signage and stationery can set the tone and provide a cohesive visual experience for your guests.
Example: Utilize beautifully crafted signs to direct guests, display meaningful quotes, or provide information about different areas of your wedding. Incorporate cohesive stationery such as invitations, menus, and place cards that reflect your chosen theme and create a sense of unity.
Foster emotional connections
Plan moments that elicit emotions and foster connections between you and your loved ones. Whether through heartfelt speeches, sentimental moments, or shared experiences, create an emotional connection that makes the event more meaningful and memorable.
Personalized Vows
Writing and exchanging personalized vows can create a heartfelt and emotional moment during the ceremony. It allows you to express your love, commitment, and promises to each other in a way that resonates with your unique relationship.
Example: Instead of using traditional vows, take the time to craft your vows that reflect your journey as a couple, shared experiences, and aspirations for the future. Sharing personal anecdotes, inside jokes, or meaningful quotes can further deepen the emotional connection and touch the hearts of your loved ones.
Meaningful Rituals
Incorporate meaningful rituals or traditions that hold significance to you and your families. These rituals symbolize unity, love, and the blending of two families.
Example: Lighting a unity candle, a handfasting ceremony, or incorporating cultural traditions such as a tea ceremony, breaking the glass, or a sand ceremony can create emotional and powerful moments during the wedding ceremony. Involve family members or close friends to participate in these rituals, further strengthening the emotional connections.
Heartfelt Speeches
Encourage heartfelt speeches by close family members, friends, or members of the wedding party. These speeches allow for sharing memories, stories, and well wishes, creating emotional connections and moments of reflection.
Example: Provide an opportunity for selected individuals to deliver speeches or toasts during the reception. These speeches can touch upon the couple's journey and impact on others' lives and express gratitude and love. A well-crafted speech that resonates with emotions can evoke laughter, tears, and a sense of togetherness among the guests.
Sentimental Gestures
Incorporate sentimental gestures or elements that reflect your relationship and celebrate loved ones who are present or have passed away.
Example: Dedicate a moment during the wedding to honor and remember loved ones no longer with you. This can be done through a memorial table with photographs and personal items or by lighting a remembrance candle. You can also incorporate heirlooms or sentimental items into your wedding attire or decor to symbolize the presence of loved ones.
Intimate Moments
Create opportunities for intimate and meaningful moments between you and your partner and your loved ones throughout the wedding day.
Example: Plan a first-look moment where you see each other before the ceremony, allowing for a private and emotional exchange. Take time during the reception to have personal conversations and interactions with your guests, expressing your appreciation for their presence and sharing heartfelt moments with each person.
Shared Experiences
Plan activities or moments that encourage shared experiences and connection among your guests.
Example: Set up a photo booth with props and a guestbook where guests can leave personal messages and photos. Create a memory jar or a guest book alternative, such as a fingerprint tree or a message jar, where guests can write down well wishes, advice, or memories. These interactive elements foster emotional connections and create a sense of unity among your guests.
Be flexible and adaptable
Despite careful planning, unexpected circumstances may arise. Stay adaptable, problem-solve efficiently, and maintain a positive attitude to ensure the day remains successful and enjoyable.
Weather Contingency Plans
If you have planned an outdoor wedding or some aspects of your wedding are weather-dependent, it's essential to have backup plans in place.
Example: If rain is forecasted, have a backup indoor location or a tented area ready for the ceremony or reception. Be prepared to adjust the timeline if weather conditions require it. Having alternative options ensures your wedding can proceed smoothly regardless of the weather.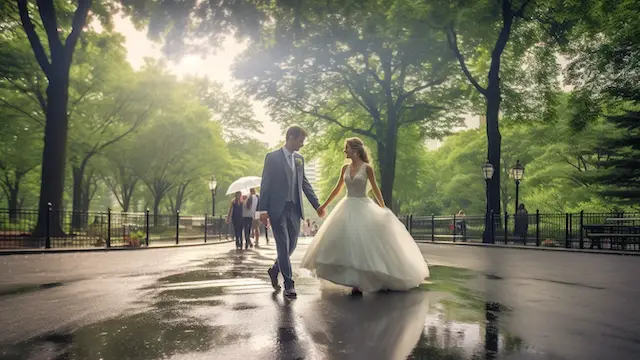 Vendor or Supplier Issues
Sometimes, unexpected situations can arise with vendors or suppliers, such as a last-minute cancellation or an unforeseen delay. Being flexible allows you to find solutions and minimize disruptions.
Example: If a vendor cannot fulfill their obligations, quickly reach out to your wedding planner or network to find a replacement. Maintain open communication with all involved parties to ensure everyone is on the same page and willing to make necessary adjustments to ensure a successful event.
Guest Accommodations
Keep in mind that unexpected changes in guest RSVPs or special requirements may arise. Being adaptable allows you to accommodate these changes and ensure a positive experience for all attendees.
Example: If last-minute dietary restrictions or allergies were not communicated, work with your caterer to provide suitable meal options. Adjust seating arrangements to accommodate changes in guest numbers or preferences.
Schedule and Timing Adjustments
Even with meticulous planning, unforeseen circumstances can affect the timing and flow of your wedding day. Being flexible allows you to adjust the schedule as needed to ensure a seamless and enjoyable experience for everyone.
Example: If there are unexpected delays in transportation or unforeseen traffic, adjust the timeline accordingly to allow for a smooth transition between different parts of the wedding. Communicate any necessary changes to the relevant vendors, wedding party, and guests to ensure everyone is informed and prepared.
Embracing Spontaneity
Sometimes, the most memorable and enjoyable moments occur when you allow room for spontaneity and surprises. So embrace these moments and go with the flow.
Example: If a guest request to give an impromptu speech or if a family member wants to perform a surprise musical number, be open to these spontaneous gestures. These unplanned moments can often become cherished highlights of your wedding day.
Emotional Resilience
Remember that emotions can run high during weddings, and unexpected situations may arise that require emotional resilience and adaptability. Stay calm and composed, focusing on the bigger picture and the celebration of love.
Example: If disagreements or conflicts occur between parents, family members, or guests, address the situation with empathy and diplomacy. Be open to finding compromises and solutions that ensure a harmonious and enjoyable atmosphere for everyone.
The ideal wedding meaning is different for every couple, but it often involves celebrating their love and commitment in a way that feels true to their unique personalities and relationship.
Remember, what makes a wedding successful depends on your preferences and cultural traditions. The key is to prioritize your happiness and ensure that the event reflects your love, values, and desires while providing a memorable experience for everyone attending.
Frequently Asked Questions
What are the five things you need for a wedding?
1. Venue: Choose a location that reflects your personalities and accommodates your guests.
2. Catering: Food and drinks play an important role in creating a memorable experience for your guests. Prioritize high-quality catering services that offer delicious meals and beverages.
3. Photography: Your special day deserves to be captured beautifully. Hire a professional photographer to capture stunning photos of you and your guests throughout the day.
4. Entertainment: Keep your guests entertained and engaged with music and other forms of entertainment. Consider hiring a DJ or live band to keep the party going all night long.
5. Decor: The right decor sets the tone for your entire wedding and enhances its aesthetic appeal. From flowers and lighting to furniture and other design elements, create an inviting space that reflects your vision and style.