Wedding Planning For The Groom: Make It Happen!
Your wedding day is coming up, and you're the Groom.  
What should you do to make it your best day ever?
The Groom's role in wedding planning is often overlooked. Still, when he takes on and shares some of the responsibilities that traditionally fall to the bride, everything comes together more smoothly and beautifully for both parties involved.
The Groom has responsibilities on the big day, too!
In addition to dealing with your future in-laws, tasks could include working out the wedding menu with the caterer, hiring entertainment, choosing a suit, and trying not to show your stress to the bride.
It's time to get groom-y. Finally, you're in charge of planning your best day ever!
Should the Groom be involved in wedding planning?
Yes, the earlier, the better.  Being involved early will reduce your and your fiancee's stress during the weeks and months leading up to your big day.
Take on responsibility as soon as possible and feel less overwhelmed by all the decisions that need to be made before the wedding day arrives.
You should have access and oversight to all essential documents (contract, licenses) and participate in plans, including seating arrangements and any other tasks from creating a guests list, to selecting flowers, hiring vendors to music choices, venue search, and final choice, and discuss all options with your partner.
Another reason you want to be involved in the wedding planning experience is to weave in your style, be it rustic, traditional, or something more extravagant.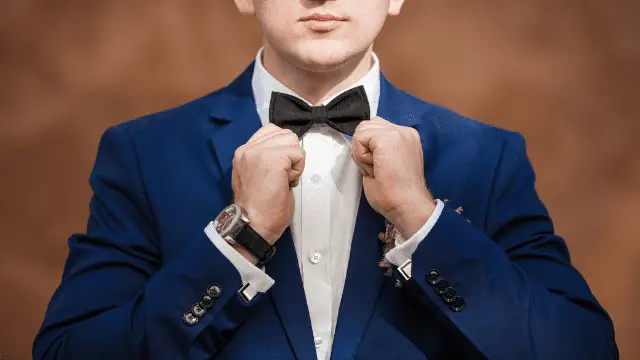 If you, as the Groom, are not involved in planning your wedding, you may be less prepared to follow through on decisions.
You may feel your input was not requested or valued and use this as an excuse for avoiding taking on some of the necessary tasks, which can stress both you and your fiancee.
Not only will you feel more responsible and included when you are involved in the wedding planning, but you'll have a better understanding of what your bride has been taking care of all this time!
Wedding Planning For The Groom Shortlist
Naturally, the Groom's wedding planning essentials mostly cover the same topics as the other partners'. With a few exceptions.
First, divvy up the logistics between you and your partner and also what steps you are doing together. Then you're ready to roll.
Establish a budget together
Understand what you can spend on your wedding before signing up for any venue, caterer, and vendors.  Sit down with your wedding planner if you have one to capture all aspects that go into your wedding budget.
Calculate the number of guests
Before booking a venue, you would need to know how many guests you would like to invite. 
Create an A list with all your must-have family members and friends, including the bridal party.  Then create a second-tier list with guests that you could add if your budget allows.  Consider Plus-Ones and children.
The number of people who will attend your wedding will have the most significant impact on your budget.
Choosing a Date and Visiting Sites
First the date, then the location?  Or rather the location, then the date?  It goes hand in hand if you are flexible with your wedding date. 
Make sure you know what questions to ask a wedding venue during your visit.
If you are looking for the perfect venue in a competitive market, you may need to compromise on the exact date of your wedding. 
Take into account seasons (weather, holidays) and also your wedding style. For example, will it be indoors or outdoors?  How will the venue accommodate that?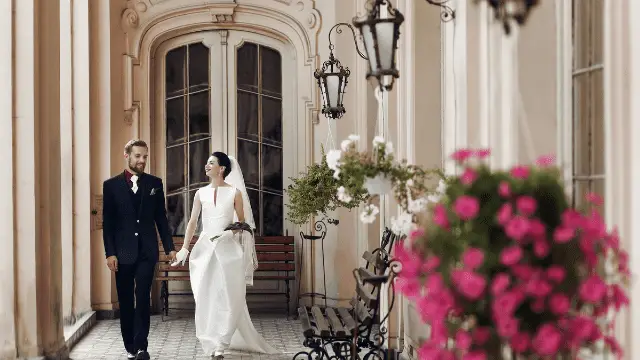 Research and book your wedding vendors
Get involved in finding and hiring an officiant, florist, music for ceremony & reception, photographer, videographer, wedding planner, etc.  
Gathering prices from several vendors in each category is inevitable to compare costs and get a clear picture.
Remember, you can negotiate with wedding vendors for special discounts under certain conditions. For example, this can apply when booking vendors that are available on short notice or when it's off-season.
Visit several venues before choosing which one would work best for your dream day.
Also, consider attending wedding industry events in your area, where you can meet with many vendors face-to-face in one location.
Co-Create your gift registry 
As soon-to-be weds, creating a gift registry for your wedding celebration is fun since you get to decide together what items will be included in your new home.
Prioritize which items you would like first and enlist the use of a gift registry website that allows guests from anywhere in the world to contribute while still giving you complete control over what they buy for you!
Have fun with it!
Honeymoon planning
Another aspect of being involved in planning your wedding is organizing your honeymoon.
Start early in the wedding planning process to create a realistic honeymoon budget and determine your ideal travel dates.
Consider adjusting the timing of your trip according to when prices are lowest, allowing yourself enough time to create the best possible honeymoon experience.
Organize transportation for the big day
Ensuring you have a reliable shuttle and limo service is part of your wedding day's responsibility.
Consider that guests and the wedding party will be arriving at different times.
Decide on your attire (i.e., suit or tuxedo)
Determine what you're wearing together with your groomsmen, which can be easier if they are part of your inner circle or guy friends for life!
Make sure to factor in extra costs like renting tuxedos and suits if needed and purchasing shoes and accessories for you and everyone.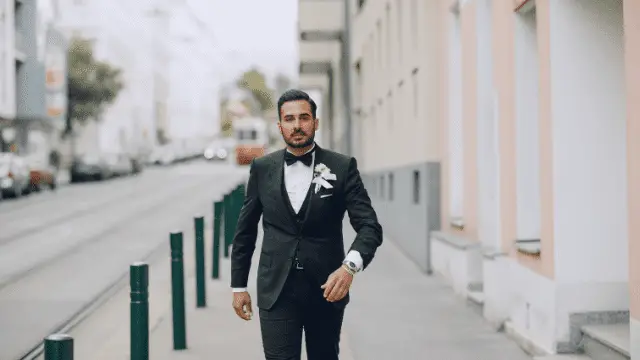 Pick your wedding rings
Picking your engagement rings and wedding bands can be a very significant and personal decision.  
They symbolize your unity and commitment, so it's best to spend time researching different rings online or at local jewelers.
Consider also what kind of ring would work better for you: metal type (gold, silver), size, shape of stones (round/oval), and setting of diamond(s).
Come up with your wedding budget and create a list of desired features for both groom & bride wedding bands to ensure you don't regret not getting it right on this one!
Finalize your wedding menu with the caterer
Most venues and caterers offer a complimentary wedding tasting for you.   Check with them on a date for the tasting and submit your tasting selections on time.
Finalize the appetizers, entrees & desserts that you'd like to offer you our wedding menu and consider dietary restrictions for some guests such as vegan or vegetarian alternatives, gluten-free options, and specific allergies that some guests will let you know they may have.
Check if you require any kids meals and vendor meals (i.e., for the band, DJ, photographer, videographer).
Obtain a marriage license
Once you've set a wedding date, hire your officiant and obtain a marriage license.
Make sure your marriage license does not expire before the wedding day.  Also, be sure about the waiting period of the state where you're getting married.
Determine who your witnesses are required for your marriage license to be valid, and have them sign it on the day of your wedding.
After your ceremony, your officiant will file the signed marriage license at the county clerk's office, and you will receive the official certificate of marriage in the mail confirming your marriage is recorded.
Create a song list with the Band or DJ
These particular songs would include the groom's and the bridal party's entrance music walking down the aisle, then the bride's entry song, possibly other highlighted music during the actual ceremony, and finally a festive, upbeat tune for the recessional.
A jazz trio or classic quartet could be an elegant option for the cocktail reception or even a DJ.
The next important piece of music is for the Bride & Groom's big entrance as you are introduced at the beginning of the dinner, just the two of you, or together with the bridal party in a predetermined sequence.
This is followed by the Bride & Groom's first dance for 3-4 minutes, then often into a first dance-set, including the bridal party and inviting guests to the dance floor.
You may also select a specific song for the Bride & Father of the Bride and the Mother-Son Dance if you like to include parent dances.
Last but not least, the list of songs you have the band or DJ play will be a crucial element that will carry your entire wedding through the evening and significantly impact how you and your guests will remember the evening.
Get groomed for the big day
A sharp, fresh haircut, manicured nails, groomed facial hair, and eyebrows are a must for the Groom to look his best and feel fresh, groomed & confident!
Get yourself a new suit or tuxedo, a pair of oxford shoes, belt, and cufflinks, and you are ready to go!
And if you are a non-traditional groom, don't be afraid to do something different that goes with your style that complements your bride!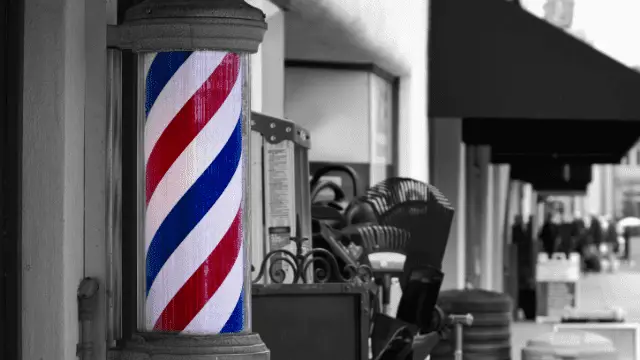 Handle the tips for wedding vendors
Don't forget to thank your wedding vendors for their service with a tip on the wedding day.
Remember that tips are mostly favored in cash, but you can also offer them some other form of token.  But in general, it's not customary to provide physical gifts.
Be sure to check if the tip is included in your wedding package, and if you are not sure, it's ok to ask before deciding and how much you should give them.
You can leave one lump sum or separate envelopes with each of their names on it, depending on what feels suitable for you. 
If you are working with a wedding planner, they will often take care of this for you.
Be responsible for keeping your wedding rings safe and ready
As the Groom, you are typically responsible for keeping the wedding ring safe and prepared on the big day.  Keep them in a secure location that you will remember – like your wallet or jacket pocket during most of the time.
Right before walking down the aisle, you may put them on your left ring finger, pass the rings to your Best Man, the officiant, or a trusted family member or friend, so they are handy during the ceremony.
If you have little ones in your family and are recruiting one of them as a Ring Bearer make sure you are using fake rings, so there is no chance of them accidentally losing the real wedding rings!
Try on your wedding attire (dry run)
While your bride will most certainly require several fittings for her gown, you also want to make sure that your Groom's attire fits well and looks sharp.
So it's good to schedule a dry run with your groom outfit and accessories, getting measured for any necessary minor adjustments before the wedding day comes!
Don't forget to learn how to tie a bowtie or a necktie if you are not accustomed to it.
Break in your shoes before the wedding.  You will be on your feet for a long day, and your shoes should feel comfortable and be in good shape.  
Check them to make sure they don't pinch or hurt you even a little bit so that there will be no discomfort during all of those hours standing up!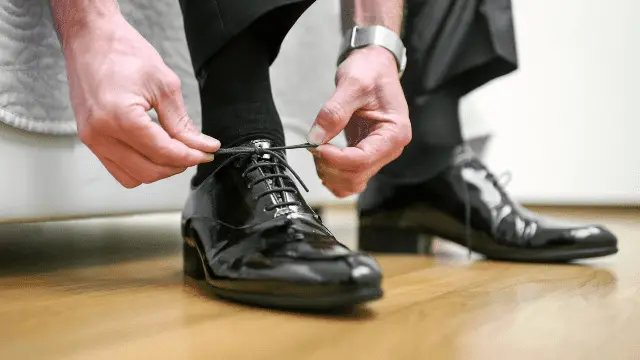 Provide Gifts
Wedding planning etiquette for the groom also includes getting a gift for the bride, parents, best man, and groomsmen. In addition, while it is not customary to give physical gifts to the wedding planner, on-site catering manager, and Maitre Ds, most grooms do provide a tip.
What Does The Groom Do On The Wedding Day
Send your bride a love letter to let her know how much you care about your future together. It can be a poem or just a few words that will make her feel amazing and less nervous on the day of your big event!
Confirm with your Best Man that he has the rings unless you decided to keep them.
Next, eat light and healthy and make sure you are well hydrated before the wedding festivities.
Hang out with your close friends to bridge the time until the ceremony.
Practice your vows aloud and go over them with your Best Man and Groom's party to ensure they are perfect.
Be ready for the big reveal if you have planned one before the ceremony and take countless photos with your bride, friends, and family.
Keep an eye on the timeline and make sure you show up on time! Arrive early if possible so that you can relax before everything starts.
Final Thoughts
Last but not least, don't forget to take care of yourself and enjoy the moment! 
You will be getting married to your soulmate in a beautiful location surrounded by family & friends. Savor every single moment of it!